At London Wolves 2012 AGM we decided that it would be a better community activity for us to support the Wolves Ladies team who receive very limited funding from the club, have to pay membership fees, all while holding down jobs or full time education rather than continue our shirt sponsorship of a minor player. In the previous year we had sponsored Amber Quick and we were delighted that Wolves Women accepted our offer. They are planning to buy warm tops for the whole squad with the donation, which was presented at Molineux on 6th December by Roy Eagles with (his assistant) Jody Craddock.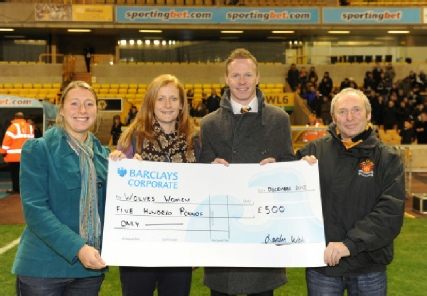 Full team picture at the end of the page here The sponsorship was used by the ladies to buy warm-up tops which were presented to them at the Wolves Women presentation evening on 7th June 2013. pictures from Mark and Colleen here
WWWFC Chairperson Jenny Wilkes together with Amber and Team Captain Anna Perks also attended attended our Christmas lunch - details and pictures here
Wolves Women page on main Wolves site is here http://www.wolves.co.uk/news/ladies/
Shortly after this the draw for the Women's FA Cup took place to bring the ladies to our patch - or rather Stef''s back garden at Beckenham Town FC. The club were extremely welcoming to the 15-odd WWLSC members and family who turned out, but not so the Millwall Lionesses' goalkeeper, unfortunately who kept us at bay until the dying seconds. Pictures follow here
Match report online on Wolves site is here
Wolves Women later reached the semis of the County Cup with a 15:1 victory over Rushall here
Wolves Women end-of-season 2012-13 Presentation Evening. 7th June 2013 at Molineux
London Wolves sponsorship has provided the teams with hooded tops for pre-match warm-up. They were presented by Chairman Earl, Entertainments Secretary Roy and Ruth together with Mark Feehan - (pix Mark) on twitter https://twitter.com/20MarkF/status/343096919905669120/photo/1 and https://twitter.com/20MarkF/status/343108291603341312/photo/1 at the WOlves Women presentation evening where they celebrated success right through the club http://www.wolves.co.uk/news/article/girls-secure-silverware-haul-230513-832906.aspx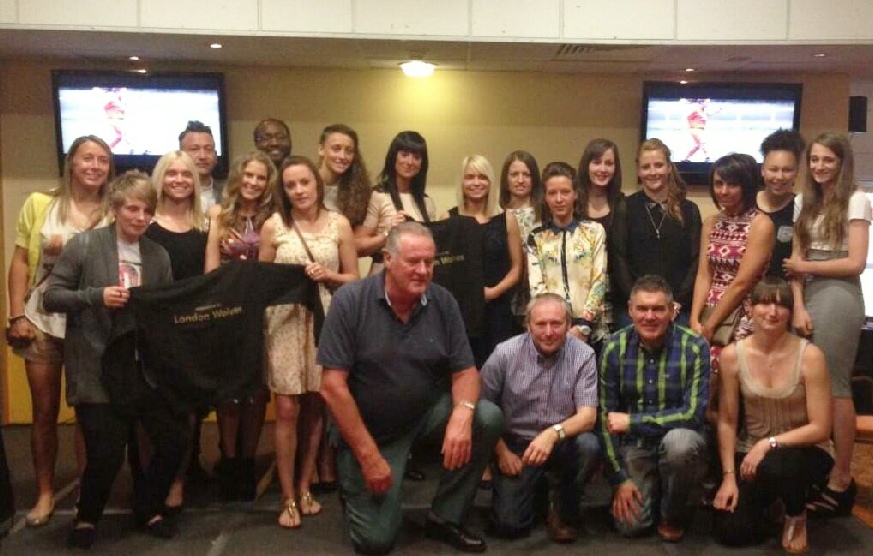 Mark's "favourite footballers" Amber and Anna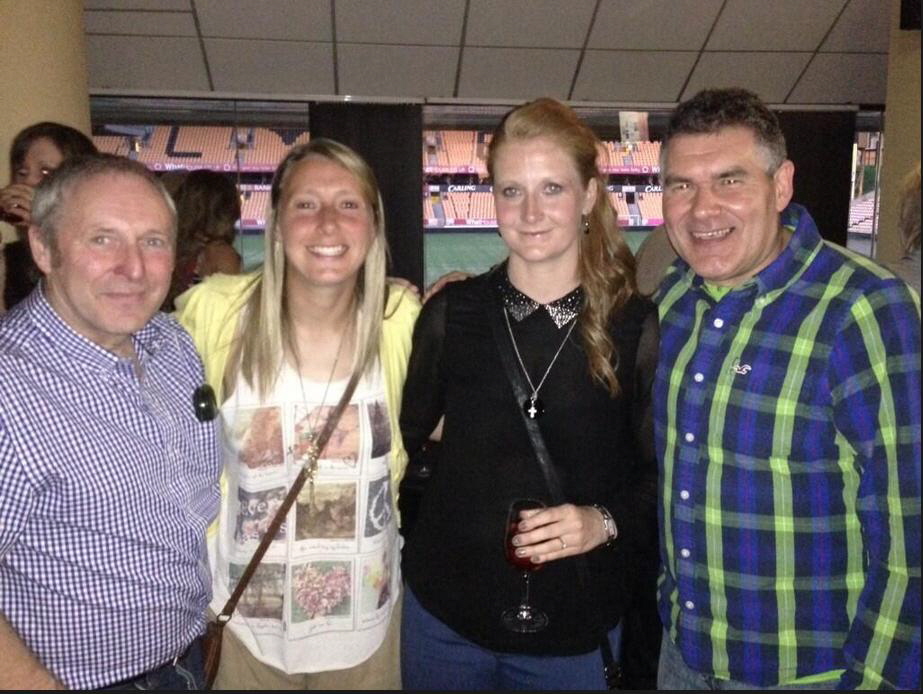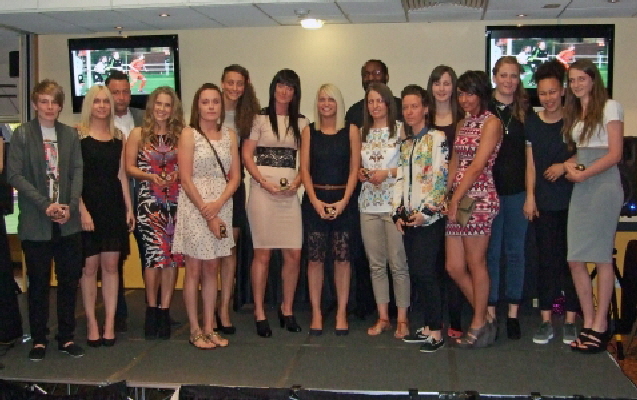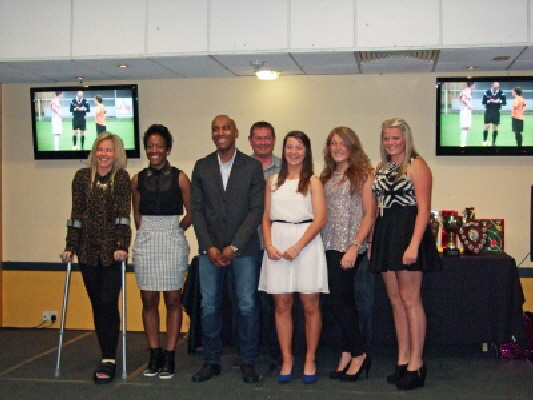 oy was asked to make a presentation on behalf of Wolves Women FC sponsors Punjabi Wolves... in recognition.......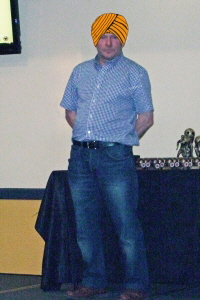 Wolves Women FC sponsors:
Balls to Cancer
London Wolves
On The Ball Travel
Punjabi Wolves
Q Technical Services (UK) Ltd
taste Hospitality Recruitment
Burrda Sport, Official Kit Sponsor
Creating Chances Trust
Wolves Community Trust
Wolverhampton Wanderers FC
London Wolves sponsored training tops in 2012-13

FA Women's Cup Millwall
Here are some pictures of the outing and match. The first twelve are courtesy of Millwall photographer Brian Tonks for which we are very grateful including Capt Natalie Hall (GK) Scorer and Club Capt Anna Perks, a breakaway by Jamillah Palmer, ooh that hurts Hannah Williams, and a forwards' tussle. WWLSC were looking on.
More pictures are on the archive site at http://www.lwarchive.londonwolves.com/html/wolveswomen.html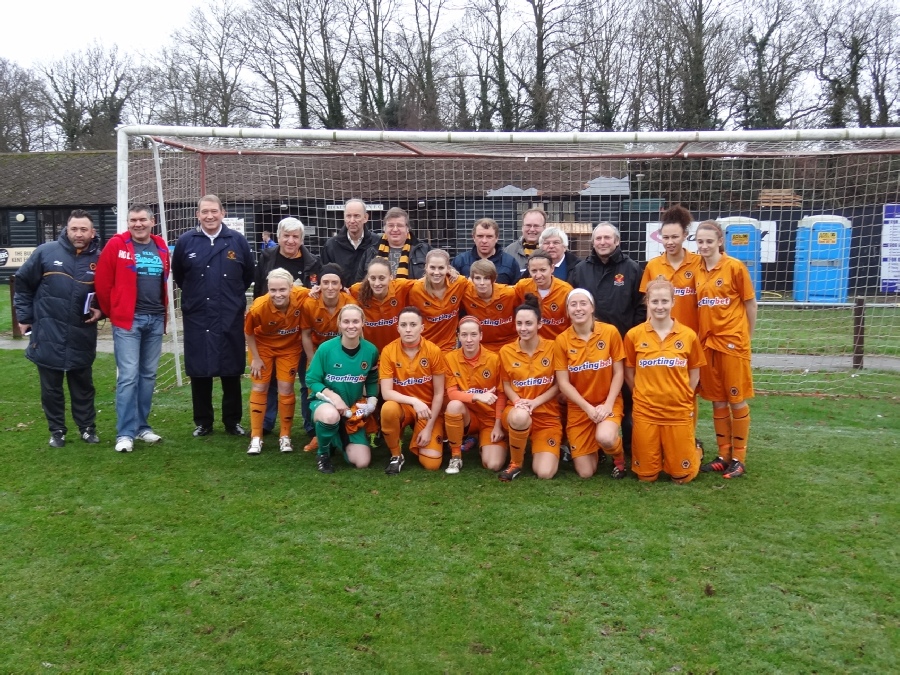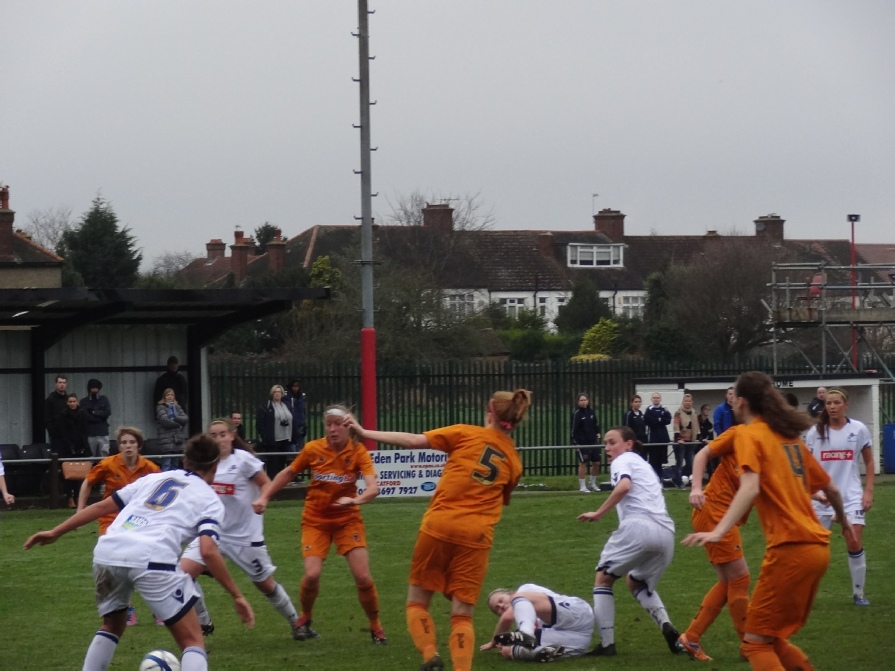 WOLVES WOMEN 2012-13
Back: L:R Amber Quick Dani Selmes Hannah Williams Natalie Hall Jamillah Palmer Philippa Wilson
Front: L:R: Layla Slaughter Rebecca Large Jordan Timmins-Ray (Mascot) Rebecca Hall Jeni Anslow