2010 - The Thames Path from Putney to Chiswick -8 Pubs
Geoff Tour guide Geoff with the guide.produced his tour guide again to gently stroll from Putney to Chiswick, interspersed by eight pubs, three world cup matches and an England win (in the rugby!)
The Eight Bells - just on the Fulham side of Putney Bridge on the line of the original bridge - and excellent place to start. Good beer (once the Pride came back on) and very friendly staff.
The Crabtree - Large old style comfortable pub but very modern too with an outside barbeque. Beer good, food a bit more pricey. Atmosphere very good - and inhabited by locals. Nearest to Craven Cottage
The Chancellor's - a proper pub. Just two locals in for a quiet pint and crossword when descended upon. Right opposite the Riverside studios and full of ZCars and other prints, plus Chris Evans of course. Then there's a footy bar, highlighted by a charity match and a great picture of Besty in Fulham gear. Didn't find our why the RCMP were (mounted) outside the pub though. Great toastie.
The Blue Anchor - established 1722, as was one of the beers, but that was soon sorted, together with the dispute about Harry Kewell being sent off for deliberate (was it?) handball with a local woman who obviously knew more about the laws than the rest of the pub. A human crab appeared over the river wall (with a scull for a shell)
The Rutland - modernised and more bland inside. We didn't stay long
The Dove - nooks and crannies and a great terrace overlooking the river.
The Old Ship - smart, and with a free beer offer.
The George & Devonshire - always dependable Fullers. Mind you, only the Mawson Arms is closer to the brewery see the brewery here
and then a bus to Richmond
plus - mentioned in despatches - the Cafe opposite Putney Bridge Tube station for a precautionary fry-up (travel secretary)
Pictures
1. The Eight Bells -rumour has it the landlord is a Wolves fan! Good brekky cafe nearby Putney Bridge Tube Stations. 89 Fulham High St, London, SW6 3JS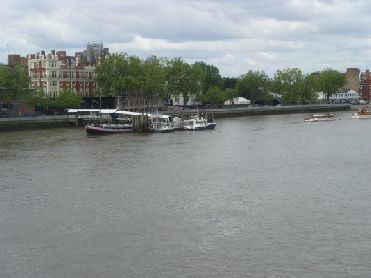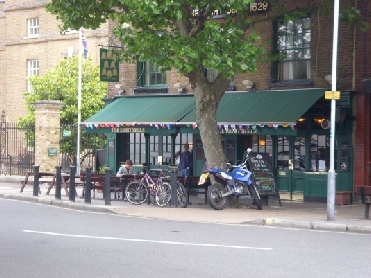 Picture Gallery