"The Doog" Derek Dougan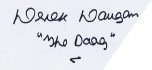 1938-2007
The Doog set Wolves alight when he arrived in 1967 and helped ensure promotion. He scored 123 goals goals from appearances, liked the place so much he stayed after retiring and then became Chairman saving the club from going bust, when Sir Jack didn't buy it at the first chance. With Wolves fan and ex player Graham Hawkins they achieved promotion in the first season, but then the sad decline started.
ALEXANDER DEREK DOUGAN January 20th 1938 - June 24th 2007 Life President London Wolves 1968-2007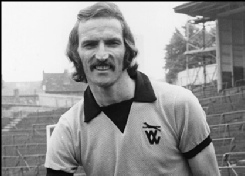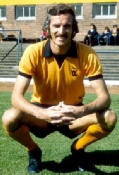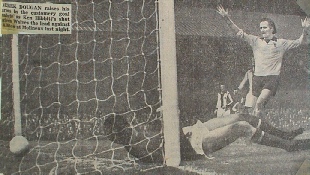 Above, at Molineux and scoring against the Albion. Click on th eorder of service for the document
Doog's home debut (his first match was away at Plymouth) yielded a hat-trick. Knocker scored the other.
Derek's son Nick wanted every fan to be able to get a copy of the Order of Service so there is a scanned copy. Above.
Dennis Law said to us, on that Sunday morning he was clearing out some old stuff and found a picture of the Doog with him, but didn't hear about Doog's death until Monday - slightly eery that.
Page Contents:
ALOB Special here
Molineux Tribute book here
Saving the Wolves here

Irish Post tribute read here

Derek signed for the Wolves March 1967 and scored a hat trick on his home debut - video above

London Wolves Members' tributes - mail yours to webmaster@londonwolves.com see them here

Dave Dungar's tribute (GM Chaucer)

here
Preseason programme tribute from Bray Wanderers here

Winger magazine's tribute is here

Irish Post article 23/1/08 here

Merlyn Humphreys - Unforgettable Doog here
Derek's 1968 letter to London Wolves is on the Newsletters page
Doog songs here

Order of service is a pdf file on the front page picture (top right of this page) click to open
28th July 1982 - 25 years ago
FROM THE FILES of the EXPRESS & STAR
WOLVES were saved from extinction with less than 30 minutes to spare when a consortium fronted by former player Derek Dougan lodged a last-gasp £2 million takeover deal with the Receiver handling the club's affairs The former Northern Ireland striker, who had previously written a book How Not To Run a Football Club, had the backing of property developers Doug Hope and the Bhatti brothers.His bid. which beat off rival offers from both incumbent chairman Doug Ellis and Walsall chief Ken Wheldon. was tendered less than half an hour before a 5pm deadline for the club to come up with a survival package. Mr Ellis had called in the Receiver four weeks earlier - just a fortnight after ousting previous chairman. Harry Marshall -after an audit revealed the club had run up debts of £2.6 million.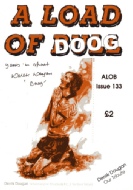 ALOB special issue 133 was a Doog special - A Load of Doog. Copies may still be available from Mick Harper or Kelvin outside the ground. The ALOB magazine has closed so it is no longer directly available
.
SUNDAY JANUARY 20th 2008 would have been Doog's 70th birthday; "It would have been a terrific party" says Stuart Earl.
Wolves tribute book is pictured with Merlyn Humphreys' tribute thanks to Barb and David at Molineux. RIP Doog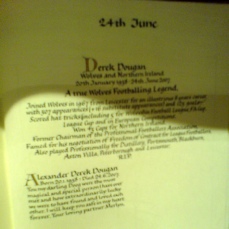 A timely article by Richard Early appeared in the Irish Post this week - read here
Players at the service included Pat Jennings, Sammy Nelson, Johnny Giles, Denis Law, Billy Bingham, Martin O'Neill, Graham Williams, Chico Hamilton, Ron Wylie, Gordon Taylor, Terry Conroy, Brandon Batson, Mickey Evans and Chris Nicholl.
Former Molineux players included Les Wilson (who had flown in from Canada for the service), Dave Wagstaffe (who acted as a pall bearer) Jim McCalliog, John McAlle, Derek Parkin, Phil Parkes, Mike Bailey, Geoff Palmer, Mel Eves, Malcolm Finlayson, former manager Sammy Chung, Frank Munro, Terry Wharton, Barry Powell, John Holsgrove, Dave Burnside, Ernie Hunt, Martin Patching, Bobby Thomson, Gerry Taylor, Gordon Cowans, Peter McParland and, of course, The Doog.
Vinny also saw Norm Deeley and Dave Burnside at the church
24th June 2007: It is with great sadness that we learned from Merlyn that London Wolves President and Former Northern Ireland and Wolves centre forward Derek Dougan has died, aged 69.
Our thoughts are with Merlyn and Derek's family. Tributes are pouring in from around the world for one of our all-time favourite players. This page remembers his arrival at the Moli and has comments from London Wolves members.
On the Newsletter page we reprint his letter to the club from 1968.
Derek's funeral was Thursday July 5th at St Peter's Wolverhampton at 1:00pm
Derek signed for the Wolves March 1967 and scored a hat trick on his home debut
London Wolves Members' tributes - mail yours to webmaster@londonwolves.com see them here
Derek's 1968 letter to London Wolves is in the secure section under Newsletters
Doog songs here
The report here is from the BBC and other sources.
Nicknamed the Doog, he will be remembered as one of the great characters of the game, as well as being a very effective centre-forward. The Doog scored over 120 goals for Wolverhampton Wanderers and was in their victorious 1974 League Cup side. He won 43 international caps and before joining Wolves played for Portsmouth, Blackburn Rovers, Aston Villa, Peterborough United and Leicester City.
Dougan was also an outspoken chairman of the Professional Footballers' Association. His time there overlapped with former PFA deputy chief executive Brendon Batson, who recalled: "Derek was a great champion of players' rights and conditions and he was integral part of current terms players enjoy now. For many years, players were treated like cattle. But he was very, very outspoken in saying that players had an important role to play and they deserved to be free and masters of their own fate."
Current PFA Current chief executive Gordon Taylor also paid tribute to Dougan.
"He was one of the game's most colourful characters and I was very proud to have served with him and worked under him," said Taylor. I had eight years under him as chairman and he led the PFA, along with my predecessor Cliff Lloyd, all through negotiations in establishing a constitution and a collective bargaining agreement, which have stood the test of time.
"Derek was a very talented and colourful footballer who was very much loved by the supporters during the years that he wore the Wolves shirt," Wolves chief executive Jez Moxey said Saturday in a statement on the club's Web site.
Born in Belfast in January 1938, Dougan played for Irish League club Distillery before joining Portsmouth.
He remained at Fratton Park until March 1959 when he transferred to Blackburn Rovers for £15,000.
He spent two-and-a-half years at Ewood Park before signing for Aston Villa in July 1961. Two years later Dougan was off again, this time to Peterborough United.
In the summer of 1966, he switched to another club, Leicester City, before securing his place with Wolverhampton Wanderers in 1967.
In just over eight seasons at the Molineux, Derek made 320 first team appearances for Wolves netting over 120 goals.
He helped the club regain get back to the First Division status in 1967 and played when they beat Manchester City in the 1974 League Cup final.
Wolves chief executive Jez Moxey said: "Everyone at Molineux will be saddened by this news. Derek was a very talented and colourful footballer who was much loved by the supporters during the years that he wore the Wolves shirt."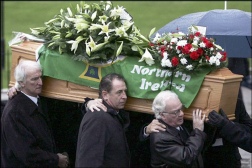 Dougan made his Northern Ireland debut against Czechoslovakia during the 1958 World Cup in Sweden and his latest international appearance was in 1973.
During his time with Northern Ireland, he struck up a partnership with George Best.
In December 2005, Dougan joined other former Northern Ireland team-mates in carrying the coffin at Best's funeral.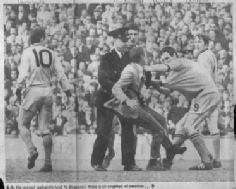 The Doog arrives: March 16th 1967
Derek Dougan joined the Wolves from Leicester on the transfer deadline day. Manager Ronnie Allen
moved Bob Hatton on to Bolton to make way for the £45,000 signing from Leicester. His first match was away at Plymouth, followed by a storming hat trick on his home debut against Hull. Two weeks later he was attacked on the pitch at Millwall - see pictureThe Express & Star archives give all the Wolves stories.....
Doog's debut goal from BBC WM footage is at the top of this page and should auto-start. Click on video player controls to see again. here
Here's Derek at Molinuex, in front of the Molineux clock, autographed too to Robert. (pix courtesy of Robert G)
and here's Robert with The Doog signing the Northern Ireland shirt he gave to Robert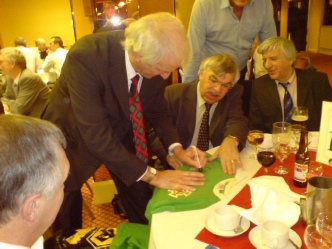 A contemporary of Derek's and a player who benefited from his vast experience was Peter Knowles (brother of the famous Spurs full back). The very talented Peter gave up football in 1969 to concentrate full time on his calling as a Jehovah's witness which was a great loss to us. Robert took this photo of Peter and his wife with his "box brownie" camera.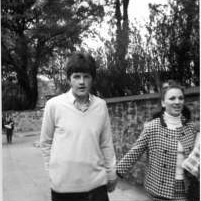 After the 2-0 victory over Arsenal to help preserve our first division (= Premier) status, Wolves supporters determined that Derek should be the next prime minister......
Derek at the dinner he sponsored in 2007 for Ian Cartwright (see Iggy page)
London Wolves Tributes - to add yours send a mail to webmaster@londonwolves.com
Chairman Earl said "this is a very sad day as we lose our life President. Derek has been a friend to London Wolves since 1967 and will be sorely missed. Our thoughts are with Merlyn and Derek's friends and family.
Ray Finch: I hitch-hiked to Plymouth to see your debut and will never forget that day or the following Saturday with your debut hat-trick against Hull.
Derek you always were and always will be a true Wolves legend and I feel very privileged to have enjoyed those precious eight years you gave us.
God bless you Doog x
Webmaster: D-D-D-Dougan, the best centre forward in the land. The first football song my kids learned. You were an absolute class apart that March day in 1967 when you tore apart a strong Hull team. As the match wore on, Knocker Knowles caught on to your deft play and helped himself to the 4th after your hat-trick. A pleasure to have met you. I'm sure you and Georgie Best have got your green shirts on again, and are having a bevvy together.
Phil McCrudden Became a big fan of Dereks after seing him make his League debut for Aston Villa at Goodison Park (Everton) first game of the 61/62 season Yul Bryner hair cut et al and just fell in love with the guy.Was overjoyed when he signed for Wolves,seen most of his games while he was at Molineux.Truly great player .R.I.P.Doog .Love you always.
Frank Munro, a team-mate during Doog's playing years at Wolves, said: "He came to see me on Wednesday and looked ever so well. We were planning my 60th birthday party for October and he joked that he might not see the year out. I'm shocked by the news."
Phil Grog Monster Hi;
Don't be sad just think and smile of the doog! Great man, always loved the fans, I was totally hooked on Wolves from that magic March 1967 debut and still follow the wolves home and away. All supporters of that era witnessed some magic moments that will stay with you for the rest of their lives. Hey Doog, DDD Dougan, Doog Doog Doog the Doog, his name is Derek Dougan and from Leicester he did come, WHAT'S HIS NAME – DOUGAN, WHAT'S HIS NAME DOUGAN.
Pint Sized Paul A true molineux legend & a master character, he was the first wolves player i had a poster on my bedroom wall. thank you for the memories mr dougan. GOD BLESS YOU DOOG.
Ian "iggy" Cartwright God bless you Derek,you were a true friend,me and my family will miss you and will never forget the help you gave us,,thanks for all your love and support xx
Dave Roden via Bob Goddard Hi Robert, Just a couple of short lines to add my name to the many who have already expressed their sorrow at the passing of the legend who IS Derek Dougan. Like many he will remain forever in the memory as a truly great Wolves player, in what was an era of great players. I still recall the story of Don Revie when asked how he would cope with the strike force of Dougan and Richards with his Leeds team that had Norman Hunter and Jackie Charlton at the centre of their defence he replied:"We know exactly how they will play and exactly how they will work it, but we just cannot cope with them" - as we used to read so often - DOUGAN FLICKS,RICHARDS SCORES. So many great goals and great matches, but you are also more aware than I am of the great good he also outside of football when his playing days were over. We can all honestly say HE WILL BE SADLY MISSED.If you could pass these sentiments on I would be grateful,
Dave Dungar, GM Chaucer Consulting wrote in the Birmingham Mail
The Times and Wolves Supporters don't always end up in the same room, particularly since Snellings started using plain paper to wrap their chips, but with me being from the posh end of Town, I noticed some time ago that The Times can be relied upon to serve up a top obituary . For all of us mourning the passing of the Wolves Legend "The Doog" yesterday, I am pleased to say The Times have come good and the Doog deservedly gets 2 pages, so for anyone who did not buy it today, I attach the 2 pages, along with my own little tribute to the great man. Mike thanks for letting me know about this sad event so quickly.
Best Regards,
David Dungar
Plus 3 Consultants
Chaucer Group
Subject: The Doog; My Tribute
You asked for memories of the great man and I am only too happy to oblige;
" I was very privileged, in that, having idolised "the Doog" from the terraces as a Wolves fan, in later life I got to know him well, and became great friends with him. Prior to this, my nearest off the pitch contact with the Doog, was when the local paper published my O Level results by mistake in the name of Derek Dougan, I was as chuffed as my Mother was angry. In recognition of this incident, we communicated after I got to know the Doog off the field, as DD1 and DD2, needless to say he was, and always will be DD Number 1. I loved every minute of my one to one dealings with him and I am pleased we spoke very recently. He held out great hopes for Wolves in the new season and liked the look of the new owner and thought Mick McCarthy was doing a great job.
As everyone who knew him, has already said, the Doog had got a strong opinion on any subject anyone cared to choose. Derek had a very powerful intellect and was very well informed about just about everything.
From personal experience, I would like to put the record straight about the affection Wolves fans held for the Doog even after the Bhatti years. The Doog longed to see his beloved Wolves play at the rebuilt Molineux, but was concerned about the fans reaction if he went to a game. He had not attended a Wolves match at Moli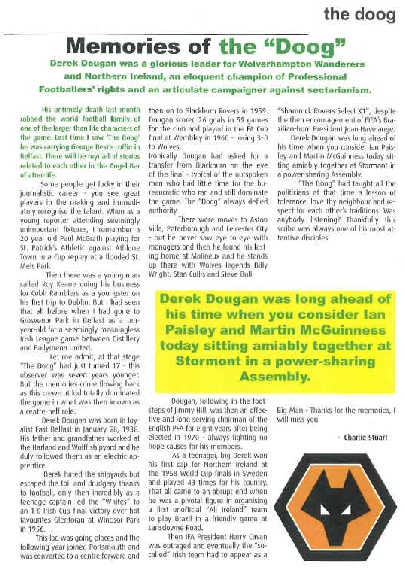 neux for many, many years at this point, although he had been to away games, particularly at Stoke with his great friend Terry Conroy. After a lot of persuasion, I talked him to coming with me, telling him he was still idolised, I knew that. I was absolutely right and that first night back, and the others we attended together afterwards, he always had to autograph his way to his seat. It is rubbish for anyone to suggest the Bhatti situation lessened his standing with Wolves fans, whose memories of him were fashioned on the pitch, not off it. I felt privileged to have played a part in settling that issue for Derek's peace of mind at least.
As well as his immense pride in Wolves exploits in the Old Gold and Black, he was also proud of what he had achieved not just for players still reaping the benefit, but what he strove to achieve for the old players who had not been as fortunate to receive the riches now on offer. It was typical of the Doog that despite his own health issues, right up to the end, he remained more concerned for the well being of other ex Wolves players not in the best of health like Frank Munro and Ian Cartwright.
I have a lot of business dealings in Ireland and I know the Doog was also particularly proud of the part he played in putting together the one and only "all Ireland" football team, albeit it leading to him never being selected to play for the North again. He regarded himself as an Irishman, not just a Northern Irishman. He joked to me "find me an Irishman that wasn't at that game that night; there must have been a mistake in the attendance figure, there must have been 5 Million at that game"
The Doog also cherished his association with the London Wolves, recognising their exceptional efforts to get, not just to games, but also to any other function connected with fund raising for ex Wolves players etc. The Doog may be gone but he will never be forgotten."
Dave Dungar also provided this page from the Bray Wanderers pre-season match programme
Express & Star - Ex-players recall a superstar http://www.expressandstar.co.uk/2007/06/25/ex-players-recall-a-superstar/
Former Wolves captain Mike Bailey said Derek Dougan had been a "superstar" signing for the club and believed he should go down as a Molineux legend.
"Legend isn't too strong a word to describe Derek – he was a household name who played for his country," said Bailey.
"When people ask of the era I played in and I mention John Richards, they always ask about Derek Dougan.
"He was a huge signing for us and I thought it was a particular sign that the club wanted to go places. He was a real extrovert and a showman – at away games, the crowd would have a go at him and he'd always come back with something."
Bailey admitted he was in disbelief at Dougan's death, the first of the successful early 1970s team.
"When I got a call yesterday, I was shocked. I thought it can't happen, not to one of ours," he said.
"With the recent passing of Alan Ball, it's two big names who have died and it's very sad."
Bailey added: "I was at Wolves a year before Ronnie Allen signed Derek and he was such a brilliant buy because he came to us at the right time.
"We were top of the league with Coventry going for promotion and having Derek lifted the whole place.
"Without a shadow of doubt, he pushed us all the way into Division One and it was the start of something big.
"I always remember playing three games in four days over Easter – Derek scored a hat-trick on his home debut against Hull and then we travelled to Huddersfield and beat them 1-0 before returning to Molineux the next day, where we beat them 1-0 again.
"Huddersfield were one of our main rivals for promotion, but that put them out of the reckoning.
"Derek had eight years at Wolves and most of the team stayed together the whole time."
Bailey said Dougan was a charismatic figure on and off the pitch who was as fit as a fiddle. "He was very athletic, very good in the air and made good runs," said the former skipper.
"He was very fit – he took his training very seriously and could run all day.
"But he was also a huge name and the crowd loved him because they hadn't had many household names for a while.
"He had them in the palm of his hand and he obviously took to them as well because he had eight years there and settled in the area for the rest of his life.
"He had a caring side too – Frank Munro, who is wheelchair-bound, told me Derek had popped in to see him just last week and I know he was a regular visitor."
Bailey said Dougan's strike partnership with John Richards in the early 1970s was as lethal as anything around.
"Him and John Richards were a real handful and at times defenders would be watching Derek which allowed 'Ritchie' the chance to score and vice-versa.
"He helped John enormously and having someone of his name helped us all really.
"He was a big-game player too – the bigger the game, the better for him and he really came alive in those European games.
"The UEFA Cup was probably his best time as a player and I thought he performed very well in those ties.
"But he was a big part in our League Cup run in 1974 when we beat Manchester City in the final. City were big favourites to beat us and rightly so because of the big names they had."
Friend and former striking partner Dave Wagstaffe was one of the first to be told about Dougan's death.
Dougan and "Waggy" formed a close bond on and off the pitch and they had stayed close after finishing their Molineux careers. And his fellow partner-in-crime reckons the chemistry between player and club was always right.
"Derek Dougan and Wolves were a marriage made in heaven," he said.
"He actually surprised us all by staying at the club. He'd had a few clubs when he came to us and he scored so many goals that we all natually assumed he'd leave. But I think he knew that Wolves were great for him and he was great for Wolves.
"My enduring memory was of a player who was always available on the pitch. His running off the ball was excellent and his goalscoring record spoke for itself."
And Wagstaffe paid tribute to the "tireless" Dougan.
"I would say he was a flamboyant and individualistic character but having said that he was certainly an excellent person to have in your side and on your side," he said.
"And having said he was flamboyant and an individual – he was never like that in the dressing room.
"Even at the age of 69 he was still trying to forge a career in other fields – whether it was in the Professional Footballers' Association or the ex-professional association. He was never one to sit down for five minutes and he kept going right until the end."
Waggy has fond memories of Dougan's home debut, where he plundered a hat-trick against Hull City to start a fantastic relationship with the Molineux faithful.
"He arrived in a fairytale manner – that first home game was something special. I will never forget it.
"I have been writing a book and I have said that whoever wrote the script for that first game must have been the same person who wrote the Roy of the Rovers cartoons. You couldn't have dreamt it up.
"There were some other great memories of goals he scored and his great partnerships with John (Richards). That partnership was second to none in the Football League."
Wolves' record appearance maker Derek Parkin mourned the loss of a great friend with the passing of Derek Dougan.
"It's such a shock to so many people – he's always been a good friend and I was only talking to him last week," said Parkin. "My wife has got cancer and Derek was the first one on the phone to ask how she was. He's always rung whenever there has ever been any upset.
"It's unbelievable to think I'll never see him again. Whatever people say about him, he was always a good friend to me. I had a lot of respect for him – you talk to any of the lads who have had any difficulties and he was always first on the phone.
"You tend to forget how long you've been associated with people and it must be 35, 40 years which is unbelievable."
Parkin said the death of his friend was all the more surprising because he was so full of life. "Derek was so much alive – he was a real character and someone that once you met, you never forgot and he was interesting company," he added.
"He was larger than life and a pleasure to be with – you never came away disappointed. You could talk and listen to him all night.
"But we were in Europe a lot during the early 1970s and people shouldn't forget he was a major part of our success."
Parkin admits Dougan was a controversial character, but believed many people had the wrong impression of him.
"A lot of people got the wrong end of the stick about him," he said. "He was a very thoughtful man and I had a lot of respect for him and I'm sure all the lads feel the same.
"I think when he went back as chairman, a lot of stuff that went on didn't come out. He was Wolves through and through. He was a Wolves legend and always will be."
The former full-back revealed he learnt lessons from Dougan that stayed with him.
"He was a tremendous showman, but he had all the time in the world for people," added Parkin.
"That's the thing I remember about him as a young player and it always stuck with me throughout my career.
"After we'd played in the rain, we'd go and shower, have a drink and there would still be supporters wet through from the pouring rain for autographs.
"He told me 'You must sign autographs' and that's why he was so popular."
Parkin, who made 501 League appearances between 1967 and 1982, said Dougan's strike partnership with John Richards was feared throughout the game.
"He was the most unlikely footballer, physique-wise, but he caused havoc.
"When we played in the UEFA Cup in the early 1970s, they were probably the best strike partnership in Europe – they frightened the life out of people, not just in England, but abroad too.
"He was a great professional – he was about 10 years older than me, but he was the guy who always at the front in the running."
TIMES ARTICLE by PETER LANSLEY
June 25, 2007
Fiery Dougan made mark both as player and union leader
Peter Lansley
Derek Dougan was last night hailed as the footballing politician who helped to pave the way for players to enjoy freedom of contract. The former Wolverhampton Wanderers and Northern Ireland striker, who died at the weekend of a suspected heart attack at the age of 69, was described as "a great champion of players' rights" by Brendon Batson, the former deputy chief executive of the Professional Footballers' Association (PFA).
"The Doog", as he was known in his playing days, was a flamboyant and controversial character even before he became the players' union chairman in the early 1970s. It was from this position of authority that the Belfast-born striker played a crucial role in the fight for freedom of movement for out-of-contract players.
Long before Jean-Marc Bosman established the right for a player completing his contract to be able to move to his preferred destination, thus earning the right to negotiate his own terms, Dougan was helping to shut down the antiquated system whereby clubs could hold on to a player's registration and prevent him moving on.
"He was a great champion of players' rights and conditions and he was an integral part of the terms players enjoy now," Batson, whose time at the PFA overlapped with Dougan's, said. "For many years, players were treated like cattle. But he was very, very outspoken in saying that players had an important role to play and they deserved to be free and masters of their own fate."
Gordon Taylor, the present PFA chief executive, also worked alongside Dougan in the 1970s. "At times, he was a very controversial character, never frightened of taking on authority, which got him into trouble in his playing career and, needless to say, off the field as well," he said. "He led as chairman, and that brought in the player's right to move in 1978, which was the forerunner of Bosman."
Dougan travelled to the 1958 World Cup finals and went on to play 43 times for his country, forming a partnership with the late George Best, whose coffin he helped to carry at the Manchester United legend's funeral 18 months ago. He championed the notion of an all-Ireland team and, in 1973, scored twice at Lansdowne Road as a combined team lost 4-3 to Brazil. He was never invited to play for Northern Ireland again.
At club level, he was a prolific and widely-travelled maverick. He played for Distillery before arriving in England in 1959 to join Portsmouth. He went on to play for Blackburn Rovers, Aston Villa, Peterborough United and Leicester City. He signed for Wolves for £50,000 in March 1967 and a hat-trick on his home debut helped to propel them back into the first division.
In an eight-year playing career at Molineux, he scored 123 goals in 323 games, helping the team managed by Bill McGarry back into Europe and to a League Cup final triumph at Wembley in 1974. He played briefly in the United States and returned to Molineux in 1982 to become chairman and chief executive after Doug Ellis called in the receivers after an ill-fated six-week reign at the club. But after three years the dream turned into a nightmare and, with Wolves again close to extinction, Dougan cut his ties.
"Everyone at Molineux will be saddened by this news," Jez Moxey, Wolverhampton's present chief executive, said. "Derek was a very talented and colourful footballer who was much loved by the supporters during the years that he wore the Wolves shirt. He will be very sadly missed."
Frank Munro, a team-mate during Dougan's playing years at Wolves, said: "He came to see me on Wednesday and looked ever so well. We were planning my 60th birthday party for October and he joked that he might not see the year out. I'm shocked by the news."
Patrick Collins, writing in the Mail on Sunday on July 1st click for article
Doog departs ... and the silence is deafening
Derek Dougan was a great talker. He would hold forth on every subject under the sun; spinning the phrases, enjoying the sound that the words made.
He had been raised in a family of six children in a two-up, two-down terraced house in east Belfast, the kind of home where you kept talking until somebody listened. As the years unfolded and he became one of Britain's finest footballers, Dougan continued to talk. He had strong views about the way the game should be run and even stronger opinions about the people running it. His career thrived at clubs like Portsmouth, Blackburn, Villa and, most notably, Wolves.
His international reputation was high, and he won 43 caps for Northern Ireland. And still he talked. He argued for the formation of an All-Ireland team, a concept akin to high treason in the Ulster of the Seventies. But, in the face of fierce opposition from the Irish FA, he helped to form such a team and organised a game against Brazil. They had to call the side "A Shamrock Rovers XI", and they lost just 4-3 to the Brazilians in Dublin. It was one of the better results Rovers ever had.
He was still playing top-class football when he became chairman of the PFA in 1970. He held the position for eight years; arguing, cajoling, talking. In recent years, he did a good deal of television and a little writing, regretting that football could not make better use of his talents. The Doog died last week, at the age of 69. We shall miss the fun, the laughter and the sound of that warm Irish voice. Talking
Derek Dougan - Obituary - The Times
From The TimesJune 25, 2007
Derek Dougan
Unyielding Northern Ireland captain who won glory as centre-forward for Wolves
Derek Dougan was a brilliant, outspoken footballer who never bowed down to the establishment. He was an international team-mate of George Best, whose coffin he helped to carry in December 2005. Like Best's, Dougan's father worked in the Belfast shipyards.
He moved from Lisburn Distillery to Portsmouth in 1959. His playing days were characterised by wanderlust: he submitted a transfer request on the eve of turning out for Blackburn Rovers in the 1960 FA Cup final. Rovers promptly lost 3-0 to Wolves, his future employer.
He scored at a prolific rate in club football, moving on to Aston Villa, Peterborough United and Leicester City before finally signing for Wolves for £50,000 in March 1967. He promptly scored a hat-trick on his home debut against Hull City and a nine-goal burst helped to lift the venerable old club back into the First Division (now the Premiership). "When I came to Wolves, it was to a club with a great reputation, a great history, a great standing," he said in Running with Wolves: Tales from the Gold and Black Country. "It was only after I'd been here a few years that the gold of that strip got into my blood. I was as proud to wear that shirt as Billy Wright [Wolves' England captain throughout the 1950s] was."
Dougan became an iconic figure during his eight years as a player at Molineux, scoring 123 goals in 323 games. With his theatrical presence, long, loping run and increasingly wild hair, he stopped his wandering once he settled in Wolverhampton, with Jutta Maria, his German wife, and Alexander and Nicholas, their two sons. He had an uncanny knack of being able to jump early and seemingly hang in the air, where he fed off the crosses of Dave Wagstaffe and Ken Hibbitt, the Wolves wingers, to head the ball down for John Richards, for a spell the most prolific young striker in English football.
Wolves returned to the upper echelons of the First Division and competed once more in Europe, reaching the Uefa Cup final in 1972, where they lost to Tottenham Hotspur, and winning the 1974 League Cup final, beating Manchester City at Wembley. Dougan barely played in his final year at Molineux, before being given an emotional farewell, at the age of 37, on the last day of the 1974-75 season. But fans had not heard the last of the man they called "the Doog".
The self-confidence of the best-dressed man of 1972, according to the Tailor and Cutter, knew no bounds. Dougan seldom missed an opportunity in football's political arena, where his ideals were tempered by the Troubles and a rejection of the loyalist values he had been surrounded by as a teenager. He won 43 caps for Northern Ireland and captained the side for four years. But he believed passionately in an all-Ireland side and in 1973 met the Irish Football Association to propose this idea. He never played again for his country; something he always blamed on the stunned reaction of officials at that meeting. Certainly the idea won him scorn in East Belfast, where his face on a mural was defaced by Loyalists.
Dougan became a pundit for ITV during the 1974 World Cup finals. He was also chairman of the Professional Footballers' Association, the players' union, to which he made some visionary contributions.
Players in the modern game can leave at the end of their contracts for no transfer fee, thus negotiating their own, often massive signing-on fees. In the higher levels of the game they can become millionaires overnight. Dougan was fighting the case for freedom of contract a generation earlier. "I regard this as a greater step forward for soccer than the abolition of the maximum wage," he told The Times in November 1975.
Such outspokenness did not always endear him to his managers. "I was a different personality to David Beckham but it was a similar situation," he said. "I was never off TV, I was writing for a national newspaper, I was captain of my country, I was running the players' union and I never had to ask permission about anything. He [Wolves' manager Bill McGarry] hated it."
Dougan became chief executive and centre-forward at Kettering Town in the Southern Premier League upon leaving Wolves. He introduced shirt sponsorship, nowadays considered de rigeur as part of a club's income. The Football Association was up in arms. Unrepentant, Dougan said: "I could finish up in Sing Sing or Strangeways, wherever the food is better," he said. "I find it inconceivable that petty-minded bureaucrats have only this to bother about."
Already a legend at Wolves, Dougan returned in 1982 to help to save the club when they were reportedly within 24 hours of going out of business. As chief executive, he promised a rejuvenation of the club but his backers, the Bhatti brothers, proved to have little substance and in January 1985 Dougan resigned. By 1986 Wolves had matched Bristol City's record of dropping from the top division to the fourth in three calendar years. The affection held in Wolverhampton for Dougan suffered a decline too.
A man of considerable charisma, presence and enthusiasm, Dougan attacked mainstream Unionism in his second autobiographical tome, The Sash He Never Wore. He wrote several books and was planning another last year. He is survived by his wife and two sons.
Derek Dougan, footballer, was born on January 20, 1938. He died of a suspected heart attack on June 24, 2007, aged 69
Derek Dougan - Obituary - The Independent here
Flamboyant Northern Ireland striker whose tumultuous career ended in glory with Wolves
Published: 26 June 2007
Alexander Derek Dougan, footballer and administrator: born Belfast 20 January 1938; played for Distillery (Northern Ireland) 1955-57, Portsmouth 1957-59, Blackburn Rovers 1959-61, Aston Villa 1961-63, Peterborough United 1963-65, Leicester City 1965-1967, Wolverhampton Wanderers 1967-75; capped 43 times for Northern Ireland 1958-73; chief executive, Wolverhampton Wanderers 1982-85; married (two sons); died Wolverhampton 24 June 2007.
For a footballer to shave his head in the 21st century is almost de rigeur; but when Derek Dougan shed his dark locks in 1961, it served to mark out the lean, lanky Ulsterman with the hawkish good looks of a screen cowboy as something of a maverick.
The flamboyant, outspoken, periodically combustible Dougan was, indeed, both a formidable non-conformist and an enigma. Charming and intelligent, not averse to riding the waves of adulation he attracted, he was one of the most colourful and controversial characters in professional sport. However, none of that should obscure the fact that, during his late-career pomp with Wolverhampton Wanderers, when he finally achieved balance between showmanship and his immense natural talent, Dougan was also an exceedingly fine centre-forward.
Earlier he was an inveterate, rather wild rover, serving six clubs and his country, tending to thrill managers and fans alike with his spikily effective individualism. At moments, though, he might infuriate them with a volatility which, on his bad days, could be spiced unattractively with a dash of arrogance.
Happily, when he settled at Molineux in 1967 it was as if a lifelong quest to discover his true niche was at an end. Over the next eight and a bit seasons he scored 123 goals in 323 games, in the process becoming one of the most revered and enduring heroes in Wolves' history.
Alexander Derek Dougan was born in 1938 to a Protestant family in a bleak area of east Belfast where unemployment, poverty and religious bigotry were rife, the eldest of a shipyard boilermaker's six sons. He learned his football in rough pick-up games on the back streets, then progressed to more formal contests through boys' clubs, excelling sufficiently to win schoolboy international caps as a centre-half.
Away from the game, although a bright boy, he couldn't wait to leave school in order to earn money, and there followed jobs in a toy factory and as an apprentice electrician. All along, however, in his heart was the desire for a football career, which began when he signed for Distillery at the age of 15. Having switched from defence to attack, he helped the west Belfast club to beat his childhood favourites, Glentoran, in the Irish Cup Final, and won amateur international recognition.
Such was Dougan's progress that English clubs were bound to take note and, in August 1957, he was transferred to Portsmouth, then struggling in the League's top flight, for £4,000. Two months later, still only 19, he made his senior début at Old Trafford and shone in a startling 3-0 victory over reigning champions Manchester United.
But he was raw and homesick, proving unable to settle at Fratton Park. Feeling suppressed and misunderstood, he railed against authority, criticised the training regime and clashed frequently with the manager Freddie Cox, which landed him with a reputation as a rebel which he never wholly shook off. Still, he continued to develop promisingly as a player, and was rewarded with his first full cap for Northern Ireland against Czechoslovakia in the 1958 World Cup finals in Sweden.
The following season Pompey were relegated but Dougan wasn't, having been transferred to fellow First Division side Blackburn Rovers for £11,000 in March. By now the gangling spearhead was emerging as an increasingly dangerous marksman, but he remained feistily difficult to manage and his Ewood Park sojourn proved to be tempestuous.
Soon he was lauded by the fans, who nicknamed him "Cheyenne" for his resemblance to the TV western actor Clint Walker and relished both his goals and his unorthodox character. However, he became involved in more disagreements, again finding fault with training methods, then showed distressing immaturity and lack of professionalism when he was on the verge of what might have been his greatest triumph to date.
Shortly after scoring the two goals against Sheffield Wednesday that secured Blackburn's place in the 1960 FA Cup Final against Wolves, Dougan strained a muscle. Then, having posted a transfer request on the morning of the game - a provocative act which was to create immense hostility among Rovers fans - he declared himself fit for the Wembley showpiece, apparently believing that his team-mates would be able to carry him.
In fact, he was limping badly a few minutes into the game and, with no substitutes allowed in those days, his side was reduced to 10 fit men. Soon that was nine when Dave Whelan - destined to become a millionaire and preside over the rise from obscurity of Wigan Athletic - suffered a broken leg, and Blackburn were crushed 3-0 in a dismal contest.
Later he admitted he had been at fault, but at the time, despite amassing a commendable 34 strikes in 76 starts for the club, his popularity waned.
Inevitably he moved again, this time in July 1961 to Aston Villa, where the manager, Joe Mercer, was initially delighted with his £15,000 capture, whom he reckoned was a better player than his predecessor, the England centre-forward Gerry Hitchens, recently sold to Internazionale of Milan for £85,000.
Ever the extrovert, Dougan prepared for his latest challenge by shaving his head, maintaining it was not a gimmick but to make him "feel fresh." His new supporters found it difficult to judge him in that first term because he missed much of it following a car crash; but at the start of the subsequent campaign Mercer, perturbed by the Irishman's relentlessly independent outlook, told him if he wanted to be "different" to try scoring goals more consistently. Dougan responded with two brilliant efforts to beat mighty Tottenham Hotspur, but still there was trouble ahead.
Villa struggled, Mercer's health deteriorated and he upset his stormy petrel of a centre-forward by leaving him out of the 1963 League Cup Final, which was lost to Birmingham City.
Thus it was no surprise when Dougan departed that summer, but his destination raised plenty of eyebrows. In fact, his £21,000 switch to Third Division Peterbrough United was a sensation, and it was felt widely that his decision to drop two flights might signal the end of his days at the top level. However, although he dropped temporarily out of the Irish team, he flourished with ambitious Posh. They saw him as a talisman who suited their brash, go-ahead image, and he got on well with the manager Gordon Clark.
Dougan scored plenty of goals for Peterborough but one in particular, the shock winner against Arsenal in an FA Cup tie in January 1965, whetted his appetite for a return to the big time, which he achieved at season's end with a £25,000 transfer to Leicester City.
The advent of such a luminous personality generated record ticket sales at Filbert Street, where he made a superb transition back to the First Division, netting freely and regaining his international berth. Playing the best football of his life to date, he brought panache, industry and authority to his role, and Foxes fans were dismayed when the charismatic 29-year-old joined Second Division Wolves for £50,000 in March 1967.
On arrival at Molineux Dougan declared that his stay in the lower flight would last only 11 games, and so it proved. He netted a hat-trick on début against Hull City and fired six more as his new employers secured promotion.
Thus began easily the most settled and fulfilling phase of a hitherto tumultuous career, during which Dougan became the first Irishman to exceed 200 goals in England - he totalled 222 in 546 League appearances. In his maturity, he was a comprehensively fine leader of the attack: powerful but also subtle in his aerial work, adept at protecting the ball with his back to goal, deceptively quick with his loping stride, unselfish for such a natural individualist and unfailingly brave. Such was his form at the outset of 1969/70 that Arsenal tried to sign him, but were firmly rebuffed by the Black Countrymen, who had no intention of parting with their swashbuckling hero.
He excelled alongside a succession of frontline partners - Alun Evans, Hugh Curran, Peter Knowles, John Richards - and took a major role as Wolves beat Manchester City in the 1974 League Cup Final. He battled valiantly, too, in the two-legged Uefa Cup Final defeat by Spurs in 1972, and if there persisted a few disciplinary wrangles - he served one lengthy ban for swearing at a linesman - that seemed a small price to pay.
Off the field, too, Dougan's profile continued to burgeon. He became a vociferous campaigning chairman of the Professional Footballers' Association, pushing hard for freedom of contract, which was achieved in 1978. He was deeply involved in charity work, hosted a local radio programme, penned several books and in 1970 served on ITV's provocative World Cup panel - alongside Malcolm Allison, Paddy Crerand and Bob McNab - after which screen punditry was never the same again.
His collection of Northern Ireland caps stretched to 43 and was not concluded until he was 35 in 1973, two years before he played his last professional game, for Wolves.
Later he managed non-League Kettering Town and worked as a Yorkshire TV presenter before returning to Molineux as chief executive in August 1982, fronting a consortium to rescue the now-ailing club. Before that season there was speculation that debt- ridden Wolves would go out of business but the financial cavalry, led by Dougan, averted disaster some three minutes ahead of the Official Receiver's deadline. The club's fortunes continued to fluctuate, however, and he departed midway through the 1984/85 term which would end with relegation to the Third Division, going on to work in marketing.
In June 2006 Dougan - always passionate about politics, particularly the problems that afflicted his homeland - appeared on the BBC's Question Time as a representative of the United Kingdom Independence Party.
But it is for his incandescent impact on the football world that "The Doog" will be remembered most vividly. His career encompassed rarified heights and unaccountable troughs, but it was never boring.
Ivan Ponting
WINGER Magazine's tribute to Doog
Winger is edited by David Powter - david@powter6167.freeserve.co.uk Contact David for back issues (at 50p per copy - see the editorial page below - address for cheques 200 Bradford Road Otley LS21 3LT
Richard Early wrote in the Irish Post - a weekly newspaper -at http://www.irishpost.ie/ on 23rd January 2008
For so long a footballing journeyman, Derek (the Doog) Dougan finally found a place to call home at Molineux where he was to become a legend.
"I was a different personality to David Beckham but it was a similar situation. I was never off the "TV I was writing for a national newspaper, I was captain of my country, I was running the players' union and I never had to ask permission about anything. He (Wolves manager Bill McGarry) hated it."
Derek (the Doog) Dougan's journey started in the mean streets of East Belfast in 1938 and ended its mortal span in Wolverhampton in 2007 with his cortege stopping briefly outside Molineux, the ground his swashbuckling skills had lit up during the '60s and '70s.
At his funeral were such Irish greats as Pat Jennings, Johnny Giles and Martin O'Neill. Indeed his old international teammate George Best would also surely have been there too had Dougan not been called on to shoulder his coffin two years earlier. Both of their - fathers worked in the shipyards of Belfast and through their talents on the sporting field these two sons of Loyalism served up a powerful incentive for
bridging the divides in that fractured city. Derek Dougan was not a sweet, obsequious lad. Well let's face it, Belfast doesn't do sweet and obsequious. The Doog though made a career out of being an intractable, opinionated maverick who tried the patience of many of his managers. He joined Second Division Wolves he was 29 and this is where he settled down for the rest of his playing career and where his showmanship arid skills finally found their home. In exchange he was loved by the Wolves faithful: "My first real hero. I can still hear the chants: 'I'd walk a million miles for one of your smiles, my Dougan' and the Doog would look at the North Bank and smile for us. 'Doog, Doog, Doog' we'd chant, and he'd raise his fist in tune," reminisced a fan when he passed away
He led the line for Wolves, finding the net 123 times in 323 appearances. He was tall and gangly and ran with a deceptively fast loping style, cutting a slightly piratical figure with his wild hair and droopy moustache. He earned the nickname 'Cheyenne' because of his resemblance to TV western actor Clint Walker but imagine cross between Frank Zappa of The Mothers Of Invention and Mexican Pete the ,Bandit, with the rebel in both and you will get the picture. Slightly at odds with this though, The Tailor And Cutter nominated him Best Dressed Man of 1972!
He started out his football career with Distillery of Lisburn as a centre-half, soon got noticed across the water and was first signed up by Portsmoutlmt the age of l9.But this was an unsettled period for the young Dougan, clearly looking for something that he could not find.
After only two years he left Pompey and continued to spend just two years each at a further four more clubs, railing against authority and criticising training regimes, before arriving at Wolves in 1967. After Portsmouth came Blackburn. Shortly after scoring the second of the two goals that secured their place in the 1960 FA Cup Final Dougan strained a muscle. To the consternation of the fans his restlessness led him to put in a transfer request on the morning of the final, oddly against Wolves. Despite declaring himself fit Dougan was soon reduced to a passenger and the game was comprehensively lost. It was another year before he got his wish, this time moving to Aston Villa. He met the challenge of his new club by shaving his head (years ahead of his time) as a sign of a fresh start. Joe Mercer, the manager, unimpressed by the Doogs' relentless individuality suggested that if he wanted to be different he could start scoring goals more consistently. Another brief sojourn and another move. This time dropping down two divisions to Peterborough, which raised a few eyebrows. But for once his brashness found an echo in the ambitions of the club and his new manager Gordon Clarke, with whom he got on well. At Posh he, flourished, scoring 38 times in his two seasons and this whetted his appetite for a return to the big time, which he duly made when joining Leicester in 1965. The advent of this charismatic figure at Filbert Street generated record ticket sales. Netting freely the Doog found the best form of his life to date. Playing with panache, diligence and authority it was as if he had finally laid his ghosts and come to find a maturity However he had one more move to make and like a jilted lover the dismayed Foxes fans had to bury their sadness as he was wooed by Second Division Wolves and left for them in March of 1967. With characteristic bravado Dougan declared that his stay in the lower division would last only 11 games and so it was. In his first home game against Hull City he scored a hat-trick. Six more goals followed to secure promotion and the love affair between Wolves fans and the Doog had begun.
Those under a certain age and who are not Wolves supporters will not appreciate what a top club they were in the '50s. In the period 1953 to 1961 they were champions three times, runners-up twice and third on three other occasions. Then a short decline had seen them relegated in 1965 before Dougan joined them: "When I came to Wolves it was to a club with a great reputation, a great history, a great standing. It was only after I'd been here awhile that the gold of their strip got into my blood. I was as proud to wear that shirt as Billy Wright." (Wolves' great captain in the '50s.) Dougan won 43 caps for Northern Ireland and like his teammates at different times, Danny Blanchflower and George Best, deserved a bigger international stage. Dougan, repulsed by the sectarianism of his homeland, had a vision of an All-Ireland side and was a principal organiser and player in what was obliged to be called a Shamrock Rovers XI (including Pat Jennings and Martin O'Neill) which played Brazil in 1973. The Northern Ireland IFA had been opposed to the game and he earned scorn generally in East Belfast where his image on a mural was defaced. Dougan's subsequent claim that his involvement in that game would mean him never playing for Northern Ireland again recalled (albeit with less serious consequences) Michael Collins' foreboding on signing the partition treaty that he had also just signed his own death warrant. Dougan continued to be an advocate for All-Ireland football.
He was also Chairman of the Professional Footballers' Association where he argued forcefully for an improvement in players' rights. In 1978 he finally achieved freedom of movement for players whose contracts were completed. 'He wrote several books and in his autobiography, The Sash He Never Wore, attacked mainstream Unionism. He became involved in politics and in 1997 stood as an Independent for Parliament against Peter Robinson of the DUP. He was also a football pundit for TV, a newspaper columnist and appeared recently as a panellist on BBC's Question Time. Derek Dougan had an opinion on most subjects and was not shy about expressing them. He was intelligent, eloquent, tempestuous and iconoclastic. Many adjectives have been used in describing him including some too florid to be repeated here! No doubt they are all true.
I see him as a sensitive, passionate and caring man who suffered the mindlessness of foolish authority not at all gladly Look into the intensity of his eyes in one of those old photos of him as a player and I think you will see those qualities burning there.
The final word goes to Peter from the supporters club London Wolves where the Doog was life president from 1968: "What impressed me last year before his death was that in spite of his own health problems, he was dedicated, through Xpro, to helping ex-professional footballers worse off than himself who clearly don't have the lifestyle of today's Premiership players and he put himself, heart and soul,into that"
What do you think? Was Derek Dougan the greatest, if not who was? Write to
Ronan Early, Sports Editor, The Irish Post, 1st HOOK, West Wing, 26-28 Hammersmith Grove, Hammersmith, London W6 7HA or e-mail: ronanearly@trishpost.co.uk Reproduced with Richard's kind permission
Merlyn's Tribute to Unforgettable Doog
You can shed tears that Doog has gone or you can smile because he lived.
You can close your eyes and pray that he will come back or you can open them and see all that he has left.
Your heart can be empty because you cannot see him, or you can be full of the love you shared.
You can turn your back on tomorrow and live yesterday, or you can be happy for tomorrow because of yesterday.
You can remember Doog and only that he has gone, or you can cherish his memory and let it live on.
You can cry and close your mind and feel utter emptiness, or you can do what Doog would want - smile, love him and go on.
Unforgettable Doog. A man of considerable charisma, presence and enthusiasm. What the heart has once known it shall never forget. We will never forget.
Merlyn Humphreys at the Doog's funeral service 5th July 2007
What's his name - Dougan
What's his name - Dougan
One more time - Dougan
His name is Derek Dougan and from Leicester he did come
To play for Ronnie Allen's team, back in division one
And if you come to Molineux
You'll always hear us cry
"We are the best team in the land
as no one can deny" to McNamara's Band
Derek Dougan for Downing Street, Hallelujah
Derek Dougan for Downing Street, Hallelujah
Derek Dougan for Downing Street, Hallelujah
Derek Dougan for Downing Street, Hallelujah to Michael, row the boat ashore
Wilson out - Dougan in!
Wilson out - Dougan in!
We've got Derek Dougan in the air, in the air
We've got Derek Dougan in the air, in the air
Derek, Derek Dougan, Derek Dougan in the air
Derek, Derek Dougan, Derek Dougan in the air to Gingangooli
Dougan, Dougan
I'll walk a million miles
for one of your smiles
My Dougan
Oh Dougan
repeat to Mamee, Al Jolson
Lah Lah lah la la lah
Hey Doog to Hey Jude
Dougan la la la la Dougan
La la la la Dougan to Lola
Drink a drink a drink to Derek the King, the king, the King
Saviour of the Wanderers Team
He's the greatest centre forward that the world has ever seen to Lily the Pink
For Dougan is our King
For Dougan is our King
For DOUGAN is our King to Ilkley Moor
Der der der der Dougan
Der der der der Dougan
He's the greatest centre forward in the land
Der der der der Dougan
Der der der der Dougan
He's the greatest centre forward in the land
Dougan, Superstar, how many goals have you scored so far? to JC Superstar
Dougan, Derek Dougan ooh! Aah!