Dave Wagstaffe ("Waggy")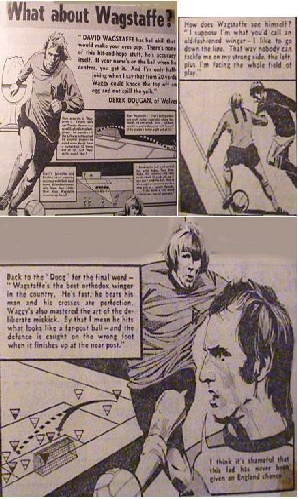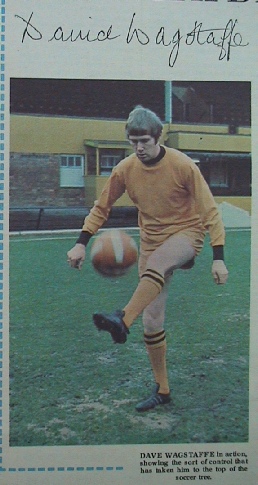 Better than Giggs
David Wagstaffe (Waggy) was an exciting left winger for Wolves in the late 60s and early 70s. Altogether he played for us for 11 years and was one of the most accurate crossers of the ball ever. Dave sadly passed away on 6th August 2013 at the age of 70 and his funeral was on 22nd August Before the 4-0 win against Gillingham a minute's applause celebrated his life. (picture Robert Goddard)
Waggy and his partner Val were welcome guests at many of our London Wolves events. We presented Val's chosen charity with a cheque for £100 in Waggy's memory
When he died he was fulfilling a promise to complete Frank Munro's biography (Frank's For The Memory)
Previously Dave wrote his own memoirs - Waggy's Tales - no ghostwriters so it's just as he saw it - a great read. For details see below click here Our London Wolves competition to win a copy of "Waggy's Tales" was won by Peter Jackson and Maurice from Molineux Mix . Published by Breedon Books
"King" John Richards was also delighted whjen he won a copy at our Christmas Lunch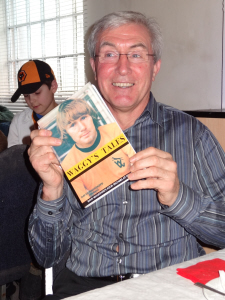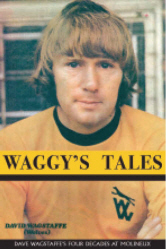 Waggy started as a Man City apprentice, graduating to the first team, but joined us on Boxing Day 1964 for £30,000. What a Christmas present, and a real bargain! Although we were relegated that season he was instrumental in our return to the top flight in 67. He never made full England honours in spite of the Doog's endorsement in the cartoon here, but, of course, has a League Cup Winner's medal from 1974. Waggy said that he was annoyed that one of his best ever goals was left out of the History of Wolves DVD – that one against Spurs in the EUFA Cup Final - He made 404 appearances and scored 32 goals. Waggy left the Wolves in 1976 for Blackburn where he gained the dubious "honour" of being the first League footballer to receive a red card. He did run Waggy's bar at Moli for some time long after he'd retired. cartoon courtesy of the Express & Star from the Goddard archives
Brian Restall also picked this us about Waggy being Beckham's predecessor in the US http://thesoccerobserver.com/2013/08/06/dave-wagstaffe-early-u-s-soccer-champion-and-icon-dies-at-70/
WAGGY's CAREER
1960–1964 Manchester City 144 (8)
1964–1976 Wolverhampton Wanderers 324 (26)
1967 → Los Angeles Wolves (loan) 10 (0)
1976–1978 Blackburn Rovers 75 (7)
1978–1979 Blackpool 19 (1)
1979 Blackburn Rovers 2 (0)
Total 574 (42)
* Senior club appearances and goals counted for the domestic league only. † Appearances (Goals).
WAGGY'S TALES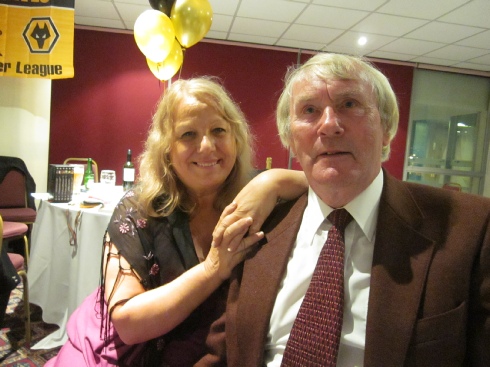 DaveWagstaffe may have left Molineux for Blackburn Rovers in 1976, but he will always be remembered as one of the finest wingers ever to represent Wolverhampton Wanderers. In this fascinating memoir, written without the aid of a co- or ghost-writer, Waggy lifts the veil on a sporting world frequently shrouded in myths and rumours. In a tale that is by turns comic and powerful, but always heart-felt, he reveals what life was really like as a professional footballer.
DAVE WAGSTAFFE'S FOUR DECADES AT MOLINEUX
'As with any job', the author says of life as a footballer, 'there were many ups and downs, but as a footballer you could have more than 30,000 people watching you when you were on a downer'. In this hugely engaging memoir,Waggy invites the reader to relive the 'bumpy ride' that was his professional career.
His story begins at his local club, Manchester City, in 1960. It is four years later however, when his move to Molineux was finalised on Boxing Day, that the rollercoaster really kicks in. Making over 400 senior appearances, Waggy moved from key figure to squad legend. His characteristic class and skill ever-evident, Waggy was a constant fixture at all pivotalWolves events in the 1960s and 70s. Waggy was there in his number 11 shirt for two major league finals, he was there when promotion was achieve d in 1967, and he was of course there when his old team was defeated in the League Cup final of 1974. Now, for the first time, he describes how it all appeared from the inside.Written with wit and vivacity, 'Waggy's Tales' is a must-read for all Wolves fans. DAVE WAGSTAFFE, born 1943,
started his career at the Manchester City youth side before moving to the professional squad in a left wing position. Although he ended his career at Blackburn Rovers, Wagstaffe spent the majority of his career at Wolverhampton Wanderers
Waggy's Tales is available to buy now priced at 12.99. ISBN 978 1 85983 621 7 from Breedon Books Breedon House 3 The Parker Centre Derby DE21 4SZ Telephone: 01332 384235 to order Fax: 01332 292755 e-mail: sales@breedonpublishing.co.uk website www.breedonbooks.co.uk The book will be available direct from the publishers and at Waterstones plus major book resellers such as W H Smith and on-line sellers such as Amazon. oryou can enter our compeition here
Pictures from Front & Back covers courtesy of Dave Wagstaffe and Breedon Books.
Other Waggy pix
Trying out the new Wolverhampton Sauna together with (L:R) Peter Knowles, Pat Buckley, Terry Wharton, (Waggy) Ron Flowers and Dave McLaren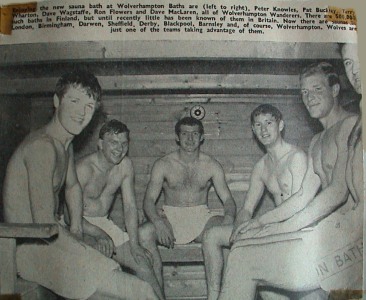 Waggy was inducted into the Wolverhampton Wanderers Hall of Fame shortly before he died. Here is Wolves' tribute video from the induction