You are respectfully reminded that all content on this website is subject to copyright and Wolverhampton Wanderers London Supporters' Club ("London Wolves") official website must be

acknowledged as the original source. Please contact the webmaster for permissions to use any content at webmaster@londonwolves.com All materials/designs on the website are © WWLSC. "London Wolves® is a registered Trade Mark.. London Wolves Ltd is registered in England No: 05329824 Registered Office: 21 Walton Road Great Cressingham Thetford Norfolk IP25 6NQ
George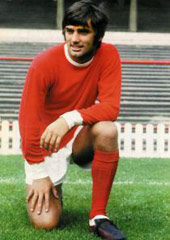 Best 1946-2005
Why have a page dedicated to a Northern Ireland and Manchester legend on a Wolves site. Well, Besty was a Wolves fan and eventually wore gold and black in a testimonial for Mike Bailey
Molineux paid tribute to the UK's most exciting forward with a minute of applause and singing of "There's only one Georgie Best" prior to the home game against Southampton on 26th November 2005, the day after George died.
London Wolves expresses sympathy to his family and gives thanks for his unmatched skills. Dave Slape adds to the history - George himself said he was a Wolves fan from watching them on tv when he was 8 years old. On 18th October 1976 he pulled on the Gold shirt and scored twice for Wolves against the Baggies. Willie Carr got the other in Mike Bailey's testimonial in front of 19,733. Also in Gold that day - Bobby Moore.
and from a Baggies fan(!) a matchday ticket from 76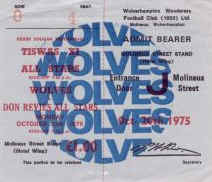 and here, in this picture is Derek Dougan acting as a pallbearer together with Billy Bingham and George Armstrong. Doog's quote was
"George carried us for enough years on the field so it will be an honour to carry him today"