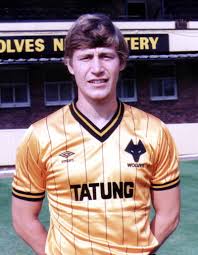 Ian "Iggy" Cartwright 64 appearances 2 goals
I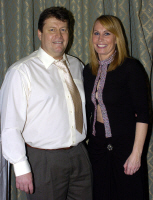 ggy, born in Brierley Hill in 1964 was in Wolves youth programme, as was his son after him, and turned professional in 1980. Although he showed early promise he was released into non-league football in 1986. However, his story became about his fight against cancer. When in 2007 he was refused funding for treatment by Dudley, the Express & Star highlighted his plight. The Doog saw the story and determined to do something about it, and, with his pal Terry Conroy (NI & Stoke) organised a fund-raising dinner with Gordon Banks as the star guest.
Ian is pictured at the dinner with his wife Julie
The Star also reported on the match arranged at Tividale to support the fundraising
Rivals raise cash for Iggy
A who's who of Midlands football legends (including Cyrille Regis) took to the pitch for a charity football match to raise funds for ex-Wolves player Ian Cartwright's cancer treatment.
More than 2,000 people braved the cold weather to see the ex-players shine once more as they all came together to help Ian, who is fighting cancer for the second time.
Ian 'Iggy' Cartwright was a midfielder who played in the 1982/83 squad that famously took the club back into the top flight.
This event and others held led by his many friends in football raised the money for the treatment until Dudley relented. This included a John o Groats cycle ride.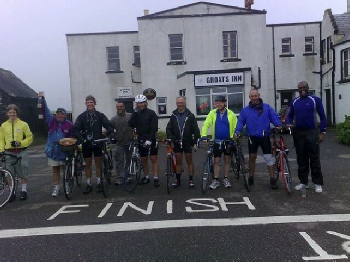 Iggy and Julie were due to be our guests at the 2014 Xmas lunch, but, unfortunately Iggy's condition worsened and he was admitted to hospital.
More pictures from the dinner held at the Connaught (Feb 8th 2007) are in the gallery here. Wolves manager Mick McCarthy "popped in" with a personal contribution with a cheque from the players' fines!