Wolves FA Cup Finals
Wolves have won the FA Cup four times - 1893, 1908, 1949, 1960, and were runners-up in 1889, 1896, 1921 and 1939 as well as beating Arsenal in the third place play off (1973-4)
This page includes videos and details of Wolves' cup finals. Note: if videos start to play simultaneously, press pause on each of them unti you've selected which one you want to play. You launch the videos by clicking on pictures below.
Contents :
1949 Video - WW 3 Leics 2
1949 Video - the Cup comes home
1960 Video - WW 3 Blackburn 0
1960 E&S Headline
Honved video here
We'll start with two videos from 1949 when Wolves beat Leicester 3-2 (Pye 2, Smythe) in the FA Cup Final on 2nd May 1949. This video is courtesy of the Pathe News who permit us to show this in the members' zone. Click on the arrow to load the 1949 Video.
and, on 5th May 1949, three days later, the team returned home to a heroes' welcome in Wolverhampton. This includes footage of Wolves greats Stan Cullis (Manager) and Billy Wright (Captain) addressing the crowd. Click on the early FA Cup to play
Here is a picture of Sammy Smyth Billy Wright and Stan Cullis from the 1949 celebration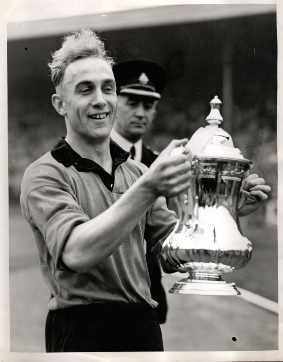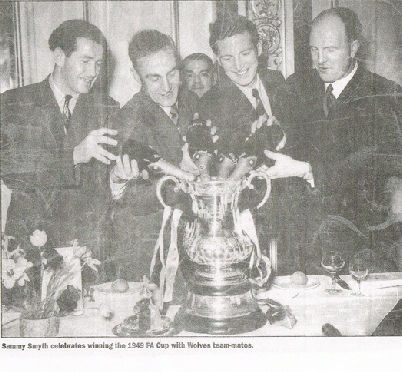 In 1960, of course the cup came home after a comprehensive win over Blackburn Rovers. Here's how the E&S reported it. An own goal by Blackburn's McGrath was followed by two by winger Deeley. (see below for video)
and to see how the match unfolded .... click on the FA Cup logo to play the video. Wigan's chairman and owner of JJB sports Dave Whelan broke his leg in this match, and as the headline shows winger Deeley was the Wolves hero. The win came just after Burnely pipped us to the Championship and an historic double.
You can watch the entire match here https://www.youtube.com/watch?v=mfiSQKZR8u8
The 1939 Final is here https://www.youtube.com/watch?v=TjVWirtRK3U
And the 1973-74 third place playoff is here https://www.youtube.com/watch?v=1vbIddp7kLU with Jim McCalliog and The Doog (2) scoring against Bob Wilson.
The most notable 21st century performance was perhaps the 3-2 win in the third round against a Premier League Newcastle managed by (Sir) Bobby Robson and led by Alan Shearer . This set up a run to the semi finals (beaten by Saints) and a League Run to winning the play off final to gain promotion. Article here http://news.bbc.co.uk/sport1/hi/football/fa_cup/2607247.stm
Wolves have a YouTube playlist featuring some 200 videos (warning, some are horror films!!) Here https://www.youtube.com/playlist?list=PLD4KIEUbazzWOdqhTBDkTETfjIEjtYzKx
Our thanks to Pathe News who made these videos available FOC in 2005 for membership sites and now show them via their YouTube video channel