Peter Knowles ("Knocker")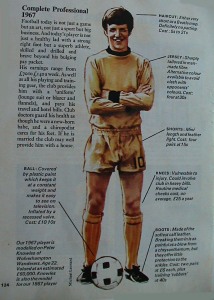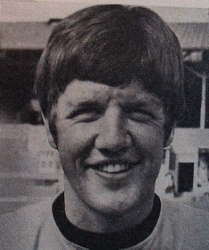 Better than George Best
Peter "Knocker" Knowles was undoubtably one of the most talented of all Wolves players. He broke the hearts of all Wolves supporters, though, in 1969 when he hung up his boots to become a Jehovah's witness. Peter's last match was a 3-3 draw against Nottingham Forest on 8th September 1969. He played 188 + 3 matches, scoring 64 goals. Born in 1945 he achieved promotion with the Wolves to the top flight in 1967 having top-scored in the two previous seasons. Billy Bragg's song - God's Footballer was dedicated to Knocker. London Wolves members can see his interview with Stef Leonard in 2006 in the Dec 2006 Newsletter (on the newsletters page).
To celebrate the 40th anniversary the Sunday Times are carrying another special article Sunday September 6th 2009 by Rob Maul. The E&S have already carried an article (Neither are now available on line but are reproduced below here and here) One enduring memory of Peter's flamboyant skills was when he sat on the ball on the edge of the area in front of the North Bank trying to entice the Bolton (I think) players to tackle him. They stood off, but eventually tried. A bit of keepy uppy followed and a punt on to the penalty spot. Deserved a goal! His brother Cyril was a Spurs full back but sadly died at 47.
Here's Billy's song
God's footballer hears the voices of angels
Above the choir at molineux
God's footballer stands on the doorstep
And brings the good news of the kingdom to come
While the crowd sings 'rock of ages'
The goals bring weekly wages
Yet the glory of the sports pages
Is but the worship of false idols and tempts him not
God's footballer turns on a sixpence
And brings the great crowd to their feet in praise of him
God's footballer quotes from the gospels
While knocking on doors in black country back streets
He scores goals on a Saturday
And saves souls on a Sunday
For the lord says these are the last days
Prepare thyself for the judgment yet to come
His career will be over soon
And the rituals of a Saturday afternoon
Bid him a reluctant farewell
For he knows beyond the sport lies the spiritual
Now there's a great book out on "God's Footballer" written by Steve Gordos. The story of Peter Knowles is unique.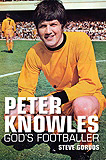 The gifted, good-looking Wolves and England Under-23 midfielder seemed to have the world at his talented feet. He was tipped to be the English George Best but sensationally quit football after becoming a Jehovah'sWitness. He was just a few days short of his 24th birthday. Despite the pleas of his club, the players, friends, fans and family, Knowles would not change his mind and has always said it was the best thing he ever did.
In God's Footballer, Steve Gordos recalls the shock waves created by Knowles's decision and traces the rise to fame of this son of a Yorkshire miner, who became an idol to fans, old and young, male and female. More details on the book here, including a special offer for London Wolves members and visitors. The book was not authorised by Peter.
John Lloyd, formerly England's number 1 tennis ace, remembers him in this Sunday Times article. From a contemporay article we have the picture of Peter above modelling as the complete modern footballer.
http://www.timesonline.co.uk/newspaper/0,,176-1678472,00.html
Heroes' Heroes: John Lloyd, tennis commentator and former British No 1, on Peter Knowles
The date is etched on my brain. I was 15 and such a committed supporter of Wolverhampton Wanderers that I regularly made the trip to Molineux from my home in Southend. To me, Knowles was a potential England player and the superstar who was going to make my club great. Like every other Wolves supporter, I couldn't believe he had decided to retire, aged just 24, to become a Jehovah's Witness. I didn't even know he had such strong religious beliefs; for some reason, I didn 't associate that sort of thing with footballers. It was clear the club expected him to have second thoughts, because it retained his registration for five years in the hope he'd make a comeback.
Alas, it was not to be and we were left to speculate on what might have been. I am convinced he would have become a force as a full international. Then again, he might have suffered the same fate as so many other flair players from that period, such as Rodney Marsh, Frank Worthington, Stan Bowles and Alan Hudson.
But the true loss was to Wolves. In today's transfer market, what would he be worth? Alun Evans went from Wolves to Liverpool as the first £100,000 teenager, and he was not a patch on Knowles, who scored 64 goals in 91 games for Wolves. Knowles played alongside Derek Dougan — that famous old Northern Ireland warhorse who went on to control the club several years later. The styles of 'Doog' and Knowles perfectly complemented one another; there was the big swashbuckling centre-forward who went where it hurt to win the ball, and Knowles the gloriously talented player who could produce the unexpected. He was not just a goalscorer, he was an entertainer who could stun the crowd and the opposition with a glorious flick or dummy.
Although tennis took a huge amount of my time, I watched Wolves every time they played in London. I initially supported them at the age of eight because I loved the old gold colour of their shirts and wanted to support somebody different because all my friends had fallen for Manchester United, Arsenal or Spurs. It was the early 1960s and Wolves were in the old First Division. Billy Wright had retired, but Ron Flowers was a great servant and later I came to revere the likes of Mike Bailey and John Richards, but there's never been another Peter Knowles.
I live in California but listen to Wolves games on the internet (all the American sports do absolutely nothing for me), and if a television company ever made a documentary on the career of Peter Knowles and whatever became of him, I would watch it on a weekly basis.
Sunday Times July 3rd 2005
Sunday Times Sept 6th 2009 Rob Maul - Best & Worst: Peter Knowles, Wolves
http://www.timesonline.co.uk/tol/sport/football/premier_league/wolverhampton_wanderers/article6823151.ece (link not working)
What was the best moment of your career?
In April 1964, I played for England in an under-18s tournament in Holland and scored in the final in a 4-0 victory over Spain in Amsterdam. I hadn't scored in any of the previous rounds so that was very special. During the trip, I shared a room with Harry Redknapp. We were great friends. From a club perspective, I've two highlights: my league debut for Wolves at Leicester City and then scoring my first goal, at home to Bolton.
What was the best thing about being a footballer in your era?
What I remember about the Sixties and Seventies was the individual flair on display, players who could change a match: Law, Best, Charlton, Bowles, Dougan, Wagstaffe, Greaves. My former Wolves manager, Ronnie Allen, would say, 'Go out there and enjoy yourself'. As players we had no rules or restrictions. Players today aren't worth the money they get paid. With the exception of Cristiano Ronaldo and Wayne Rooney, everybody is so predictable. There's no flair. They're like robots.
Who was your best opponent?
Bobby Moore. A real gentleman. Footballers today play well once every three or four weeks; Moore played well every Saturday.
What was the best advice you received?
My older brother Cyril, who played for Tottenham, once said, 'Football is better than going down the pit'. I never forgot that. My father was a miner, so too were my friends. I was supposed to be one at 16 had I not had an eye for a ball.
What was the worst thing about being a footballer?
Well, from the age of 17 to 23, I wasn't a nice person. I was a very arrogant individual. I was a loner. Think about it: I came from a mining village in Yorkshire and then, all of a sudden, I'm in the Wolves first team, in the England under-23 side, with my name in the paper and on television. Some people can take it, some can't. I was an arrogant so-and-so. I can't blame anybody but myself.
Why did you retire from football at the age of 23?
One day I received a knock on my door from two Jehovah's Witnesses. I invited them in and said to this gentleman, who I'd never met before, 'Why did my dad and two sisters — who'd done nowt wrong — die?' He answered that question. He then answered other questions which I'd never had answered before. I listened to what they said and thought, 'Yes, that makes sense'. My wife wasn't happy at first but, as time went on, she started to look into it with me. Before that, I was an atheist. When I started looking into the Bible, I learnt that 'all men are [created] equal'. I'm no better than anybody else but when I put a football shirt on, there was a difference. People began to worship me, idolise me. They treated me differently to an ordinary person. Now I am just an ordinary fellow. And I'm happy with that.
What was the response when you retired?
My mother was upset. Very angry, in fact. The biggest problem was me becoming a Jehovah's Witness. That's what people couldn't cope with. Everybody — players, family, Wolves supporters — said, 'He'll be back in six months'. I played my last game 40 years ago today. Wolves put my strip out for about a year and sent me a contract for 10 years. They thought I would re-sign. But I knew what I was doing. People like Sinatra retire but come back because they haven't made the right decision. I did.
Have you regretted your decision?
There hasn't been one day in 40 years where I have turned around and said to myself, my wife or my friends, 'I wish I hadn't packed up football'. It's the best decision that I've ever made. I'm content with life. When I look at my standard of living and how it has dropped over the years, it doesn't matter. I have my health. I'm still married — and if I had carried on playing football I wouldn't have been!
Where are you now?
All footballers from the past are really thick. None of us knew, for example, how to order a paper, change a car tyre or obtain an MOT because we had it all done for us. When I gave up football I worried. 'What am I going to do?' So, initially, I started delivering milk to schools at four o'clock in the morning. I also cleaned windows and worked in a tile shop. Then, about 10 years ago, I joined Marks & Spencer in Wolverhampton as a warehouse lad. I couldn't do nowt else in life apart from play football. I've been married to Jean for more than 40 years and we have no children. When I retire next year I will spend more time preaching. Basically I work, preach, read the Bible and go to Jehovah's Witnesses meetings. That's my life and I'm dead chuffed with it.
LONDON WOLVES NEWSLETTER December 2006 Stef Leonard