2008-9
Fooball League Championship - Champions
Wolves under manager Mick McCarthy charged to the title, beating the Blues by 7 points particularly thanks to the goals of Sylvan Ebanks-Blake who won the Golden Boot for the second year running with 25 League goals with Chris Iwelumo scoring 14 while right back Kevin Foley was the fans' player of the year. Sylvan was WWLSC player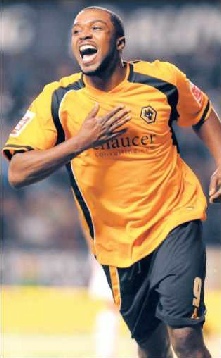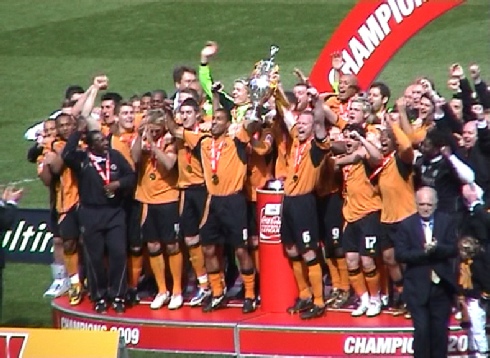 Kevin Foley is the Fan's Player of the year
The Wolves players receive their medals and Wolves are presented with the trophy (click to play)
This page has pictures from the games at which Wolves were promoted (QPR), qualified as Champions (Barnsley), and were awarded the trophy (Doncaster)
Wolves 1 Stearman 92) Doncaster Rovers 0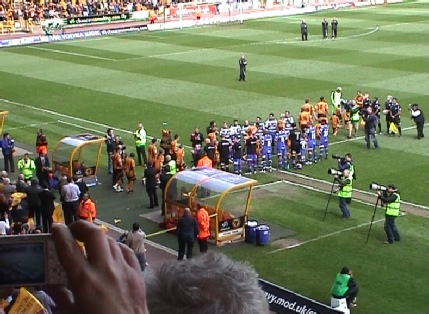 The Doncaster fans stayed to watch the presentation of the championship trophy, presumably including their manager, Wolves fan Sean O'Driscoll. Stears played at right back and got the winning goal, his first of the season, two minutes into injury time. Several of the Wolves players couldn't raise their games, even in a new formation. Fans' player of the year, Kevin Foley played in midfield and was man of the match. Andy Keogh, superstar at Derby, put in a couple of effective tackles more than usual, but was back to his pretty abject self, even missing a sitter late on. George Elokobi made a return which was greeted by cheering and singing from the fans - echoed every time he headed the ball. Sub Ashley Hemmings looks as slight as Keogh, but he tackled back very well including making a great clearance late on in our penalty area while club captain Jody Craddock had the worst game since his amazing comeback. Wayne saved us a lot of embarrassment. When the goal finally came it was the one that Stears had been promising all season. A short corner from Karl to Stephen Ward who put a great cross from the edge of the penalty box right on local lad Stearman's head for the winner. How many assists has Wardy got in the last two months?
Meanwhile former Liverpool fan Chairman Steve Morgan told us he wouldn't sell the club for 20billion but did get his hands on the trophy presented to Karl Henry and Jody Craddock together.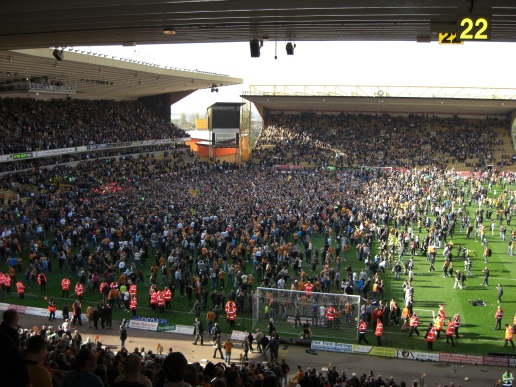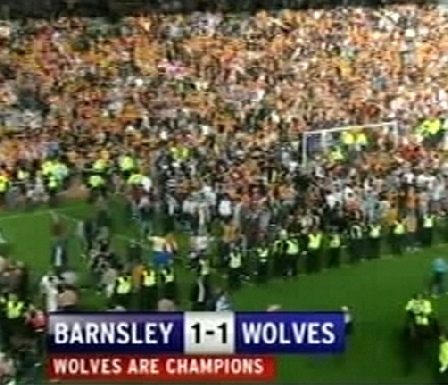 Season Review
July - August Wolves started off the preseason with local matches, a Scottish tour, and a clutch of old gold Wolves managers - Paul Ince with Blackburn at the home match, Graham Turner at Hereford, Alex Rae at Dundee FC, Mark McGhee at Motherwell, and Bully at Stafford Rangers. Played 10 W 8 D 1 L1 (to Wrexham) which was notable for the return at last of Mark Davies
August -an unbeaten start to the League season - drawing at Plymouth followed by a cup win at Accrington Stanley (before being knocked out by at Rotherham) and wins over Wednesday, Ipswich and 5-1 against Forest with a masterclass by Michael Kightly. League played 4 W 3 D1 position top but with a goal difference of plus 9! Details here or click the link bar at the top. The match against Forest probably produced the best football seen at the Molineux this century. Tim Nash in the E&S called it a "devastating performance" and "sending out a clear message of intent". P 4 W3 D1 GD +9
September. 4 wins (making it 7 on the trot) extended Wolves' lead at the top over Birmingham to 3 points with promotion favourites Reading trailing 8 points behind after only 8 games. Strikers Kights, SEB, Sammy Vokes and Chris Iwelumo had three goals each before Chris claimed a hattrick at Preston before being recarded for a near miss headbutt. Expectations very high then as the Royals pitched up on the last day of the month. And the reality check came. Outplayed and outclassed, Wayne flapping instead of his normal assured self and then injuries to both wingers, Kights and Jarvis, with Chris already out. P5 W4 L1 GD +13
October. What a weird month. The Reading loss was followed by a masterclass from Roberto Martinez' free flowing side with a 3-1 defeat, but, in mitigation me lud, we had 7 first choice players ou. Back to the top after a controversial goal from SEB (coming back on from an offside position) took the points from Freddy Eastwood's Coventry but it was short-lived as we were thrashed by eventually relegated Canaries at Carrow Road, (with Leroy Lita on loan from Reading causing the damage and allowing the Blues to sneak one point ahead of us, but for the last time this season. A win against Watford at Vicarage Road was quickly followed by revenge over the Swans in the return match in the snow with SEB again netting a magical goal. P 5 W3 L2 goal difference +11
November. Saw Mick McCarthy being particularly photogenic as he hobbled around on crutches (with a special bar stool by the dug out) after an op for an ankle problem. Pointing with his sticks certainly reinforced his messages to the players. What a month, defeating bogey teams Cardiff and Saints (at St Mary's for our first ever win there) as well as the Blades, Blackpool and Burnley. The record was only slightly soiled by a home draw cursed by the Sky cameras again against the Blues at the Molineux. P6 W5 D1 GD +19!! The sheepsh***ers match witnessed the full debut of the England Under21 star from Chelsea Michael Mancienne, who put in a string of man-of-the-match performances until his departure at the end of the year. Probably the most impressive win was against Burnley in 4th - with 16 goal attempts against their 2 (they'd just beaten Reading and were on an extended cup run.
DecemberOnce again the Sky jinx struck as we started with a one-nil loss at Loftus Road, although the last half hour should have yielded a point. But then Derby, still slipping from their Premiership debacle, came to play. 50 points up and still only 22 games played. Time for dreaming. Wins against Barnsley and Doncaster (London Wolves sponsored player Neill Collins getting the winner) though were followed by draws against the revitalised Blades and (on Sky of course) at Blackpool (with ex Wolf Rob Edwards captaining Blackpool and scoring in the 83rd minute. P6 W4 D2 pts 58 GD +24 (now 7 points clear of Reading who'd overtaken the Blues on goal difference).
January, the New Year dawned with the FA Cup match at Birmingham delayed because of their awful pitch, but Wolves won the match 2-0 finally a week late. For two years we'd suffered watching the useless Stephen Elliott missing chances in the gold shirt (from 6 inches at QPR, remember). We got the chance to see the qualities that Mick had seen, but he was wearing the white PNE shirt as we went down 3-1 at home. A draw away at Bristol - not helped by refereeing decisions in a howling gale. The referee was again on hand to gift Middlesborough a win in the FA Cup (Rob Styles before we piled off to Reading for an evening match. A nightmare for Neill Collins as he scored with a back header in the 1st minute and was sent off in the 93rd for abusing a (crap) linesman. That was to be Reading's last home win of the season! But the last day of the month got us back on track at Moli against Watford. P4 W2 D1 L1 Pts 62 GD +23 still top - by 4 points. "What crisis?" said Mick
February: Oh no, not another returning useless striker - yes - this time it's Carl Cort as SEB hits a hat trick - getting to 20 goals for the season - was undone He looked so dejected after all his efforts as Craddock gifted the Canaries an equaliser. The 4 points they took off us though wouldn't be enough to keep them up. That took the record to only one win in 8 and a last minute penalty miss by SEB at the Ricoh piled on more pressure, followed by the Clarets taking all three points at their place on Valentine's Day. We were heading for defeat to for the Cardiff return until on loan Kyel Reid tossed a hopeful ball into the centre and gk Konstantopoulos helped it into the net. And on the last day of the month the few Pilgrims supporters who made the journey up from the West Country took all three points back. Worst month of the season then - P 5 W0 D2 L3 Pts 64 DB +20 - a four point lead now over Birmingham who, like Wolves and Reading were also struggling.
March: Oh, what a night. Drenched in the pouring rain and the Railway Telegraph ran out of Youngs. But SEB had no worries about his earlier penalty miss and despatched that after Kights was sent tumbling at the Palace. The players celebrated with the soaked away fans. Maybe we should stay on the road as another 1-0 followed at the Owls as the Blues took second back from the Royals. Another clean sheet as the Tractor Boys parked a tractor across the pitch in an exciting 0-0 - but the entire top 6 failed to win. The visit of bottom club Charlton relieved the pressure a bit with a 2-1 win - led by the power of the returning Chris Iwelumo. Away to Forest and Kights remembered he's supposed to score against them, so he did in a "win ugly" game. But a good month overall with P5 W4 D1 top GD +24
April: Sky again was a jinx to start the month with a 2-0 loss at Birmingham - a match marred by the thug with the armband, Carlsey, finishing Chris Iwelumo's season. Although he was red-carded that seemed to inspire the home team and Wolves were well beaten. My son, a Saints fan was dreading the trip to Moli and after 18 minutes they were three down and we looked like gaining revenge for the 6-0 thrashing two seasons ago, but the game sort of died out after the first half. Sammy Vokes pressurised Saeijs into conceding a corner from the kick off and then rose to meet Dave Jones' excellent corner. Without SEB, Kights and Jarvis we thought it would be uphill, but Jones himself scored from he spot when Dave Edwards was tripped. Then Jody Craddock wrapped it up from another corner and Jones earned his trip back to Derby for Easter Monday. But it wasn't Jones who made the headlines - Andy Keogh had his best game by far in a Gold shirt in a tense, exciting match - scoring the opener (after pushing Albrechtsen aside) with a first time shot as Berra's clearance came over his shoulder. Derby fought back to 2-1 and only Wayne Hennessey kept us in it for Matty Jarvis to equalise with a slide in. We were all happy for a single point but on loan Marlon Harewood put a perfect cross for a diving (yes, diving) Keogh to head home. The promtion was in in sight as now thrid placed Blades were 7 points behind and it duly came with a SEB goal from a Stephen Ward assist against QPR at the Moli to lead to a pitch invasion. Other results meant that a draw at Mick's home town Barnsley would be enough to clinch the Championship. Kyel Reid's late equaliser from a Jarvis cross guaranteed that prompting a moronic invasion. The best April on record! P 5 W 3 D1 L1
May: One match to celebrate then and the generous fans from Doncaster came to party too. Bottom on Christmas Day they climbed to mid table respectability 12 points away from Norwich. Their fans stayed to see the Championship trophy presented to the Wolves after a match one by a 92nd minute header from local lad Richard Stearman, with his first ever goal for Wolves, in at right back as fans player of the season Kevin Foley bossed the midfield. Who provided the cross? Yet again it was the center forward turned left back who wears Waggy's number 11, Stephen Ward. While players' player SEB put in a 65 minute shift to be replaced by future star Ashley Hemmings, the biggest cheer came in the 85th as George Elokobi made his return from injury. So a great end to Mick McCarthy's three seasons in charge, unbelievably on target for his three year plan. The only sour note in the celebrations came again from the Chief Executive threatening the fans about pitch invasions. At least he didn't put himself in the position to get booed off the pitch again though. Of course the last word belongs to Mick McCarthy - when asked on Sky how he felt after the penultimate match at Barnsley "Champion" came the reply and Jeff Stelling creased up in laughter in the Sky Studio.
Burnley beat Reading and Sheffield Preston to meet in the playoff final so Reading will be playing the Baggies, Newcastle and Middlesborough next season.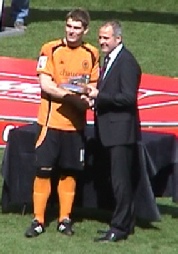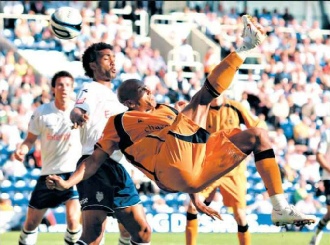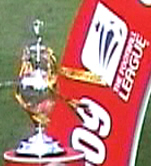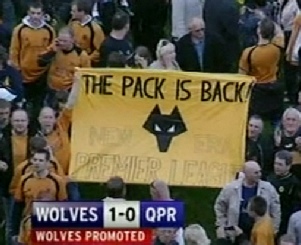 FINAL LEAGUE TABLE - COCA COLA CHAMPIONSHIP Season 2008-9 -Wolves are Championship Champions
Birmingham and Burnley were also promoted while the Saints Canaries and Charlton were all relegated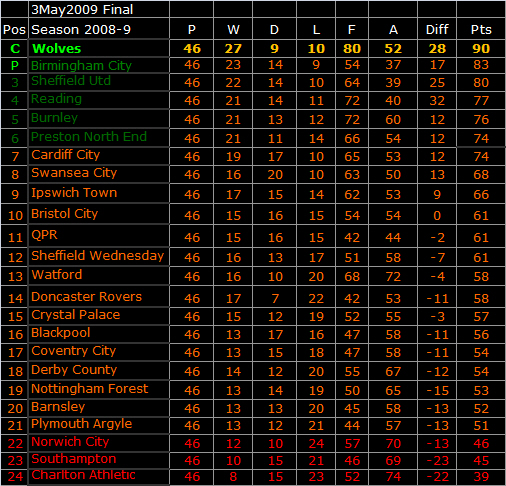 Reproduced under licence from Football DataCo Limited. All rights reserved. Licence no. FZ080903/118101