Premier League Season 2006-07
Headlines
SEASON 2006-7 Final position 5th 76 points GD +3. Beaten in play off semi final. For match reports please visit the WWFC site and select "MR" against the match http://www.wolves.co.uk/page/Fixtures/0,,10307~2006,00.html
An exciting season, with a totally new atmosphere at Molineux as Mick McCarthy brought in young, hungry players - no booing even when the performance dropped, but culminating with a play off semi final defeat by the Baggies. Outstanding contributions came from the £20k Michael Kightly, local lad Karl Henry, and especially the academy graduates - Matt Murray and Mark Little consistently and Dan Jones, as well as Lewis Gobern and Stephen Gleeson later in the season. The most spectacular was Wayne Hennessey debuting in the play off semi after his amazing record breaking loan spell at Stockport when he kept clean sheets in his first 9 league matches. And who would have thought that Seyi George Olofinjana would have finished top scorer. Seyi had a back problem fixed after the African nations cup and in his own words had a far far better season.
So Glenn Hoddle resigned while Moxey was out boating during an England international. Within a week desparation had set in and the talk was of how to avoid relegation. Within 18 first team players leaving we seemed to be heading for the darkness of the 90s. But, our favourite for manager when he left the Ireland job, Mick McCarthy arrived, promising no miracles. A week earlier he was preceeded by Gary Breen which should have tipped everyone off. Mick set about building a squad on the cheap, one of the absolute best being Karl Henry, a local lad who was desparate to play for Wolves and available to sign. Bully's 20th testimonial against the Villa gave him an unexpected chance when crowd favourite Mark Davies was injured in the eighth minute. Mick said "with that effort I just had to sign him" and, within a few months Karl was proudly wearing the Captain's armband. What a find!
Just ten months later we were to finish equal on points with the Baggies who had just been relegated and kept their squad pretty well intact. London Wolves player of the season was to be the first piece of good news when Matt Murray started fit and well. In fact he started the season as man of the match in a 1-1 draw away to Plymouth, as Mick fielded six debutants. A home win against the Tractor Boys was followed by a home thumping by promotion expectants PNE. But an away win at Burnley and then a homer against Luton took us to a most satisfactory and unexpected 5th place. These two wins sandwiched a Carling Cup exit at the hands of Chesterfield though.
September took us to our highest position - 3rd - with a win against Leeds, defeats by Derby and Barnsley quickly reset expectations. That Leeds win also showed our highest goal difference - 2 until the last day of the season (then 3!!), although Jemal Johnson and Jay Bothroyd had already impressed. A revival against Stoke was followed by a real awakening to Dave Jones' Cardiff and a 4-0 bashing, caused by the ref sending Gary Breen off apparently for an elbow. The sending off was later rescinded but it cost us the match, Bizarrely, the FA left teh red card on Breen's record.
October started well with wins against surprise high flyers Colchester and local rivals Coventry. But the Baggies were to record their first of 4 wins out of 5 against us and the 3-0 scoreline showed what how far short we were - and a home draw against Wednesday followed by a defeat at St Mary's
Lewis Gobern's first goal for WolvesNovember saw Academy graduate Lewis Gobern's first ever goal for Wolves against the Palace - and a game we should have won, but after one win, two defeats and two draws we were happy to take something as we dropped to 15th.
One of those draws though was away at Birmingham another relegated side which was encouraging but the defensive line up fielded by Mick asked a lot of questions. In reality he was bailed out by Capt Jody.
But the headlines after the match were made by Sir Jack in the WM phone in. Accused of losing interest in Wolves and being told that it was time for him to hand over, he denied the lack of interest but reaffirmed that he was trying to sell - and reduced the price from £40 million to £20 million.
Jody injured at SouthendDecember was again strange - away wins at struggling Southend and QPR but a home defeat to the Foxes - and a draw against Morwich - which was followed by a win away at Derby which knocked them back and eventually helped to cost them automatic promotion but then a defeat at Colchester. In the meantime though, Wolves had splashed out £20,000 on a Gray's player who rapidly became the crowd's favourite - especially after signing even though he was told Manchester United were in for him Also joining were Andy Keogh Steven Ward and Michael McIndoe who would all make a great impact during the second half of the season.
So, as the New Year came in, with every one else in this mediocre year not doing too much we were still in 10th. A mixed January showed signs of improvements with an FA Cup win over Oldham in an away replay after they held us at the Molineux. But home defeats by Cardiff (with their fans banned from attending) and then by the Baggies in a very one sided FA Cup matchwere beginning to cause concern. Moxey managed to upset the fans by not only giving the WBA the South Bank - blaming the Police - but without telling the fans what was happening. He compounded this by then selling extra tickets to WBA. Their fans stood throughout the match and the Police took no action.
Then, on the 30th an away win at Norwich - admittedly under pressure for much of the match, followed by the centre half pairing changed - with Neill Collins and Rob Edwards replacing Breen and Craddock. Neill had been working his way into the side, but, until Rob was injured Captain Jody and stalwart Breen couldn't get into the side. And the difference was a draw at home to Plymouth followed by wins away to Preston, home to Burnley, away to Ipswich, home to Leeds away to Luton and then, magically, with an inspired substitution Jay Bothroyd came on to beat the Baggies at Molineux. 18 points lifted us to fourth (but no manager of the season for Mick, although Kights Ward and Olofinjance got into teams of the week on ITV.
Back to earth though when Coventry got us with only one recovery day. A draw at the Owls was then followed by the most bizarre result of the season. Dominating the first half hour we looked to be well in control against a Saints side suffering from injuries. But, for 6 shots out of 7, Southampton scored. Even the chorus of "we're going to win 7-6" from the South Bank couldn't turn it round.
An away defeat to leaders Sunderland was the last time we went out of the playoffs. A win against Hull, an almightly struggle at the Palace with 10 men but goals from Jay to earn a draw, the closest of matches against the Blues live on Sky with Michael McIndoe missing his hat-trick from a 94th minute penalty, but easy wins against QPR at home and then the Foxes away saw us finish fifth, behind the Baggies on goal difference, and a play off slot against them.
Season top scorer Seyi George OlofinjanaA great first home leg which we really should have won ended with a 3-2 defeat. We didn't turn up at the Hawthorns after the first 15 minutes and the chance to go to Wembley against Derby was lost. A majpr picth invasion was quite threatening but it seems the WM police only take action against Wolves fans. At least the Baggies played even worse than we had and lost easily to a strong Derby side.
So much promise with a very young side for 2007-8 and with strength in midfield from Karl Henry and Seyi coupled with some much needed recruitment in defence and attack.
The Baggies fans have long made much of the Wolves fan's poster saying "you've let us down" but this season was summed up by this poster from Barry Baker.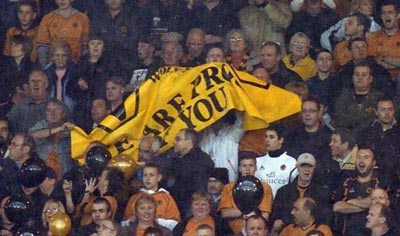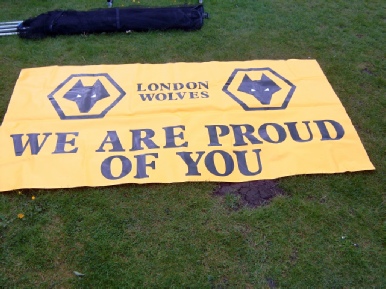 Final Table