"King" John Richards

John was Wolves all time top scorer with 194 goals from 487 appearances, until that was superceded by Bully in 1992
John Richards, Wolves goal scoring phenomenon, and later Club Chief Executive (and Honorary President of London Wolves) set the Molineux alight in the 70's.
Stop press: John was answering fans' questions on Gavin's Wolf forum during September 2012 click here- you may need to register.
On the right you can see a typically athletic shot - this one against Spurs in the 3-1 win in 1973.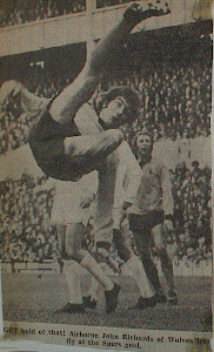 and here, for his first goal of the 1973 season he beats Leeds famous Welsh keeper Gary Sprake and defender Tony Want. This season he became the League's leading scorer, which fuelled demands for him to play for England. This dream was realised against Northen Ireland, but like so many outstanding players in the 70s and 80s was restricted to just the one cap.
John was born on 9th November 1950 and became one of the most prolific scorers in the history of Wolverhampton Wanderers with 194 goals. In 1969 John Richards left school in Warrington and joined the Molineux club, turning professional two years later.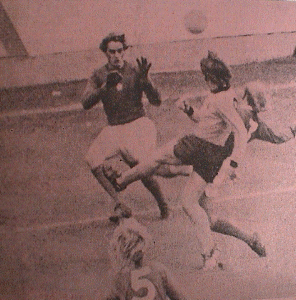 He made his debut in the Old Gold and Black colours at the Hawthorns in February 1970, a match Wolves drew 3-3. His first goal arrived in the Anglo-Italian Tournament v Fiorentia (away) in May 1970 and his first league goal followed against Huddersfield Town (home) in September 1970 when he came on as sub in a Division 1 match.
John formed a brilliant partnership with Derek Dougan, but it was 1971-72 before he established himself as a regular first-team member, scoring 16 goals in 48 games and gaining a UEFA Cup runners-up medal. The following season he was the country's leading goal scorer with 33 league and cup goals and another three in the Texaco Cup. His total included hat-tricks against Stoke City (home 5-3) and Everton (home 4-2). At the end of that season he won his only England cap when he played in a 2-1 win over Northen Ireland, and he also represented his country at schoolboy, Under 21 and Under 23 levels.
In 1974 John scored the winning goal in Wolves 2-1 win over Man City in the League Cup final and in 1976-77 he helped Wolves win the Second Division Championship. In 1980 he was a member of the Wolves side that beat Notts Forest 1-0 in the League Cup final.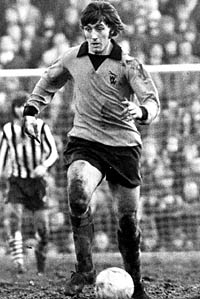 He went on to score 194 goals in 486 games before leaving Molineux in rather sad circumstances and a lot of fans were annoyed at his leaving, this after he had been on loan to Derby County (Nov 1982). He joined the Portuguese side Maritimo of Madeira and spent two seasons there before returning to England to begin working for the Wolverhampton Leisure Services Department. He became Wolves managing director, appointed by Sir Jack in October 1977, and left this position at the start of the 2000/01 season.
John is also the only player to have received two (well deserved) benefits at Wolves one in 1982 and then in 1986 three years after he had left the club.
See John in action
1971 November 13th 1971 Wolves 2 (Richards) Derby County 1
Or find it here
https://www.youtube.com/watch?v=1gGb507LqbE
Watch The Doog, JR and Jim MCCalliogg help start the ManU decline - January 1972