Bully - Steve Bull
Bully is Wolves all time top scorer with 306 goals from 561 appearances
The pictures show Bully at Molineux, a poster, a shot from the 90s and his England scoring debut shirt v Scotland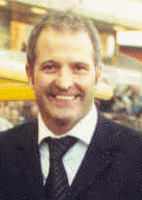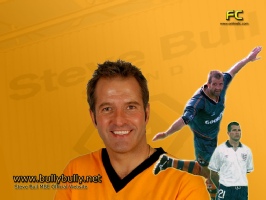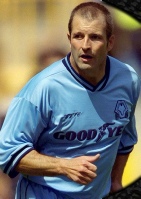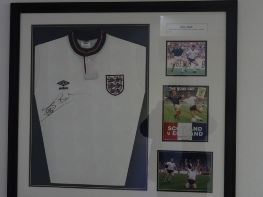 Stephen George Bull M.B.E. - Bully to thousands of Wolves fans - the ex-Baggie who reignited the Wolves and brought them promotion from the depths of the fourth division. Record scorer (306 goals) scoring 100 goals in two seasons, capped by England while in the third division and only the third England player to score on his debut (a win against Scotland). The greatest shame of all was that Bully had retired with knee problems before we reached the premiership. But, such is his affinity with the club, that he had hired a box to watch the Divisional playoff final at Cardiff with his friends when we were promoted into the Premiership. Steve will always be respected by Wolves fans for his loyalty to the Club. The Club recognised Steve's contribution to Wolves by renaming the John Ireland stand after Steve during the Premiership season 2003-4.
Radio Shropshire interviewed Bully and Graham Turner in November 2011 - to celebrate the 25th anniversary of Bully's signing - listen by clicking on play
Bully
Bully 25 Graham Turner Interview Radio Shropshire Nov 15.mp3
Update RequiredTo play the media you will need to either update your browser to a recent version or update your
Flash plugin
.
Click on the link below for Bully talking about his England debut and other times in his career…
The Daily Mirror archive appears to be deleted - try this
http://www.frequency.com/video/tales-from-archive-steve-bull/86556294/-/5-185971
http://www.mirrorfootball.co.uk/opinion/blogs/football-banter/Steve-Bull-s-tales-from-the-archive-Paul-Gascoigne-wouldn-t-pass-to-me-Terry-Butcher-was-ripping-the-dressing-room-apart-the-day-I-scored-on-against-Scotland-on-my-England-debut-article332513.html
Bull scores on debut v Scotland
https://www.youtube.com/watch?v=P-DAGyVCNws
Bully's top 20 goals
https://www.youtube.com/watch?v=0fX059gfUn0
Bully is 50 - with some of his goals
https://www.youtube.com/watch?v=I9QstKd4ec4
New Year's Day Newcastle 1 Bully 4
Since retiring in 1999 Bully has been made a Vice-President of Wolves, had the John Ireland (East) stand named after him and has devoted his time to fundraising for special causes, including Promise Dreams., Through the Steve Bull Foundation
His events are on his website at http://www.stevebullevents.com/ and current events are here http://www.stevebullevents.com/events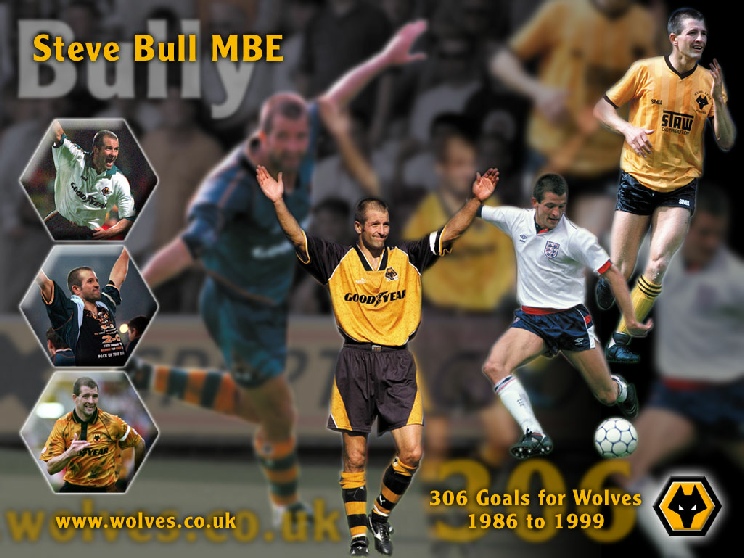 There are many more archive videos of Bully here http://www.frequency.com/video/tales-from-archive-steve-bull/86556294/-/5-185971