Peter Broadbent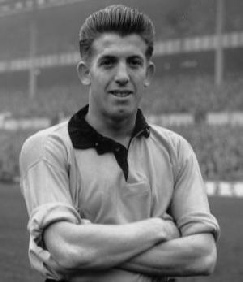 Peter Broadbent, many people argue, was Wolves' best ever player.
Wolves had a fundraising effort n February 2013 to help pay for Peter's treatment.
Steve Gordos, a former sports editor of the Express & Star was asked to write a biography of Peter, one of Wolves' greatest players. He did this with the blessing of his wife Shirley in 2007
Here's Peter on the pitch to celebrate the Honved match and from the famous Wolves team of the 50's Bill Shorthouse, Bert Williams,Peter Broadbent, Eddie Stuart, and Ron Flowers see Honved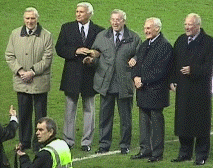 here's Peter's history...... from the WoW "greats" pages.
Peter Broadbent was born in Elvington, Kent on the 15th May 1933. His school days saw him playing for the school side, Deal County Modem, and on leaving school he joined Dover F.C. in the Southern League. The scouts of several league clubs soon spotted his obvious talents and in May 1950 he joined Brentford as a professional at the tender age of 17.
Within a few weeks of signing, Peter was in the Bees first team playing alongside a future England manager, Ron Greenwood. Peter went on to make 16 appearances for the London club before he attracted the attention of some of the league's bigger names, notably Wolves and Newcastle. Stan Cullis won the day though, and in February 1951, Peter joined Wolves for a fee of £10,000.
It was a big move for a 17-year-old, one which would take him a fair distance from his native Kent. But it was one he later admitted that he never regretted. Within days of arriving at Molineux, Peter made his debut for the reserves and such was the impact he made that, within a month, he was in Wolves first team. The visitors to Molineux on his debut were Portsmouth and although Wolves went down 3-2, he gave a good account of himself and went on to miss just four of the remaining 13 games that season.
He scored his first goal for the club against West Bromwich Albion at The Hawthorns as Wolves went on to finish the season in a disappointing 14th place.
The summer of 1951 saw Wanderers go on a tour of South Africa and it was there that Peter celebrated his 18th birthday. He spent the first half of the l951/52 season in the reserves until just after Christmas. Once in the first team he held down his place missing only three games from then until the season's end. The campaign again proved to be fruitless for the club as they slumped to 16th position in the league.
But 1952/3 saw a marked improvement in fortunes and Wolves finished in third position with Peter making 26 appearances and scoring five goals. And, in the following season, Wolves finally were rewarded with the Championship, which for so long had eluded them. Peter had his best season, missing just 6 games and he scored 12 of the 96 goals the club amassed in winning the league. The football world, not just at Molineux, marvelled at Broadbent's tremendous ball control and the skills which often had defenders perplexed and at a loss. Wolves were within four points of retaining their title the following season with Peter missing just four matches as they finished as runners-up to Chelsea.
His consistency was maintained in 1955/6 season and again the club were within a few points of honours as they finished third. This time he missed only three games and was also awarded international recognition in the shape of an England B cap to go with the Under 23 one he had won two seasons previously. Peter became a more prolific goalscorer over the next two seasons. As Wolves finished sixth in 1956/7, he scored 19 goals, then in 1957/8, as the club won the championship again he notched 21. That year he scored for the Football League against the League of Ireland and won his first full cap for his country in the World Cup against the USSR in Gothenburg.
Although England lost 1-0 Peter kept his place for the next game in Northern Ireland. He played against the Russians again, at Wembley in October 1958, and this time England gained revenge for their World Cup defeat as they trounced their opponents 5-0. The following month he scored both of England's goals in a draw with Wales at Villa Park.
He went on win three further caps, including one against Brazil in Rio de Janeiro in front of a crowd of 130,000. Wolves went on to win their third Championship and Peter scored a Boxing Day hat- trick at Portsmouth as he wore the number nine shirt of the injured Jimmy Murray. He finished the season as the club's top scorer with 22 goals including two against Shalke 04 as Wolves made their debut in the European Cup.
Wanderers narrowly missed out on the double in 1959/60 but Peter won his fourth major domestic honour when he was a member of the side that defeated Blackburn Rovers in the FA Cup Final. He remained a regular in the team for the next four years, but, in 1964/5, as relegation to the Second Division loomed, he left the Wolves.
On Boxing Day against Aston Villa, as Dave Wagstaffe made his debut in gold and black, Peter said goodbye to a Molineux crowd that had marvelled at his talents for thirteen years. He moved to Shrewsbury Town and then had spells with Aston Villa, Stockport and Bromsgrove Rovers before he retired in 1971. Today he lives in retirement, with his wife Shirley, in the Staffordshire village of Codsall after years of running a successful babywear shop in Halesowen. To many Wolves fans he is regarded as the greatest ever player to don the club's colours.
WOLVES PLAYING CAREER 1950-1965
League Appearances 452 Goals 127
FA Cup Appearances 31 Goals 10
European Games Appearances 11 Goals 7
Other Appearances 3 Goals 1
TOTAL APPEARANCES 497 GOALS 145
b1933 d2013