Matt Murray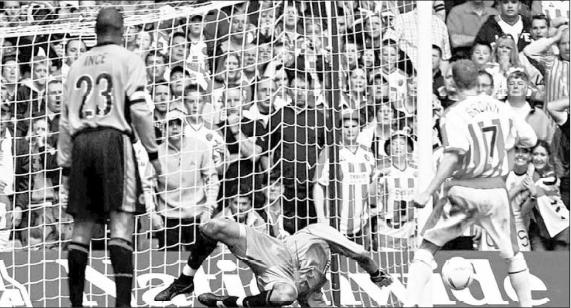 2002-2010 appearances 100
England U21 5 caps
A Wolves goalkeeper whose career was severely curtailed by injury who had the promise to be England's number one keeper
Matt Murray was set to be England's goalkeeper for many years but his career was beset by injury. Man-of-the-match in Wolves promotion play off final in 2003 not only saving a penalty but also preventing Paul Ince from scoring an own goal, Matt is a Wolves hero. This was in his first full season as first choice goal keeper for Wolves.
In spite of his injuries he's worked tirelessly for charity but was forced to announce his retirement in 2011. Wolves immediately granted him a testimonial and Matt is continuing his super efforts for charity
Mat's Testimonial Match was Sunday October 9th 2011 in aid of Matt's charities. Visit Matt's testimonial site for details. Click here http://www.mattmurraytestimonial.co.uk/events/matt-murray-wolves-xi-vs-all-stars- details from the site follow.
Matt Murray Wolves XI vs. All Stars PRE MATCH DETAILS
Location: Molineux, Wolverhampton Date: Sunday 9th October 2011, 2pm Kick Off. Access:Open to public
Come and show your support for former Wolves keeper Matt Murray as he officially brings down the curtain on his playing career by putting on the gloves one more time in his Testimonial match on Sunday 9th October (2pm kick off).
The 30-year-old has put together a Wolves XI, featuring some of his old team mates and other well known names to Wolves supporters. They'll face an All Stars side filled with football legends and celebrities at Molineux.
Wolves XI (names revealed so far): Matt Murray, Mick McCarthy, Paul Ince, Paul Butler, Colin Cameron and Terry Connor.
All Stars (names revealed so far): Andy Cole, Ian Taylor, Geoff Horsfield, Elliott Tittensor, Matt Lapinskas and Tony Discipline and Danny Young.
.
Matt's testimonial dinner poster follows. You can buy Matt's shirt from the Wolves megastor
Matt was London Wolves Player of the Season 2006-7 and the trophy was shown in his trophy area in an interview with Midlands TV.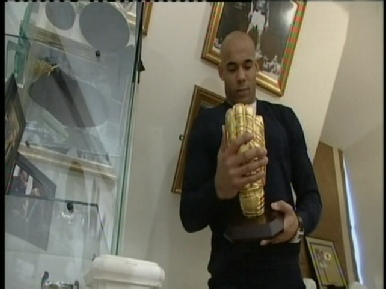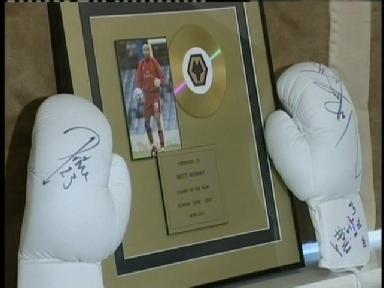 The match was a 7-2 win for the Wolves Allstars with anAde Akinbiyi Hat Trick, Mick McCarthy being cheered every time he touched the ball with Joleon back in a Wolves shirt partnering him in defence (sign him up!), TC back on the pitch, the Guvnor barking orders, Mickey Cameron on great runs, Denis Irwin still our best right back, Jackie Mac clearing off the line, Robbie D cutting in off the wing, Mark Edworthy towering in defence, Andy Sinton, and Mickey Gray gracing the pitch again, Ref Kevin Friend getting a round of applause, an outstanding performance from Adam Proudlock (and a goal), Stowelly back in goal, Tony Daley also scoring, and Matt Murray's first ever goal at Molineux (he was dragged back on to take a penalty). The outstanding goal came from Nico Mirallegro – a cracking strike from the Hollyoaks and Doctors actor. Breen and Paul Butler took over the defence later, Nayls was all over the pitch, playing more like he had at Celtic Park than Molineux. Amongst the opposition, a great turnout of soap stars plus Dion Dublin, Steve Froggatt, Jordan Stewart and Ian Taylor, with Andy Cole up front. Some 7,800 were at Moli to say goodbye to a great guy. You can see Sam Bagnall's brilliant pix here http://twitpic.com/6vmh38 and the teamsheet (as attached). Jez went in goal wearing a "Fat Controller" shirt at half time.
Pictures and videos to be added
To start with here is Matt Murray's first ever goal at Molineux. A penalty against ex Wolves GK - MrUSA - Marcus Hahnemann. Also in goal - CEO Jez Moxey aka The Fat Controller.