WWLSC is pleased to show some pictures of & from members here; please email any you would like included to webmaster@londonwolves.com
The full set of pictures to May 2014 are here http://www.lwarchive.londonwolves.com/html/member_pix.html
Click for the Roy Eagles Caption Competition caption Paul wins
The full set of pictures to May 2014 are here http://www.lwarchive.londonwolves.com/html/member_pix.html
1977

The London Wolves Football team of 1977 (youtube link from Louis Rómulo )
Back row L:R Rob Coleman,Tim Maher, John Engleman, Ray Stock, Colin Cutts, Peter Coath, Terry Peachey, Martin Rutherford, John Saville, Reg Bartley, Ray Harris, Mark Feehan Front row L:R Steve Roe, Tony Roche, Ivan Gillespie, Gerry Hirth, Bob Tyler, Mel Marston
Photo: Mike Woodward of the Daily Mirror.
1980s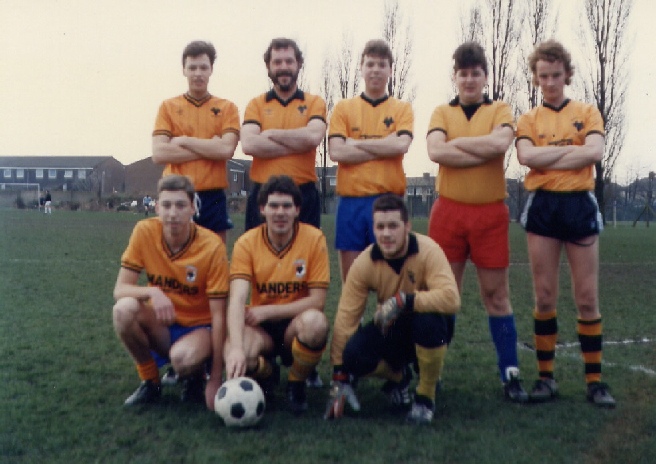 James Perkins was the mascot at the Man Utd home match in March 2010 (here) and met up with his favourite player Andy Keogh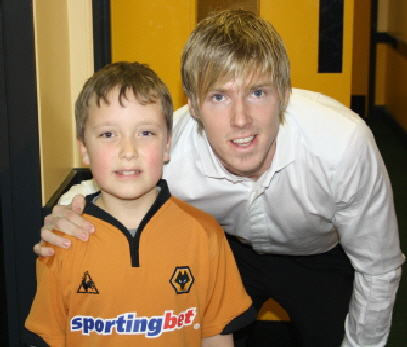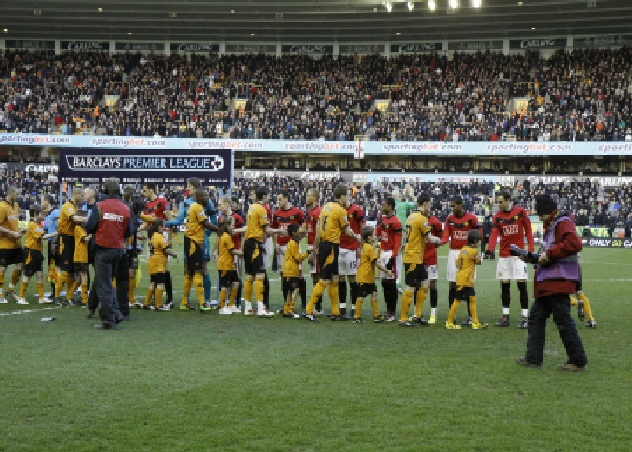 London Wolves member John Golding, fresh from his success at winning the Wycombe half time lottery, had his name drawn from the season ticket holders to win a VIP day at Molineux for the Norwich game which Wolves won 2-0. Roy Eagles (left) was his guest and John also bought tickets for his mum and dad.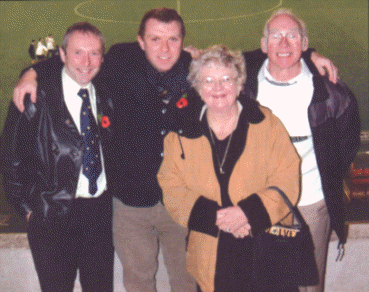 Here are three photos from an early 80's London Wolves do at the Lexpo (from Peter Abbott)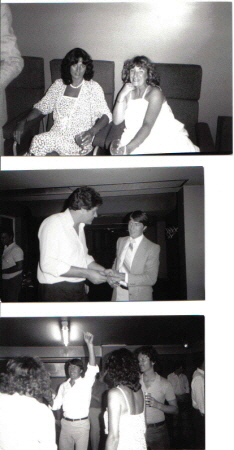 After the Preston match (Sat 22nd October) Daventry Wolves held their 30th Anniversary event in the Sir Jack Hayward Suite. As usual, there were plenty of Wolves past stars to be seen - including - here with Roy and Ruth - Kenny Hibbitt. Other London Wolves pictures follow thanks to Roy.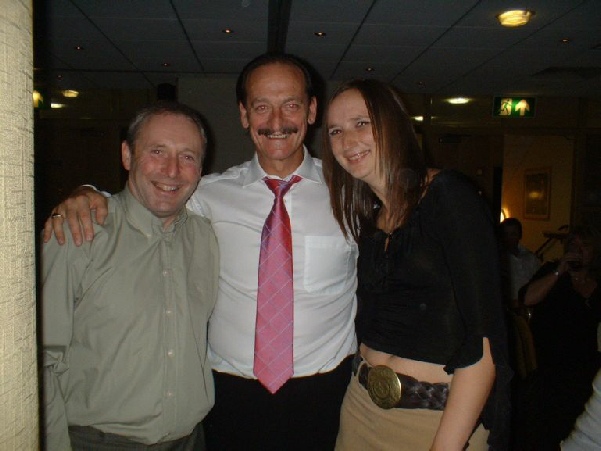 CAPTION COMPETITION - ROY EAGLES DONATED £30 of WOLVES SHOP VOUCHERS FOR A SUITABLE WITTY CAPTION TO THE PICTURE BELOW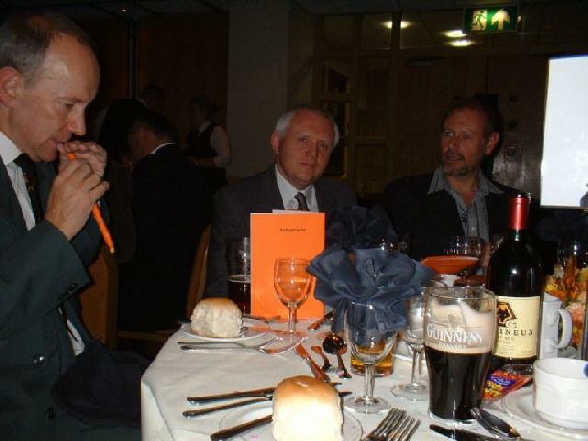 Paul was the winner with "Blimey the last time I blew into one of these I spent the night in the cells"
Other caption suggestions are on the archive site together with more pictures from the dinner
Roy and Ruth's and David and Angela's Weddings
27th February 2008 - Jamaica - Many congratulations to Roy and Ruth and
Congratulations and all our best wishes from London Wolves and to proud granddad Roy. 22nd July 2006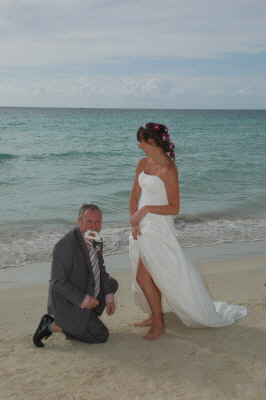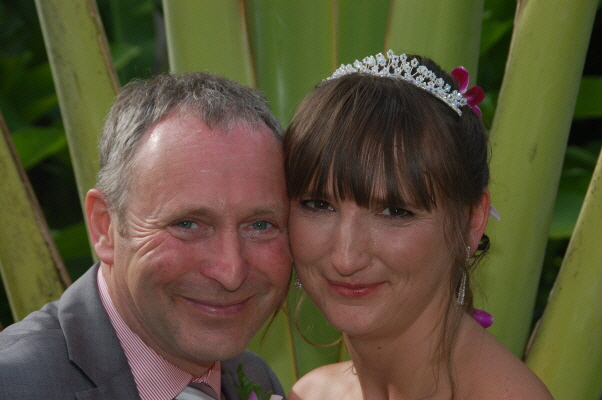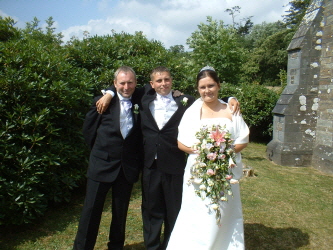 Steve & Helen Wilcox, Bickley Manor Chislehurst
Steve & Helen were married 11th June 2010. Peter, Carol, Paul, Nick Roy and Ruth represented London Wolves. More pictures are on Roy's facebook site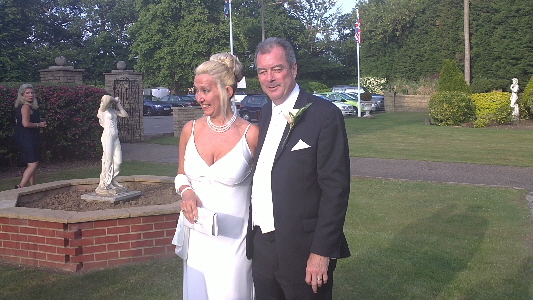 Phil and Evelyn Burns - Saturday 8th October 2005
The ceremony was held at the Church of the Immaculate Conception, Balheary, Co Dublin in Ireland and the reception was at the Irish Golf and Country Club of Roganstown north of Dublin. Congratulations to Phil and Evelyn. London Wolves member Phil was ably supported by former member Ian Baker as an Usher and WWLSC were also represented by Roy Eagles and Ruth Evans, and "Pint Sized" Paul Coles. Paul and Roy are propping Phil (aka "Phil the beer Burns" up in the lower picture. Thanks to Roy for the pix and Paul for the details and many congratulations from London Wolves to Evelyn and Phil.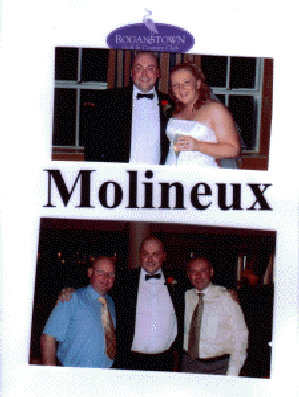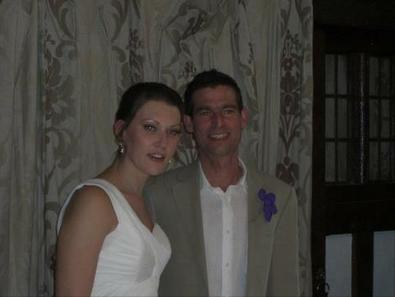 Ian is teaching English on a voluntary project in Peru. When he went he took two Wolves footballs which WWFC donated with him to try to improve the quality of football in the country and convert them to the Gold and Black. If you want to see more of where Ian is visit his travel blog at http://travelpod.com/z?u=ianbaker1967&t=mancora06Ian recently wrote to Barbara at Wolves Reception to let her know how things were going.....and Barbara arranged for a piece on Ian with these photos to be in the match day
magazine against Coventry
Dear Barbara,
It does seem some time since I collected the two footballs the club donated for the school here. But at last I arrived and after some pushing, managed to get the footballs back out from the headmaster's locker, blown up for the photo and ready for the kids to play!! I think they were valued like gold dust here, it's so rare to have such good footballs, but it was a joy to watch the kids running around the playground like flys on acid. Thankyou so much .
The photos are of just the one class, but there are eight in total, that I teach in the morning. and the best bit, when they pronounce the word babies, it comes out like a black country babbies. Oh sweet bliss to hear them say it like that!!!
And all looks good (at Wolves) from what I read. A real sense of excitement that the youth are getting bloodied and doing their bit with hunger!!!!
Once again, a huge big thankyou for the footballs and I can't explain just what it means to have something like that here.
Oh yes, i'm going to send yopu an email with my blog site that will have more pics and info about Mancora.
Big Thanks
Ian
"Welcome to Mancora!" "Up the Wolves!"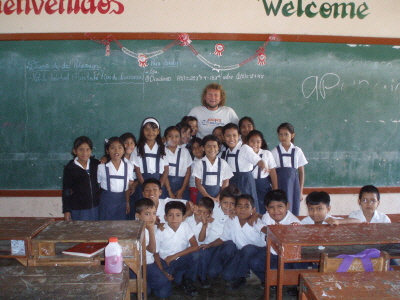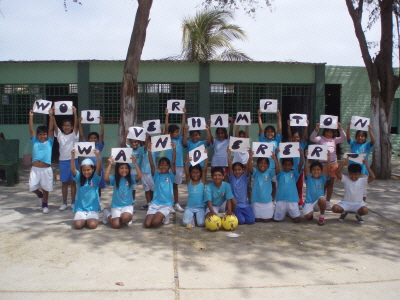 The WWSLC page has the 67 Wolverhampton Chronicle picture of the orignal London Wolves link
Here is Bones, orange picking in Greece in 1984 but the Wolves scarf is with him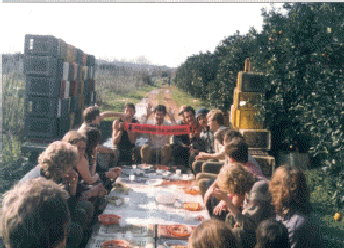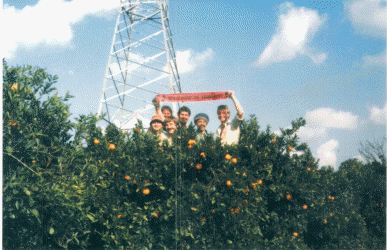 Shortly after the photo on was taken, the tree broke and the party were sent to the ground. The farmer wasn't over happy about his broken tree, but carried on providing good lunches. Not sure where the wine bottles were hidden but they were surely there somewhere (picture to be added).
Ray Stock provides these of various events
starting with the Doog, then at the Caernarvon Hotel event, Ray, family, King John, Willie Carr, Paul Cook, and Mike Stowell. And the man himself with the autograph making fun of his beard

(More on the archive site)
Graham Turner receiving a WWLSC award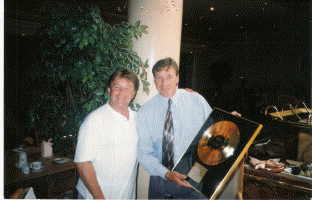 From the 60's here are some of Rob's pictures:Jag and a Healey in the players' car park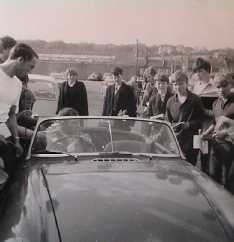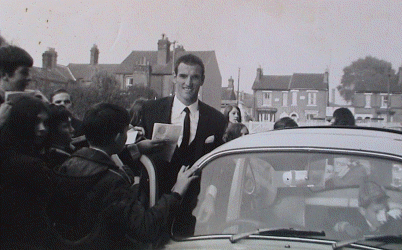 Some thoughts from Tony Roche, lifelong Wolves fan, WWLSC member, and Sun reporter who couldn't make the 40th dinner
FAO Stuart Earl and Dave Slape... many thanks for wonderful publications. So many faces, so many memories.
I was not a member when you made the first trip v Plymouth. My 'debut' with WWLSC on the coach was with Steve Broughton (now a pro musician in France), Colin Cutts and Steve Roe for the home game against Hull City (4-0, Dougan hat-trick).
Still feel huge slump when I recall that awful 1-4 flop away to Palace that handed Coventry the title, still remember how excited I felt earlier that season when Steve and I made our way to The Valley to witness a solid 3-1 win and starting to think it could be a really good season.
So, 40 years down the line, the club excels at The Valley again. What a fabulous night it sounds like and how I wish I hadn't been in South Africa, listening to a week of rugby World Cup politics and arguments.
Would love to have seen Ernie Hunt and Hugh McIlmoyle again, paid my respects to Dave Wagstaffe and Frank Munro, shared an ale with John Richards and Ken Hibbitt, two lads I got to know so well in newspaper work terms during their heydays.
The club has been such a success that you two in particular should receive some form of medal. Reading the two publications Dave sent me made me so proud that I'll keep them somewhere special, along with the progs I've saved from my first Wolves games attended in 1961 (all four were away games and with a reluctant dad who supported Arsenal).
Glad bloody Hoddle has gone, never took to the man. Things are going to be tough for a while, but at least I sense a mood of optimism after the tedious draw-fest from God's favourite son. When Hoddle dies he'll probably come back as a pools coupon as punishment for crimes in his managerial life.
Take care both of you. This club would wither and die without you. I'm very proud to have been a member, very proud indeed. TR
The Newspaper Marketing Agency: Opening Up Newspapers: www.nmauk.co.uk
This e-mail and all attachments are confidential and may be privileged. If you have received this e-mail in error, notify the sender immediately. Do not use, disseminate, store or copy it in any way. Statements or opinions in this e-mail or any attachment are those of the author and are not necessarily agreed or authorised by News International (NI). NI Group may monitor emails sent or received for operational or business reasons as permitted by law. NI Group accepts no liability for viruses introduced by this e-mail or attachments. You should employ virus checking software. News International Limited, 1 Virginia St, London E98 1XY, is the holding company for the News International group and is registered in England No 81701
19th October 2013 Peter Abbott missed his first home match for 37 years.
First reported on the Wolves Heroes site the story made the BBC Midlands Tonight evening news, the BBC website, the Birmingham Mail, the Sun newspaper, The London Metro Wolves Heroes link here story goes national click on Sun BBC or Birm Mail
Wolves arranged a surprise visitor to Peter's step daughter's wedding - here's how the BBC reported it
http://www.bbc.co.uk/news/uk-england-suffolk-24601248
Wolves 'legend' Steve Bull surprises fan at wedding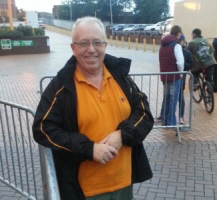 Steve Bull was a surprise guest at Peter Abbott's stepdaughter's wedding
A football fan who missed his first home game since 1976 for a family wedding had "a big surprise" when his club's record goal scorer turned up.
Wolves fan Peter Abbott, from Ipswich, said he was astonished when the club arranged for "legend" Steve Bull to be at his stepdaughter's wedding.
On Saturday Mr Abbott skipped his regular 330 mile (530km) round trip to Wolverhampton to go to the wedding. He said his stepdaughter and her husband were in on the surprise. Mr Abbott said: "They were doing photos and I was called over and all of a sudden one of the chaps with his back to me turned around and it was Bully. The club arranged for him to be there as a big surprise - he's a legend. We talked about the old days and where the club is now - a fan's conversation really."
Bull, who scored 306 goals during his Wolves' career which began in 1986, also delivered a signed shirt and the programme from Saturday's match. 'Pretty frustrating'
Steve Bull is Wolves' top goal scorer, scoring 102 goals in his first two seasons alone
Mr Abbott, who grew up in east London, first fell for the Wolves in 1970 and the last home match he mis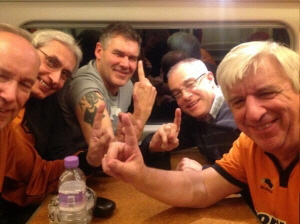 sed was against Tottenham on 16 March 1976. He said: "I've never lived nearer than a 300-mile (483km) round trip and Bully said to me 'Wow, how do you do this journey every week?'." His stepdaughter Sarah Butler married Jonathan Liddle at Haughley, near Stowmarket, at 14:00 BST on Saturday.
From 15:00 BST, Mr Abbott tried to follow Wolves' local derby against Coventry, which ended 1-1, as best he could. Mr Abbott said: "I had a multitude of texts, but the [phone] reception was poor so that was pretty frustrating. At the end of the match I had a few minutes on my own and thought, 'Oh, I've missed a match'." But he added that the couple had a "fantastic time" and as far as he was concerned it was the wedding of the year. Wolverhampton's next home match is against Oldham on Tuesday. Mr Abbott said he would be there.
The Daily Mirror said the same http://www.mirror.co.uk/news/uk-news/wolves-fan-stunned-steve-bull-2474538
Peter 30 years ago with Budgie and Stan Armett - and the London Metro article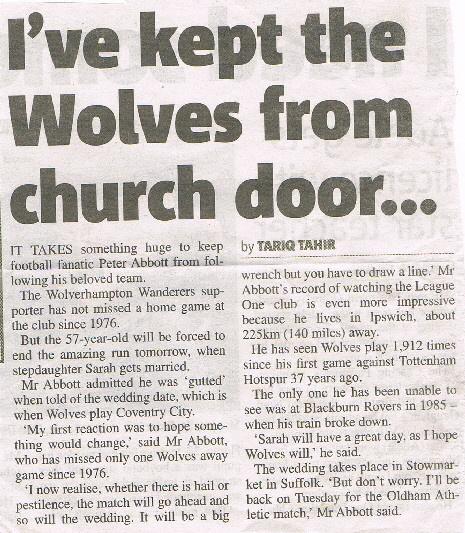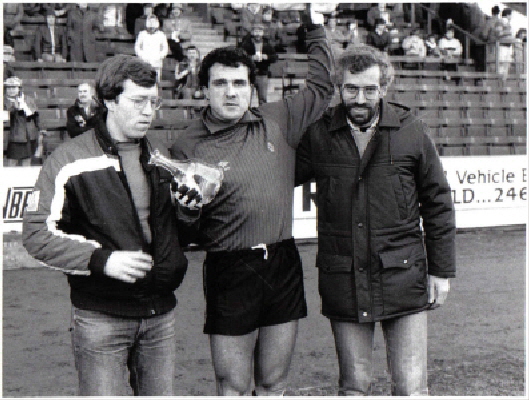 Tommy Turner - Champion Mascot
Wolves won their 10th champions trophy with a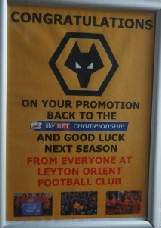 3-1 win against Leyton Orient in League Division 1 on Easter Monday 21st April 2014 at Brisbane Rd, although they had to wait two hours for former wolf Stephen Gleeson to convert a penalty won by sometime Wolves target Izale McLeod whi also scored the equaliser for MK Dons to hold Brentford, Orient congratulated the Wolves. Tommy had been selected by Wolves' shirt sponsors What House - thanks to Rupert Bates. The Orient looked after Tommy very well, and his granddad Fireman John2 and Kenny Jackett very kindly allowed them into the dressing room. Captain Sam Ricketts made sure everyone signed Tommy's away shirt and then led him to applaud the fans, and then had a short kickabout with the match ball. The youngest Orient mascot apparently possesses a Wolves fan for a father too.
Here are some of John's pictures of the day