Wolves - League Cup Final 1974
Wolves have won the Football League Cup twice - in 1974 and 1980
1974 was the only major cup trophy which Derek Dougan won. Wolves came into this as clear underdogs against Manchester City It was the year of the League Cup final win, and stirring wins over teams like Arsenal and Chelsea.
In 2011, as part of the London Wolves 45th Anniversary Dinner here and here, we welcomed most of the 1974 League Cup winning team and especially our two goalscorers Kenny and King John pictures are here and here and a special video message from Captain Mike Bailey here. WWLSC Attended the Route 39 League Cup dinner with all three League Cup Final scorers attended pictures here
Here's the winning squad with manager Bill McGarry and coach Sammy Chung. Pictures from Alan Taylor's archives.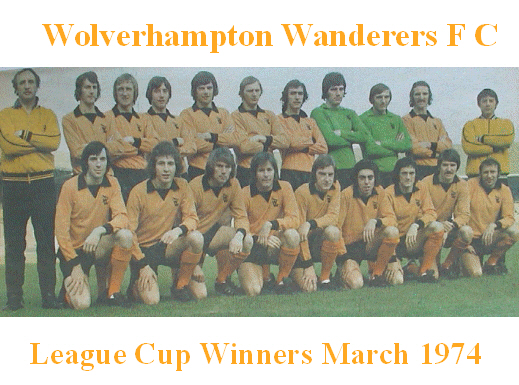 The Wolves shop has the 1974 Final match on DVD and Video. The goals are shown below - click on Kenny's and John's pictures to see their goals
7-Kenny Hibbitt
9a-John Richards
Back Row: L:R Bill McGarry, Barry Powell, Derek Parkin, John Richards, Frank Munro, Steve Kindon, John McAlle, Phil Parkes, Garry Pierce, Derek Dougan, Sammy Chung.
Front Row: L:R Gerry Taylor, Alan Sunderland, Dave Wagstaffe, Jim McCalliog, Steve Daley, Geoff Palmer, Derek Jeffries, Mike Bailey (captain).
And the next pictures show Mike with the cup and at Wembley (note the Doog giving thanks!). In the third picture Derek is crying but legend Dennis Law is saying it should be him. Scottish International Law joined City from Manchester United and famously scored the goal which relegated them in April 1974.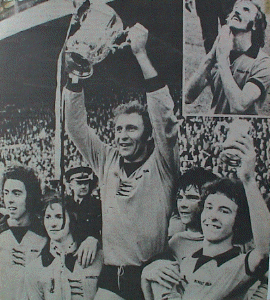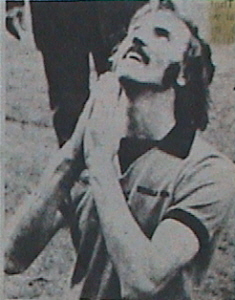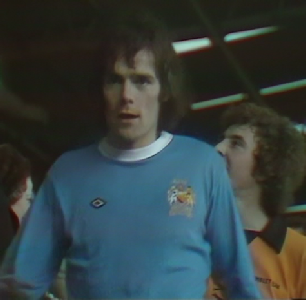 and here's the team dressed in the 1900's style before the vertical stripes (see cup finals) were brought in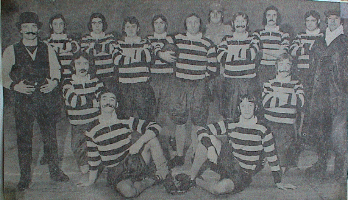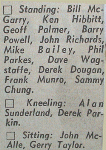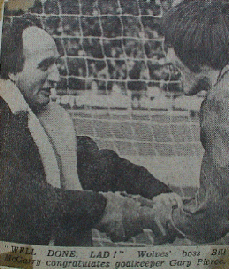 Star of the show was keeper Gary Pierce. Bill McGarry announced him as man of the match. Gary had long paid second string to Phil Parkes, but an injury left the door open for Gary. He tells us he was on £25 a week, with a £5 bonus for keeping a clean sheet! Wonder how Michael Oakes compares!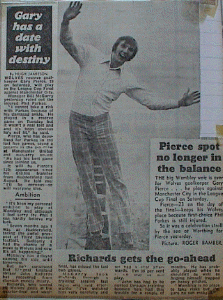 Wolves route to the final including a stunning 1:0 victory over champions Liverpool with a 57th minute goal by John Richards. Results tables courtesy of Wolves Stats http://www.wolves.stats.btinternet.co.uk/seasons/1970s/1973_74.html (no longer available - look at Wolverhampton Wanderers - The Complete Record by Tony Matthews and Dave Instone
Wolves also competed in Europe, while the season kicked off with the third place FA Cup Final victory from the previous year's competition over Arsenal
Here's the first half in full
And here's the second half
Season Fixtures
Football League Division One - P42 W13 D15 L4 pts 41 final position 12th
Leeds Utd won, Liverpool were runners up and Manchester United were relegated by Dennis Law's back heel when Man City beat them 1-0 in the last game of the season (along with Norwich)
LEAGUE CUP
Opponent Date H/A Result Scorer(s) Attendance
Halifax 8/10/1973 A W 3-0 Dougan,Richards,Sunderland 8,222
Tranmere 31/10/1973 A D 1-1 Sunderland 14,442
Tranmere 13/11/1973 H W 2-1 Dougan,Powell, 14,839
Exeter 20/11/1973 H W 5-1 Hibbitt (2),Richards (2),Dougan 7,623
Liverpool 19/12/1973 H W 1-0 Richards 16,242
Norwich 23/01/1974 A D 1-1 Richards 25,107
Norwich 26/01/1974 H W 1-0 Richards 32,605
Man City 02/03/1974 H W 2-1 Hibbitt,Richards, 97,886
FA CUP
Leeds 05/01/1974 H D 1-1 Richards 38,132
Leeds 09/01/1974 A L 0-1 42,747
UEFA CUP
Belenses 26/09/1973 A W 2-0 Richards,Dougan, 20,000
Belenses 03/10/1973 H W 2-1 Eastoe,McCalliog, 16,010
Lokomotiv Leipzig 24/10/1973 A L 0-3 17,000
Lokomotiv Leipzig 07/11/1973 H W 4-1 Dougan,Hibbitt,Kindon,Munro, 14,530 (L away goals)
FA CUP third place play-off (1972-73 competition)
Arsenal 18/08/1973 A W 3-1 Dougan (2),McCalliog 21,038
Our thanks to Pathe News who made these videos available FOC in 2005 for membership sites and now show them via their YouTube video channel