Premier League Season 2007-08
Headlines
Welcome to our review of the 2007-8 Season. It started on a high - clear favourites (where have we heard that before?) for automatic promotion, probably with the Baggies, who had the best squad by far. As it turned out, we missed out on the playoffs by a goal difference of 2, our major striker signing was sidelined by Mick McCarthy, and the new owner didn't get to look forward to facing his first choice club (Liverpool)
The DVD is, apart from the final league position, the best yet. Previous seasons have missed matches and goals - the Premiership one being the worst offender, or have been very deficient in video quality. This isn't - with consistently high video quality for the goals and the replays from different angles. You can watch it month by month or leap directly to March to see the goal of the season scored by the Championship Golden Boot winner. Interviews with Mick throughout or you can watch a complete interview. There are also interviews with London Wolves sponsored player Neill Collins, scorer of 4 great matchwinners, Player of the Season Wayne Hennessey together with Graham Stack, Kevin Foley and Darren Ward. No guessing though, which was the goal of the season, in a special feature of the top ten goals. You might find yourself going back through the DVD for your own selection - there's no place, for example, for Kevin Kyle's assist for Karl's match winner at the Valley which imho was a good top 5 candidate.
WW salute DoogBut, Iack in the hot summer days of August, everything looked full of promise.
True, the defensive issues that the fans had identified weren't addressed, but we had a wealth of wingers and strikers, until we got to Grays for a preseason that waSo, some strong signings - Freddy Eastwood, Michael Gray, and Matty Jarvis presaged well before Wolves and Watford, two of the three favourites for automatic promotion kicked off the Sky television coverage with a 5:20pm kick off on the first Saturday. The match started with the Molineux tribute to Derek Dougan. A very promising start in the first match - televised on Sky and with the crowd introduced to new owner Steve Morgan - ended in a 1-2 loss - a loss that was to prove critical by the time we got to the last match of the season. An on-off run in 2007 saw us with a chance to go top, but, instead, it started a slide to 12th, with fears, that in such a close table, we could be joining Coventry Southampton and Leicester trying to stave of relegation. It always says something about the season when the goalkeeper is the player of the season
The Watford match was quite even in the first half but we had a well deserved lead from last season's top scorer, Seyi Olofinjana and even better chances at the start of the second half. We held on well until three minutes from the end. A stupid foul by Potter led to a free kick which deflected off Bothroyd turning his back. Mick's patience with Jay was now almost all gone. Then, in the 4th minute of extra time, Neill Collins gave away the first of four penalties in the season, which King blasted home. That said August did yield three wins following the Hornets' defeat. But it was obvious to all the spectators that this was not a team which could challenge for honours. Bradford were the first victims in the Carling Cup, and then a trip to Sheffield led to a lucky 3-1 win over the Owls - we had 4 shots to their 19. An assist from Kights led to Freddy Eastwood's first goal. He was to score again the following Wednesday in the Carling Cup but the winner came from a spectacular goal from Jody Craddock, who was promptly bundled off to Stoke on loan. Newly promoted Blackpool, who were to struggle for much of the season, dominated the first home league match but Freddy lived up to his promise, scoring both of Wolves' goals.
Then the trolley came off the rails against lowly Morecambe. Mick McCarthy even admitted that Wolves deserved to be booed after an ineffectual attack failed to capitalise on opportunities and midfield let all the pressure through on to Collins and Edwards and League newcomers knocked us out of the Carling Cup. Although there were seven changes to the team, there were ominous signs here.
Five games in September yielded just 5 points with defeats to Hull and Sheffield Utd and draws against Argyle and Stoke City with the lone win coming against 9 man Norwich at Molineux. In this 2-0 win Mick refused to put more strikers on to do something about the goal difference which in the end was to keep us out of the playoffs. We dominated against Argyle but couldn't put the ball in the next more than once. At Molineux the scorer of the winning promotion goal for Hull (Dean Windass) had a relatively easy match against an ineffectual Wolves who slipped to 17th! Jody Craddock's loan to Stoke City was pretty quickly terminated as Mick uttered the infamous "regroup" word.
October brought some relief and a climb back to 7th with a 0-0 draw at Leicester, then two more clean sheets in wins against Coventry and newly relegated Charlton. An away 3-2 win at Cardiff with goals from Kights and Jody made up for last year's debacle when Breen was sent off but, at Fortress Portman Road we were thrashed 3-0 after Freddy missed a 6th minute penalty.
Wayne#1montageA draw against sometime league leaders (and newcomers) Bristol City kicked off a month with no losses and four clean sheets for Wayne Hennessey including a last minute penalty save at the Poorthorns against the Baggies and we finished a much better month in a dizzy but unconvincing 4th. The great effort against the Baggies on a Sunday was still being felt in a very poor performance against bottom club Colchester on the Wednesday. And, unfortunately, Michael Kightly suffered an ankle injury which was to keep him out until April.
So, into December. And another home win to kick off against Preston took us as high as third with a great solo goal from Captain Karl Henry. Picking up the ball in the centre circle, he ran towards the Preston goal and unleashed a 25 yard shot which beat Lonnergan all ends up. At the other end, Wayne's saves saved two points and he kept another clean sheet and midfield looked much better with Seyi instead of Potter. So, off to lowly Barnsley full of confidence but instead of coming away top of the league we dropped to 6th with a tired performance and a missed penalty by Andy Keogh. And then the Sky cameras came to start stories of a jinx. Huge praise was heaped on Wayne for a great save in the 18th minute then took his eye off the ball and fumbled Blake's free kick into his net. Kyle Lafferty, long a McCarthy target got Burnley's second and a Ward og were more than enough to overcome Gibson's only Wolves goal and Elliott's penalty. The latter though had a miss nearly as bad as Kanu's famous one for WBA at Loftus Road from a yard out. Those attending were bemused by Mick's statement that he had put in a good shift, and many, like me, sent their FA Cup ticket back. Things started pretty badly in another televised match - this against ultimately relegated Leicester when a harsh free kick in the 4th minute but Wolves eventually struggled back into it and Matt Jarvis' first goal for Wolves saved a point... and nearly gained three but Neill Collins header was ruled out as the ball had touched an offside Freddy. Then, the Boxing Day trip that the Premiership teams will love - to Hell, sorry Hull. And a 2-0 lesson in finishing to boot from the eventual play-off winners. The year finished away at Carrow Road when Wolves picked up their game, got the first away goal in over 500 minutes (Keogh) but we finished the year in 9th.
New Year, new resolutions? Well a 0-0 at home to the Blades was when Mick took Andy Keogh off and sent the useless Stephen Elliott on. Mick seemed annoyed to have the South Bank singing "you don't know what you're doin ". Andy was siffering from a heavy coldbuth with Jarvis and Eastwood on the bench did seem quite on the ball. This was really the start of three months of Mick versus the South Bank, which deteriorated into the fans abusing the players - just like the heady hoddle days. A really poor performance against Cambridge in the FA Cup was relieved by Michael Kightly's brief cameo scoring one and making one for Neill Collins, London Wolves sponsored player. Worse was to come with the arrival of Neil Warnock at Palace as they came to Molineux and thrashed us 3-0 (with only 4 shots!). An unfortunate match for Sylvan Ebanks-Blake to debut in. Some light relief though came in the 4th round of the Cup at Watford and a 4-1 away win, the biggest of the season. Two wins against struggling Wendesday and Iron left us with a +1 goal difference, and in 9th. But Aidy Boothroyd hadn't finished with us yet. The FA Cup win gave us great confidence as we all travelled off to Vicarage Road for the second time in a week. Yet again Sky were there to embarrass us as we never recovered from going behind to a tap in from a long throw in the first minute. Poor refereeing - a clear penalty appeal being turned down - led to a breakaway which put Stoke ahed and they eventually stole the points with a 2-4 win. This was followed by a disappointing 0-0 at Blackpool with a couple of chances going begging. This was the year that a second tier club could get to Wembley for the FA Cup, but it was to be our old manager Dave Jones who achieved that with Cardiff City. They beat us comprehensively at Ninian Park. Again the team rallied to fight out a 0-0 draw at the Palace - well for 80 minutes - and then Michael Gray scored the best goal of his career and so did Kevin Kyle - the 2-0 nearly making up for the the thrashing earlier in the season.
Into March then in 10th place. 14 points later and we were in a play off place with wins over Colchester (but only 1-0) Burnley Scunthorpe and the best of the season away at Charlton with Sylvan's goal of the season. Draws against Saints and QPR and only one black mark away at Preston. The Charlton match at the Valley blew away the Sky jinx as the 5:20 kick off saw us take the lead with a great goal from Sylvan, get pegged back, keep in it from a Wayne save, take the lead again with Sylvan's nutmeg and cracking goal (See video here), lose it in the 90th minute and then Karl Henry score a 94th minute winner and celebrate with the crowd
So it was back under our control to make the playoffs. A 0-0 draw away at leaders Bristol wasn't too bad, a home defeat to the Baggies was still a good performance but then Breen had an attack as he gave away a totally unnecessary free kick in the 93rd minute to give Ipswich an equaliser at the Molineux. After the season finished he tried to blame the younger players for not stepping up but was deservedly shown the door. 2 points thrown away and Palace were back in control of the 6th place. Dave Jones missed his return to Molineux when the rearranged match with Cardiff through sickness but his team didn't turn up and gifted us a 3-0 win. Then a great performance at Coventry, but only a draw left us needing to beat Plymouth at home. If Watford lost we were in the playoffs, if they drew we needed a 3-0 or better win. 1-0 and the season draw, probably, to the correct conclusion. At the end of last season Bristol City were promoted and Hull narrowly avoided relegation - but they met at Wembley and a 39 year old Dean Windass scored the winner to join The Baggies and Stoke City in the Premiership. We should also congratulate Stephen Gleeson who was instrumental in Stockport County's promotion to the first division (along with Adam Proudlock!)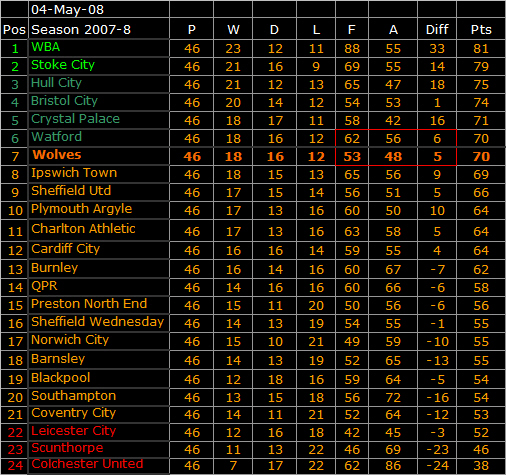 So, a disappointing finish to an even more disappointing season, spattered with strange managerial decisions - especially given the subsequent transfer listing of players who clearly weren't up to it but had been given more than a fair chance - especially Elliott, Potter and Darren Ward - and the apparent unwillingness to field a match changing player such as Eastwood as well as not reinforcing the central defence, which is where every fan knew the weaknesses lay. The youth graduates, apart from Wayne, were pretty well either injured (Davies, Gobern) or farmed out - Little, Dan Jones, Gleeson rather than brought in to the squad. The best three signings were clearly Sylvan Ebanks-Blake who finished as league top scorer, ahead of Kevin Phillips and James Beattie, George Elokobi, and runner up to player of the season Wayne Hennessey - Kevin Foley - now about to get his Irish internation call up. Michael Gray found a new lease of life after George E took over the left back slot, scored two cracking goals and really made a difference in midfield(but can't last 94 minutes). Some might say 7th isn't bad when we're rebuilding, but that just hides some of the real problems experienced throughout the season, one where promotion was up for grabs. We ended up 10 points off an automatic place, and 18 ahead of relegation thanks to the run in April and the goals of Sylvan with the saves from Wayne, deservedly Golden Boot, and PFA Championship Goalkeeper of the Season respectively
JULY 2007 Pre Season
Friendlies included Cheltenham (3-1 to WW), Holyhead (7-0), Bohemians (1-1), Bray (3-1) Grays (0-0) and a 2-3 loss to Reading
Grays Athletic 0 Wolves 0 - Sat 14th July Watch the highlights video here
The Teams: A great day out for those of us who got there early; but for those who came down from Wolverhampton and were stuck in the 15 mile traffic jam on the M25, they only got the last couple of minutes of the match. Unfortunately Lewis Gobern and Matty Jarvis both suffered bad injuries which were to destroy Lewis' season and half of Matt's. The match day programme celebrated the return of Michael Kightly who was warmly welcomed by the home fans. But the ticket prices had us Wonderering Wonderers???
Wolves First-Half: Hennessey, Little, L. Collins, Gleeson, Craddock (capt), Breen, Gobern (Bennett 28), Potter, Keogh, S. Ward, Jarvis.
Wolves Second-Half: Hennessey, Edwards, Mulgrew, Olofinjana, D. Ward, N. Collins, Kightly, Henry, Bothroyd, Eastwood, Jones.
Unused subs: Mimms, O'Connor, Hughes, Salmon, Bailey. Referee: F. Graham. Attendance: 2,172 (430 Wolves supporters).
The pre-seasons finished with an entertaining 2-3 loss to Reading (Olofinjana, Bothroyd) but a good performance overall by Wolves showed signs for the future - Stephen Elliott had three clear cut chances and missed them all. We could easily have had 5 or 6 and the first goal was an unbelievable mix up between Neill Collins and keeper Wayne Hennessey. The Wolves goals were stunners - a terrific header by Seyi running into the box and a marvellous solo goal by Jay Bothroyd. However, his celebrations which included raising his index finger then shouting at the bench, for less than two seconds, were taken as disrespectful by Mick and he was hauled off, in an even shorter time. The Wolves players were left out on the pitch for some time as Mick and Jay had a dressing room interview. Mick said post match on WM that it was over and done with, but even then we could expect that Jay would not be with us for too long. Jay's goal and after goal.