FOR TRAVEL & TICKETS CONTACT PETER WOODIFIELD TRAVEL SECRETARY at 94 FARNHAM CLOSE RAINHAM KENT ME8 8NS
Telephone - 01634 363704 Mobile: 07885 141227 e-mail - peteraw@globalnet.co.uk click to email
Traffic Application here or on mobile site here for Car Parking in Wolverhampton click here
Hotels - The Britannia here Travelodge here Premier Inn here
Meeting place for home matches BlueBrick here (the Bluebrick is the restaurant for the Premier Inn)
and it offers members who eat or drink there free parking on Match Days
Recent travel changes will be noted here.
Fixture list for 2014-15 see fixtures Contact Roy Eagles email Roy for social events before the match.
Meeting place: Euston Station concourse outside main ticket office, at least 20 minutes before train departure. Please read the following
A message from the Chairman
Members are reminded that while they are traveling, at the match, on the way, especially on the train, or even in the pub home or away they are seen to be representing both Wolves and London Wolves at all times, and are expected to behave appropriately. London Wolves support the Club's campaign to cut out bad language in the family areas and expect that to be respected and will take action under rule 5 if it is not.
EUSTON Meeting place: Euston departure time from Euston for Saturday home games will be at 09:43
Euston Station concourse outside main ticket office, at least 20 minutes before train departure. Meeting information:
'Since last season Virgin Group Travel have issued just one train ticket for each journey we make. Recently there have been problems at the Euston ticket barrier, with members not being allowed onto the platform until Peter has arrived with the ticket. Therefore to hopefully avoid problems in the future, once the departure platform is announced Peter will go straight to the ticket barrier and wait there until a couple of minutes before the train departure. Members are, however, reminded that they should still aim to arrive at Euston at least 20 minutes before the train departs.'
Normal fares : Members £20 (Guests/non-members £25) Juniors £10 (junior guests £12.50) However Virgin are reducing the available reduced price tickets and not offering the full group deals hence prices may change, so book early.
Note: Wolverhampton pre-match meeting place is now
The Blue Brick
Broad Gauge Way
Wolverhampton
WV1 1AA
(off the Wednesfield Road, and a 5 minute walk from the station). It is next to the Premier Inn
We also now have 2 WWLSC Table Table loyalty points cards - see Roy Eagles or Peter Woodifield to get the card before you make your purchase of either food or drink, but please remember to return it to them. All points collected will be used towards London Wolves events. The bar is a home fans pub, serves real ales, food, have a large outside seating area plus car parking (free to customers on Saturday match days and is really convenient to the station). It is a short ten minute walk around the ring road to Molineux. (See map, courtesy Google Maps - here https://maps.google.co.uk/maps?q=wv1+1aa&hl=en&ll=52.588619,-2.119814&spn=0.004713,0.008293&sll=52.8382,-2.327815&sspn=9.602149,16.984863&hnear=Wolverhampton+WV1+1AA,+United+Kingdom&t=h&z=17
Alternative Venue: the Lych Gate Tavern (off Queen Square by St Peter's Church Lych Gate/Barclays Bank) if specifically advised.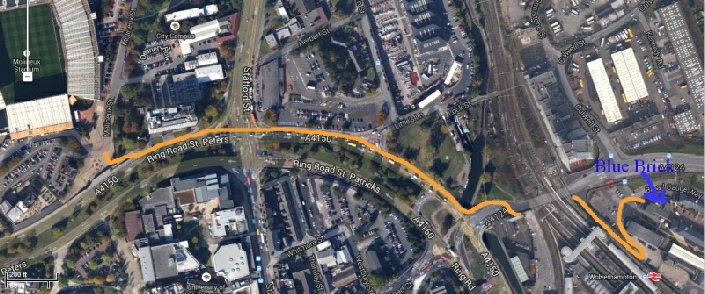 20% discount on food while travelling at Sloe, Millies Cookies, Camden Food, Bonapartes Cafe Bar Burger King and Delice de France - for details see BITE CARD here
HOME MATCHES are at Molineux Stadium, Waterloo Road Wolverhampton WV1 4QR. Molineux info or ground info
Reserve matches are generally at the Telford AFC or very occasionally Molineux .
Home season tickets also give entry to home reserve matches.
Links (click):> 1. map 2. parking 3. stadium 4. Hotels 5.Home match travel 6. Away Match Travel 7, Ground Information 8 Away grounds 9 International ground website 9 Traffic info
Peter W asks you to note that, because of a new train timetable, as from January the departure time from Euston for Saturday home games will be at 09:43
Please contact Travel Secretary for confirmation of travel arrangements
Any member wishing to book a train ticket for travel to home or away matches from Euston, must now contact the Travel Secretary AT LEAST 9 DAYS prior to a match. Bookings for travel with other train operators must be made 3-4 weeks before the match. This is because early booking is essential in order to obtain the cheapest tickets. Fares will be collected on the outward journey. Payments in advance are accepted. Cheques/P.O's payable to WWLSC.
Any member booking a train ticket, who subsequently cannot travel, must contact the Travel Secretary at least 9 days before a match to cancel, or they will have to pay for the ticket. This also applies to members who book a ticket and fail to show up on the day, as the train companies will not offer any refunds on unsold tickets, except in exceptional circumstances.
Members requiring match tickets for HOME matches, please contact Travel Secretary AT LEAST 16 DAYS prior to a match. Please enclose s.a.e. with postal applications.
Please note that for all-ticket away matches where Wolves allocation is limited, ONLY AWAY SEASON TICKET HOLDERS CAN BE GUARANTEED A TICKET. Tickets for every away match go on sale 21 days before the match to away season ticket holders and also to home season ticket holders, unless Wolves have a limited allocation. Home season ticket holders can apply for away tickets by ringing the Wolves Ticketline on 0871 222 1877 between 9am – 5pm, and giving their Supporter Number.
There are 7 Club season tickets available to members on a match to match basis. Full match day price will be charged. Members must travel on the official Club trip for the particular game for which the ticket is required.
Members travelling or using WWLSC tickets are expected to be of good behaviour whilst travelling to or from the matches. Breaches of this will be considered by the Comittee as grounds for expulsion from WWLSC under the WWLSC rules.
Please note also that dates and times of matches are likely to be changed because of live TV coverage.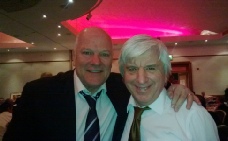 TRAVEL SECRETARY - PETER WOODIFIELD
94 FARNHAM CLOSE
RAINHAM KENT
ME8 8NS
Telephone - 01634 363704
Mobile: 07885 141227
e-mail - peteraw@globalnet.co.uk click to email
There are many car parks in Wolverhampton, although few offer a "quick get away". The streets nearest to Molineux prohibit parking except with a resident's permit, and the traffic wardens have a field day most match days. Nearest street parking is therefore about 10 minutes away, to the West of West Park. (Beware of the residents' parking scheme - see below - wardens are very active on match days)
Wolverhampton Council has also extended (from April 2014) parking restrictions to Bank Holidays and Sundays so meters are no longer free on those days and single yellow lines are active.
www.multimap.com/map/browse.cgi?lat=52.5887&lon=-2.1343&scale=10000&icon=x updated here http://www.wolverhampton.gov.uk/parking-permits
Explanation of this scheme is in this page from Moli
http://www.wolves.premiumtv.co.uk/page/NewsDetail/0,,10307~413914,00.html
Here is a map of Central Wolverhampton with car parks. Molineux stadium is to the North West - off junction H on the ring road.
http://www.wolverhampton.gov.uk/NR/rdonlyres/DD9D6821-EAC6-403C-866F-C9C4AC69E535/0/car_parks.pdf updated here
2015 Map http://www.wolverhampton.gov.uk/article/1721/City-centre-car-parks
Hotels - additional service for fans: A message from supporters' accommodations- We have been in the hotel booking industry for several years and have been very successful. We built www.supportersaccommodation.com 2 years ago and through feedback found out that not all hotels welcomed football fans for one reason or another so we decided to get in contact with the hotels directly and find out if they do or not and the ones on our site do.
The nearest hotel to the ground is the basic but well priced Travelodge - just 200 yards from the ground. Waterloo Road · Wolverhampton
WV1 4QL tel 0871 984 6221 details click here http://www.travelodge.co.uk/hotels/375/Wolverhampton-Central-hotel?gclid=CjkKEQjw_N-cBRD2k73X3OjJ8eMBEiQAbdPic3CZ0boE_UMD_28tO1ZI6Wy8MnxBlljLks5oVU9mXdrw_wcB
The London Wolves meeting place - the Bluebrick (see above) is next to the Wolverhampton Premier Inn details click here
The Britannia (near the Station and Bus Station and 10 minutes walk from Molineux) is a favourite stay for Viking Wolves and used to offer London Wolves reduced rates. These are no longer available but they may still have a deal on for particular weekends. The Britannia has undergone substantial renovation and redecoration recently and is well situated for the Town Centre, Friday evening clubs and theatre, Saturday morning shopping and the Molineux. They can also offer deals for parties and use the station car park for parking. Telephone 01902 429922 mention London Wolves and ask for any discount!
Britannia Wolverhampton Hotel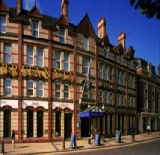 Lichfield Street
Wolverhampton WV1 1AA
01902 429922
New Hotel Search & Booking Facility - Match Hotels - Match Hotels cover most of the English league clubs towns and cities.
For the Wolverhampton page click http://www.matchhotels.com/England/Wolverhampton-Wanderers-hotels-1739.html where you can also change the club
TRAFFIC INFORMATION FROM FRIXO.COM - there is a mobile version -NEW TRAFFIC SERVICE FROM FRIXO.COM - Get your passenger to log onto www.frixo.com URL: http://www.frixo.com Included on the website are planned roadworks

Widget by Frixo
OLD SERVICE FROM LONDON WOLVES in conjunction with AWAYDAYS MAPS. Click on the dropdown for some away grounds. Unfortunately this is out-of date but if you put the postcode, ground name or town into the field on the right that should work. You'll see the train station, pubs etc. The maps are still up to date although the service for booking appears to have been closed.