2009 - The Wandle
London Wolves summer event has been centred around the River Wandle which runs into the Thames.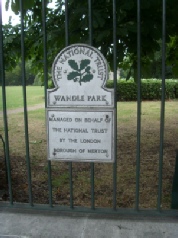 It used to have over 90 water driven mills but many many more hostelries! If you'd like to know more about the Story of the Wandle Trail click here More pictures in the picture gallery
We started at Waterloo (c/o the Wellington opposite Platform 4) to catch the tube to Colliers Wood where last year's walk finished, in the Colliers Tup, a real rugby pub, full of South Africans and Lions.
Dave and Derek approved though, but it was better inside with good beer, although the SA girl on the right was playing Cluedo!
Only a brief stop here though before Geoff got out his map and we were under way. Past Wandle Park and over the river
Wait a minute; that looks like a pub over the river! Riverside Free House seems a good clue. What good luck! I'll have a pint of Bomber please.
Sadly, there's no rest for the wicked. Now which way is it? The zoo?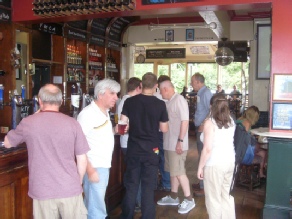 and across the tram track, but it's always 3 miles to Carshalton
and so into Morden Hall Park
Are we there yet? Well it's the Surrey Arms. "Oh No! Not the Surrey Arms" says Dave, worst Beer in Morden.... but it was ok in the end and the Rugby was on there too. But no food and it's three hours past lunch time
Back on the trail then
Is that Dr Who in the river; it looks like the Tardis parked over there?
wrong way
I'm a Baggie. Boing! Boing!
This is a-Maze-ing it's the third time we've been here I tell you Geoff it's that way. GPS doesn't lie!
lead the way Dave
escape from Morden Hall Park. Well, it looks like we're here... And the first pub we walked past! The Crown Merton
But the next one was fine - Youngs pubs everywhere here.
Hooden on the Green
but still no food. Carol does a deal with the pub next door - the Cricketers. MNX never tasted so good, especially with the Ordinary.
Why is it called The Cricketers? - Could be something to do with the view. And next door is the museum
Wandle Industrial Museum then on to the bus, but it's been really hard work
so, a final pub - the Castle in Tooting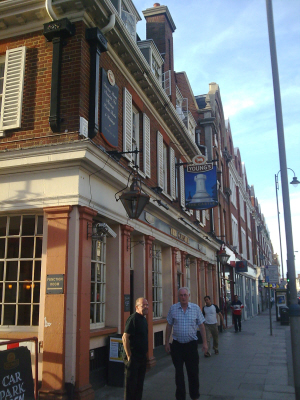 The River Wandle has two sources, in Waddon and Carshalton, and flows to join the River Thames at Wandsworth. In its industrial heyday, it was Britain's 'hardest working river', with over 90 mills along its banks. The Wandle Group, the Wandle Industrial Museum and the riparian London Boroughs have developed the (20 km/14mile long) Wandle Trail. The Trail allows local people to enjoy the heritage interest and flora and fauna of this typical chalk stream in the heart of some of south London's most industrialised landscape. The route description guides walkers from south (East Croydon) to north (the River Thames), but is easy to follow in either direction. We have included estimated walking times for each section. In places, the ground is uneven, making the Trail difficult for wheelchair users. However, the Wandle Trail Partners are committed to making it safer and more accessible for all users. Improvement work is in progress. The text describes alternative routes for wheelchair users and people with limited mobility, where necessary. The map shows both walking and cycling routes, which coincide for much of the way but differ in places. It also shows links to other cycle routes and public transport. Part of the Trail is National Cycle Network Route 22. The Wandle Trail Art Programme is providing numbered gateways, viewing platforms and distinctive waymarkers. A travelling 'waste wall' will be the focus of community rubbish collection events. Visit www.wandletrail.org for further information. The Wandle Trail partners (the London Boroughs of Sutton, Merton and Wandsworth, Groundwork Merton and Sustrans) have published a map leaflet from which this information is extracted. The idea developed from the Wandle Industrial Museum's earlier map and 'The Wandle Guide', published by the London Borough of Sutton for the Wandle Group is here http://www.merton.gov.uk/wandle_trail.pdf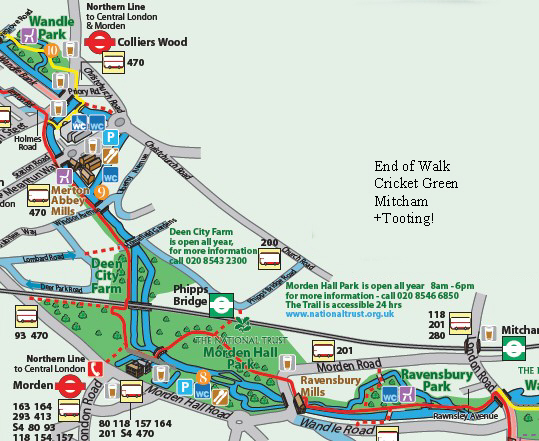 Picture Gallery More pictures