45th Anniversary
Theme: the 1974 League Cup Final.Brochure front coverWWLSC45- 047League Cup
London Wolves would like to thank all of our members and guests who combined to make this a most memorable occasion. Press articles E&S here and Wolves Heroes here
The Wolf Pack: from the 1974 squad: #9 John Richards, who scored the winner,#7 Kenny Hibbitt who scored the first goal, with #11 Dave Wagstaffe, #12 Barry Powell, #2 Geoff Palmer, and #1 who missed the final through injury Phil "Lofty" Parkes as well as players who also played that season Steve Kindon and Steve Daley as well as a founder member of the Tea Party, John Holsgrove.
Special guest apperance: Cup winning Captain of Wolves - Mike Bailey who reminisced about the day for us on a unique video, revealing how he slept the the League Cup.
Special surprise guest: Our thanks to Mick McCarthy manager of Wolves for making the arduous journey from Crewe to Charlton and joining us, saying "it was the first standing ovation he'd ever received at Charlton Athletic!"
Executive guests: Richard Skirrow, WWFC Club Secretary, Merlyn Humphreys, Executive Producer "Unforgettable Doog", John Gough, WWFC Director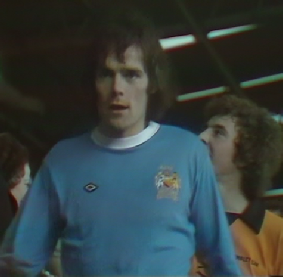 Absent friends: Frank in Denis Law's shirt two of the Cup winning players had prior family engagements and were DenisLaw unable to come but Frank Munro was unfortunately taken ill and also could not join us. Frank and Manchester legend Denis Law swapped shirts after the match, and Denis was planning to come to the event, but he also was unable to because of family illness. We wish both Frank and Denis and his family good health.
Photographs. Our photos are generally free for others to use, but we would appreciate copyright acknowledgement We were fortunate to have a member who is a professional photographer for the 45th Anniversary Dinner, Rob Clayton, who donated his time to the event without any charge. Rob's complete photo set are on this page click to view in low resolution and not suitable for printing. Members and guests may request Photos on this page from Rob who will send you a high resolution copy (free of charge!!) or you can ask him to prepare high quality prints of any pictures you would like. Prints are £7 up to A4 size. Rob's email address is rob@robclayton.co.uk (click to create email) and tell him which picture you would like (there is a picture number revealed when you move your cursor over the picture) and his website is at http://www.robclayton.co.uk/
Speeches and the event.
League Cup and setting up at The Valley
2: Players and guests arrive
3: Mick McCarthy arrives; pictures with guests
4: Waggy, Val, and Man City medal
5: Val's pictures + Waggy