Sunday 20th December 2009 - London Wolves 1st Annual Christmas Dinner
Entertainments Secretary Roy Eagles (together with Ruth) organised our first (to be annual) Christmas lunch in the City Bar to follow the 2-0 win over Burnley. 39 WWLSC members attended - some were badly hit by the snows, including Chairman Earl, but we were greeted by Deputy Chairman Stef Leonard, and WWLSC President John Richards who graced us with his presence with Pam. Our other guests included Steve Daley, Phl "Lofty" Parkes, Dean Edwards, and Ian "Sludge" Lees. Rou and Ruth organised a great raffle which raised over £190 towards the London Wolves 45th Anniversary Dinner at The Valley, Charlton.
JR with George and Stef with Pam and Jack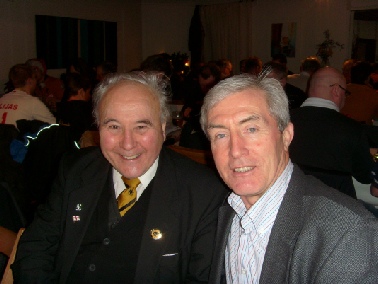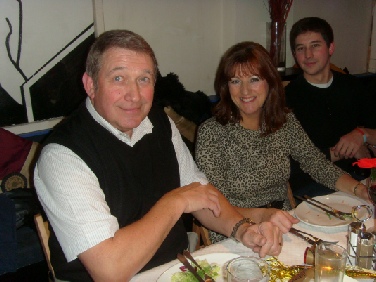 Other pictures show
"King" John arrives downstairs in the City Bar
while Lawson has prepared a terrific spread upstairsSteve Daley with Geoff and Lofty with organiser Roy
Dean Edwards with Secretary Slape while Sludge was being entertained by Pint Sized Paul and Ruth Eagles
and here's PSP with an unusual Pint - a pint of fivers!
Deputy Chairman Stef welcomed the guests
and the team's here too.....
Pam Richards & Merlyn Humphreys
The party's over and the hard working organisers leave. "It's alright, love, you just carry the big boxes..." said Roy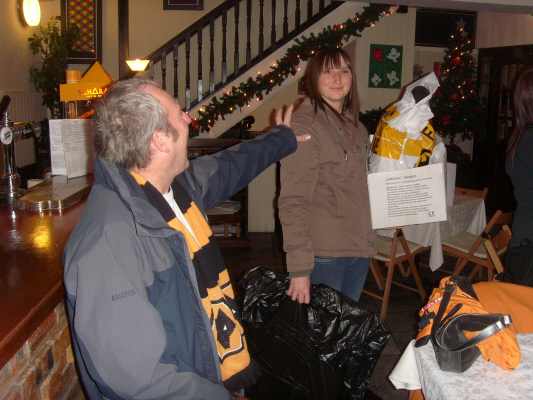 Sludge's agent, if you want to book him, is Jake Elcock on 01902 672972.
Don't forget, Roy also has London Wolves pens for sale (see here)
Pictures