WWLSC site
WWLSC Site

Meet The Players 2005-6
London Wolves would again like to thank Glenn Hoddle and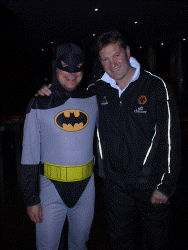 the Players for their time on St Patrick's Day as our "Meet the Players" 2006 was again held just before the Reading match on 18th March at the team hotel. Our thanks too to Glenn's secretary Fay for the arrangemens and to Mort for his great help on the day. The LW Player of the Year award was not presented this time since the votes would have had to be in before the QPR match. More details on voting to come. However Lee again said he would be going all out to win it away from Joleon, last year's winner. For the WWLSC Roll of Honour please click here
This year we were joined by Batman - Phil Bant - who brought his London Marathon medal along and a thankyou letter to London Wolves. For more pictures please click here. The full squad - which included Mark Little Daniel Jones and Leon Clarke travelling with the team., as well as Stuart Gray and the physios who gave us an hour of their time and signed shirts which will be auctionned at the 40th Anniversary event (info here).
When the players went off to have their supper, Glenn kindly stayed behind for a Q&A for about 20 minutes. The topics ranged across
Injuries - and how Jackie and George are doing

Team for Reading (with Mark Davies replacing Denes) and other comments on the match

The difference between Tuesday's match and Saturday's v Cardiff

The lift that the crowd can give

The strong support from Wolves away fans

The Man Utd FA Cup match

Preston and the run-in

Bringing the younger players through

The need for the crowd to help the team lift the atmosphere for the Wednesday match next week
to "what razor do you use?"!
Many of our members congratulated Kenny Miller on his performance this season and wished him well as he moves to Celtic. He said how much he'd enjoyed playing in midfield last week against Cardiff and getting so much of the ball. The players all seemed well up for the Reading match. Glenn brought some of the younger players with him including Mark Little (see pic) and Daniel Jones (See pic) who started on the bench. Paul Ince told us how much he enjoyed playing for the Wolves. Jeremie Aliadiere said he couldn't pass on a comment that Wolves played like Spurs when Glenn played back to Arsenal!
More pictures follow in Picture gallery