Wolves - EUFA Cup Finalists 1972
The 1972 EUFA Cup run
In 1972 Wolves travelled to Coimbra in Portugal (beating Acedmica 7-1), The Hague (Ado 7-1) Jena (Carl Zeiss 4-0) Turin (Juve 3-2) and Budapest (Ferencvaros 2-2 first leg, and 2-1 at home) to appear in the two legged EUFA Cup Final against Tottenham Hotspur. For highlights of the final on video please click here
And of course we beat ManU 3-1 in Manchester when they were top of the table, not to forget the 5-1 drubbing of Arsenal at Moli with Bob Wilson in goal for the Gunners, or the 3-2 win over the Baggies!
Courtesy of Alan Taylor, here are some of the highlights of that year.
Here are the heroes of that season where we also finished ninth in the old first division featured in a Juventus special. Back row left to right:David Wagstaffe, Peter Eastoe, John McAlle, Derek Dougan, Phil Parkes, Alan Sunderland, Steve Daley, Danny Hegan, and Bernard Shaw.
Front row: Hugh Curran, Gerry Taylor, Frank Munro, Jim McCalliog (scorer of the goal in Turin), captain Mike Bailey, Derek Parkin, Ken Hibbitt, John Richards.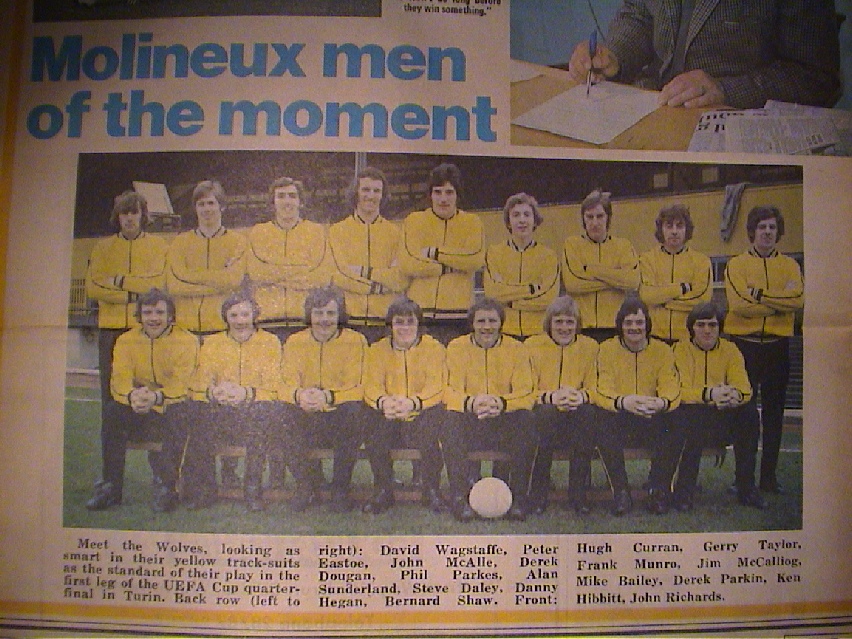 Our WWLSC Presidents are 4th from the left in the back row, and at the extreme right of the front row. Here one of Wolves great managers, Bill McGarry, is shown in his office, and yes, telephones did have dials.
...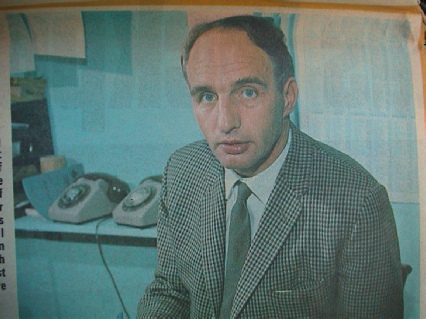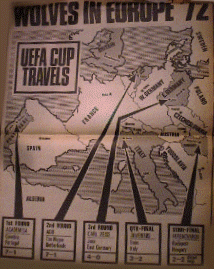 An amazing trek around Europe is shown on this map
One of the special heroes was the scorer of the away goal at Juventus was Jim McCalliog. This newspaper photo was autographed for Alan by Jim.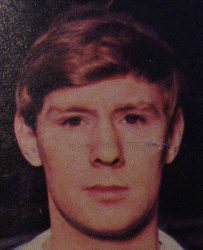 Here's what happened in the first leg on Tuesday March 7th 1972....
After going a goal down to £440,000 Anastasi in the 37th minute but after half time.....Danny Hegan, Jim McCalliog and Kenny Hibbitt began to boss midfield...and in the 66th minute a well deserved equaliser. It came when full-back Gerry Taylor floated over a tantalising cross. Dougan outjumped the Juventus defence to head down a ball which was greedily thumped home by Jim McCalliog.
That really got Juventus in a panic and Dougan nearly snatched the winner with a fierce low drive.
Boss Bill McGarry had been sent from the bench earlier for showing dissent! But he confidently expected a crowd of 50,000! The Doog was also booked in this match for the same reason.
Some other high spots of the season where we won 18 drew 11 but lost 13 finishing 9th included
players involved in these matches featured some famous names: Bob Wilson (also a TV pundit by then) was in goal for Arsenal, with Pat Rice (still Arsenal Coach) Frank McLintock, George Graham, Charlie George, Ray Kennedy and John Radford and their manager was the legendary Bertie Mee - no wonder this was BBC TV's "Match of The Day". At the Hawthorns the Baggies had Jeff Astle and Tony Brown up front, as well ex Wolf Bobby Gould who scored. On the United side "lost without George Best" were Bobby Charlton, Alec Stepney in goal, Kidd and Dennis Law (who "could not match the firepower of Dougan and Richards") and a young Sammy McIlroy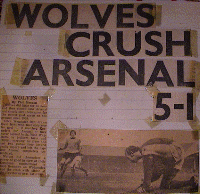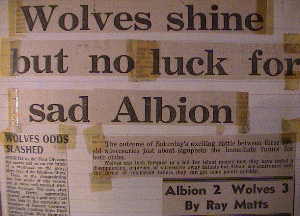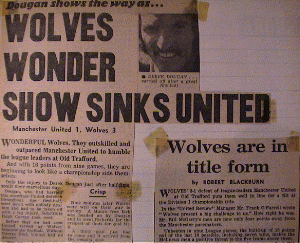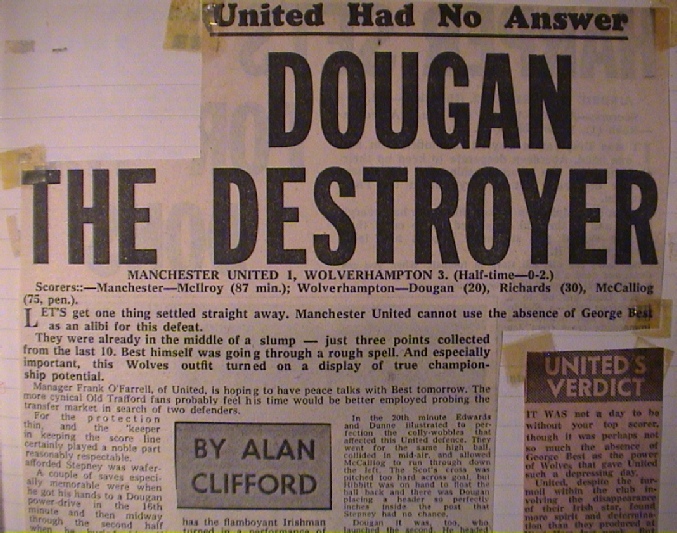 EUFA Cup Final - 12 minutes highlights