W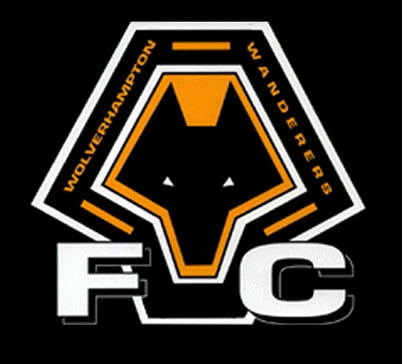 olves Allstars is a team led by former Wolves star and League Cup Winner Mel Eves who raise money for charitable causes.
Click on the Wolves logo to go to the Allstars site for pictures, team information etc
Wolves Allstars charity matches in 2011

SUNDAY MARCH 27TH. Andi Brazier Memorial Day. See below

SUNDAY 10th APRIL 2011 2.30 pm Kick-Off at Bilston Town FC, Queen Street, Bilston WV14 7EX. against the Great Western Wanderers a 3-3 draw - see below - cracking goals.
The match has been specially arranged to raise funds for the local WILKINSON SCHOOL, which,you will remember, was the subject of a serious arson attack. Over £1500 raised by the end of teh match with more to come..

SUNDAY MAY 15TH. A WELCOME RETURN TO CRADLEY TOWN FC WHO HOST A FIXTURE AGAINST A PHOENIX YOUTH CENTRE X1 WHO HAVE CHOSEN 'HELP THE HEROES' AS THEIR NOMINATED CHARITY
THURSDAY 19th MAY 2011 7.30pm Kick-Off at the Banks's Stadium, Walsall FC versus the Walsall All Stars. Walsall
SUNDAY 10th APRIL 2011 2.30 pm Kick-Off at Bilston Town FC. v Great Western Wanderers 3 Allstars 3
Great Western Select XI



Walsall stage great comeback here
SUNDAY 10th APRIL 2011 2.30 pm Kick-Off at Bilston Town FC, Queen Street, Bilston WV14 7EX. against the Great Western Select XI.
The match has been specially arranged to raise funds for the local WILKINSON SCHOOL, which,you will remember, was the subject of a serious arson attack. Over £1500 raised by the end of teh match with more to come..

SUNDAY15th MAY2011 2.30pm Kick-Off at Cradley Town FC, Beeches View Avenue, Cradley B63 2HB. Won 5-1

We play Pheonix Youth FC Managers and Coaches XI.

The match has been arranged to help raise funds for Phoenix Youth and the Help for Heroes Charity. We were treated royally when we played at Cradley Town last year and we look forward to an enjoyable afternoon again this May.

Team and results from Mel

Wolves All Stars
1 Adam Hardy
2 Martin Prentice
3 Brett Hayward
4 Matt Hale
5 Clive Middleton
6 Glenn Robinson
7 Ian Robotham
8 Dave Brookes
9 Simon Dunkley
10 Les Tonks
11 Andy Turner
12 Mel Eves
14 Simon Russon
16 Richard Maybury

Roll on/off subs so all played. - except manager Mel Eves( un-used sub/ injured)

3-0 HT Ian Robotham 2 and Dave Brookes
5-1 FT Dave Brookes and Simon Dunkley

Excellent hosts, couldn't fault their hospitality.
They expect to raise £3,000+, brilliant acheivement.


THURSDAY 19th MAY 20117.30pm Kick-Off at the Banks's Stadium, Walsall FC

Lost 4-3 after a 3 goal lead click herePix to come

We play the Walsall All Stars.

All proceeds from the game will go to SANDS (The Stillbirth and Neonatal Death Charity). Daniel Mole, the Secretary of Walsall FC, and his wife Emma are attempting to raise £10,000 for the charity. This evening will go a long way towards helping them reach their target.

This game will also be the final game for myself as the Manager/Organiser etc of the Wolves All Stars. I have run the team for 14 years since taking over from Phil Nicholls in 1997. It is quite apt actually as the last club of my 14 year playing career was Walsall back in 1989. Pictured – Andy Turner in action against the Great Western Wanderers – a cracking 3-3 draw

SUNDAY MARCH 27TH. 2-2 A hardfought game (including a dented head for Mel) on a very hard and sloping pitch against a strong Boldmere side. The video shows Allstars second equaliser from an indirect free kick
A FUNDRAISING VISIT TO THE WELL ESTABLISHED BOLDMERE St Michael's Football Club 2.15pm Kick-Off at Boldmere St Michaels FC, The Trevor Brown Memorial Ground, Church Road, Sutton Coldfield B73 5RY against the Boldmere St Michaels Old Boys Team for the Andi Brazier Memorial Day. Andi ( brother of our own former Wolves Star Colin Brazier ) sadly passed away in February 2010 after giving over 10 years service to the club. The Club are also taking the opportunity to thank the Brazier Family for their generous support of the club over the years. Wolves Heroes have published an article giving you more background with pix of Colinplease click here

The video shows the Allstars second equaliser. Here also are Mr. Alan Parsons (Boldmere manager) and Linda, Andi's wife.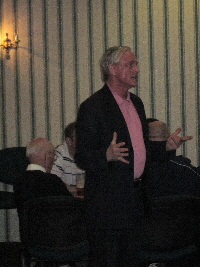 above Allstars with Colin Brazier. Team List
1] NICK GRIFFITHS
2] MATT HALE
3] BRETT HAYWARD
4] ARRON SKELDING
5] CLIVE MIDDLETON
6] DARREN SIMPKIN
7] IAN ROWBOTHAM
8] CRAIG SMITH
9]SIMON DUNKLEY
10] MEL EVES
11] ANDY TURNER
12] DALE RUDGE.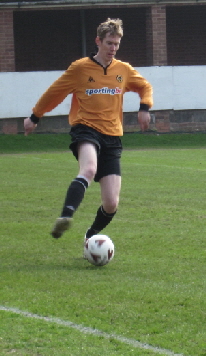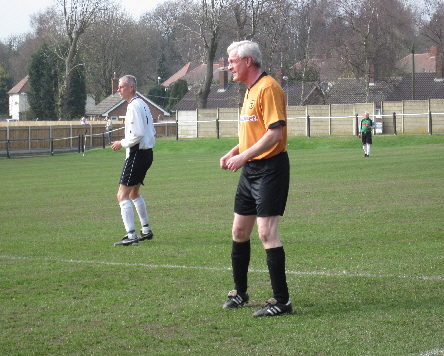 2010 CLICK HERE for ALLSTARS FIXTURE RESULTS
Final match of the season SUNDAY 21st November 2.30pm Kick - Off at Wolverhampton Casuals FC Brinsford Lane Wolverhampton WV10 7PR playing the Wolves Staff to help raise funds for New Cross Hospital Baby Unit.
SUNDAY 31st October 2.30pm at Bridgnorth Town FC, Wolves Allstars 2 Fox at Shipley XI 1 to help raise funds for Birmingham Childrens Hospital.

Match organiser Neil Taylor set himself a target of raising £10,000 for the hospital in grateful thanks and gratitude for the excellent treatment they have given to his young daughter KIAHNA . She has undergone major surgery four times for a hole-in-the heart medical condition. See interview with Bullyclick here (you have to watch an advert first)

So far Wolves Allstar matches have raised over £25,000 for the supported charities this year

Sunday SEPT 5TH 2010 3pm ko WOLVES PLAY AGAIN AT CASTLECROFT - The grand reopening of the stadium to football at the old Wolves training ground at Castlecroft - now home to AFC Wulfrunians in aid of the Compton Hospice. Many former Wolves players will be there LOST 4-2

Sunday 22nd August 2010 3pm ko away to Albrighton Juniors Loak Road Albrighton WV7 3HR in aid of the Air Ambulance Won 5-4
.Wolves Allstars are reopening the old training ground at Castlecroft this Sunday

Mel writes...

SUNDAY 5th SEPTEMBER 3.00pm Kick - Off at Castlecroft Stadium, Castlecroft Road, Wolverhampton WV3 8NA . We play AFC Wulfrunians All Stars.

OFFICIAL OPENING OF CASTLECROFT STADIUM -= Steve Palmer Benefit Game

This game is to mark the official opening of the new Castlecroft Stadium - home of AFC Wulfrunians. After many years of Rugby Football , Castlecroft is now hosting Association Football once again. Castlecroft was the Wolves Training Ground from the mid 50s to the late 80s. It is fitting therefore that we should be asked to play on this occasion. This will be a nostalgic day for many former Wolves Players who will have memories (hopefully good) of their time there. The game is also a benefit match for local non league player Steve Palmer ( son of Geoff) who started his career at Old Wulfrunians. Former Players expected to be there on the day
Mel Eves, Norman Bell, Frank Munro, Les Cocker, Barry Stobart, Joe Jackson, Ian Cartwright, Simon Dunkley, John Black, Martin Patching, Hughie Atkinson, Steve Daley, Phil Parkes, Ted Farmer, Gerry Taylor, Alf Crook, Peter Creed (Honorary Secretary Wolves Former Players Association), David Clinton - Secretary Wolves All Stars Charity Football Team; David Instone - www.wolvesheroes.com

Playing squad re the game ( so far) ; Mel Eves, Robbie Dennison, Jon Purdie, Mick Matthews, Darren Simkin, Andy Turner, Mark Duncombe, Jamie Smith, Loy Stobart, Brett Hayward, Simon Russon, Mark Kavanagh, Martin Prentice, Chris Marsh ( Walsall Legend), John Williams ( Coventry City Legend), Tim Clarke ( Kidderminster Harriers Legendary Goal Keeper)


You will all be pleased to know that our first six Charity Football games this year have raised in the region of £20,000 for the very worthy causes we have supported.


Wolves Allstars 2009- 2010 events
23rd August 2009 - in aid of cancer research - v Goodrich - match pix here
SUNDAY 7TH MARCH WILLENHALL TOWN, K.O.3.00 VS. ALL SAINTS ALLSTARS IN AID OF CANCER RESEARCH
SUNDAY SUNDAY 21ST. MARCH. VS FOREST FALCONS SELECT X1 VENUE ; STOURBRIDGE TOWN FC. KICK OFF. 1.30PM. XXX IN AID OF HELP THE HEROES XXX
SUNDAY 25TH APRIL VS STOKE CITY OLD BOYS VENUE. STAFFORD RANGERS FC KICK OFF 3.00 [TBC]
XXX IN AID OF NACCPO XXX
SATURDAY MAY 22ND. VS WYRLEY O.B. HAZEL LANE; GT. WYRLEY. KICK OFF 3.00 PM
Wolves Allstars at the old Lucas ground now Goodrich Sunday 23rd August - result Wolves 5 Goodrich 3
The day raised over £1,200 for Prostate Cancer. Video is team photos plus the third goal
- GOODRICH SPORTS GRND STAFFORD RD FORDHOUSES WestMidlands admission only £2

Squad – Goodrich 23rd August 2009 1:30 for 2:00pm kickoff.
Andy De Bont; Phil Parkes (Chairman); Darren Simkin; Chris Marsh; Willie Carr; Robbie Dennison; Dale Rudge; Jamie Smith; Mark Duncombe; Don Goodman; Darren Roberts; Mel Eves (Player/Manager); Phil Nicholls (match organiser); Jon Purdie; Andy Turner; Garry Stephens; Richard Forsyth; Charlie Blakemore; Paul Jones; John Williams; Dean Edwards; Brett Hayward; Martin Prentice; Simon Dunkley

L to R Dan Kitson, Nigel 'Raffo' Rafferty, Andy De Bont, Martin Prentice, Phil Parkes, Phil Nicholls, Mel Eves, Tony Deakin, John Williams.
Front L to R Dale Rudge, Shane Tudor, Richard Forsyth, Simon Russon, Gerry O'Hara, Garry Stephens, Charlie Blakemore plus the Half time sub (#5) (and goal scorer) was Ben Abbey who played for Oxford, Southend, Macclesfield and Woking and works at Eleven Sports Management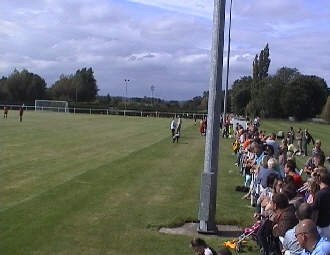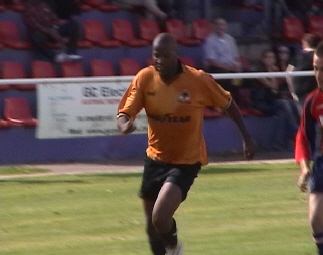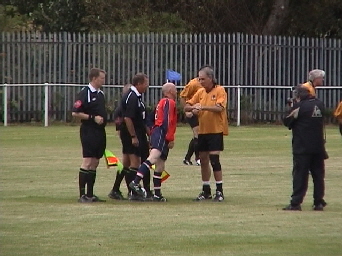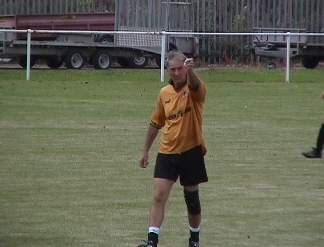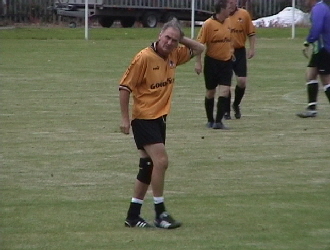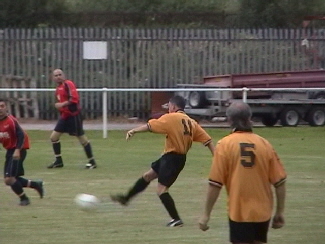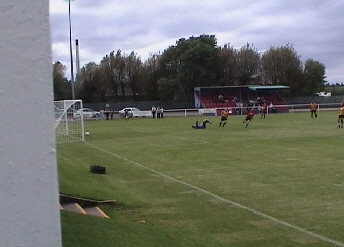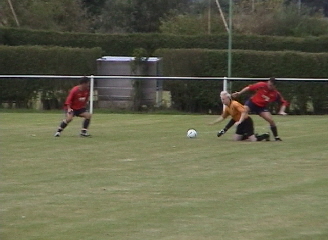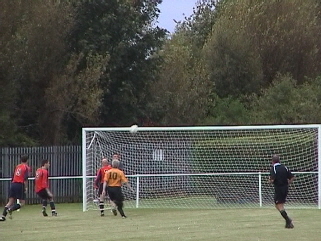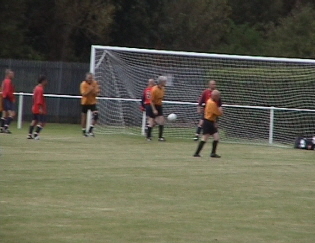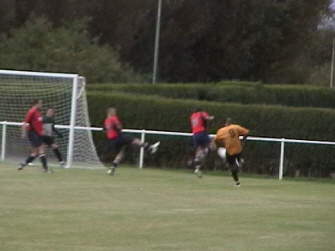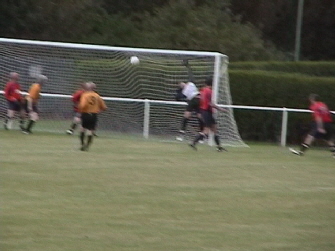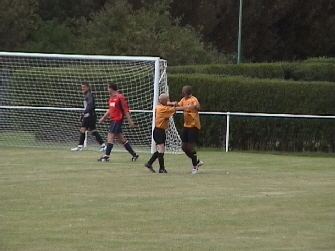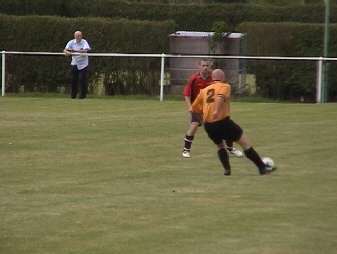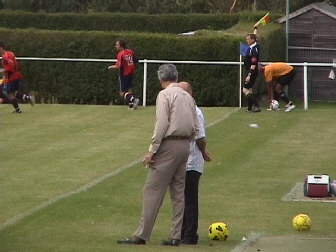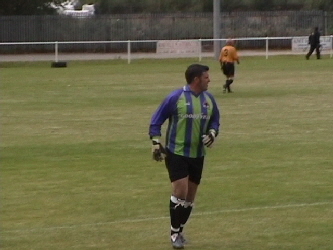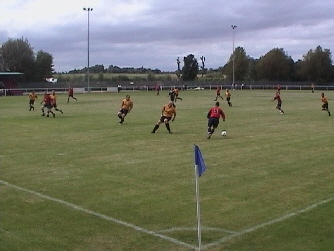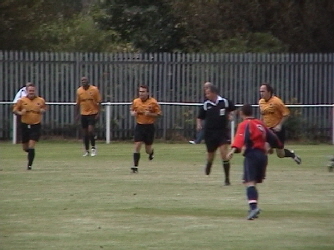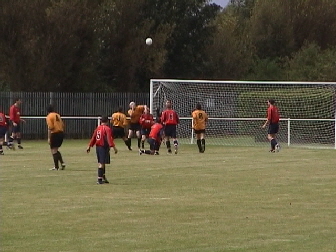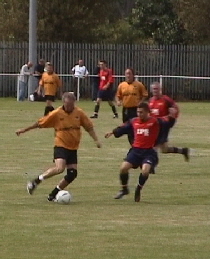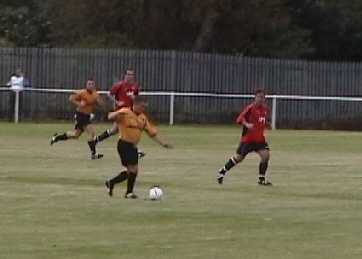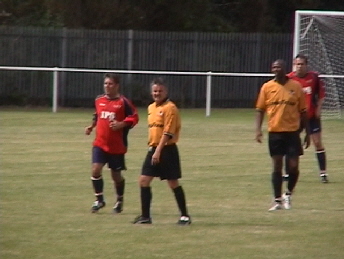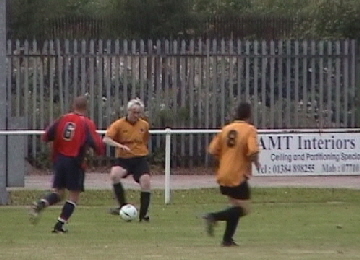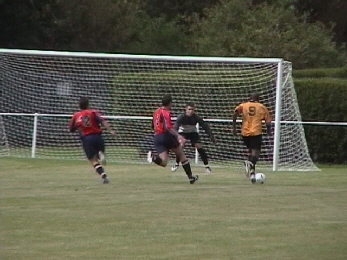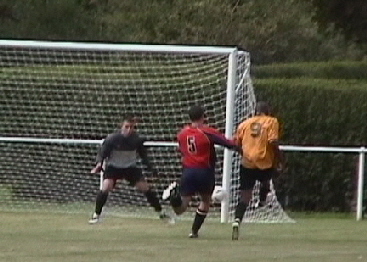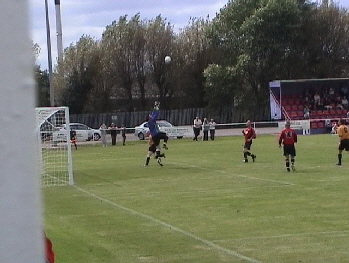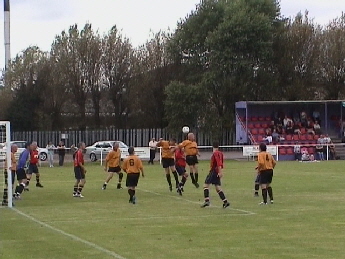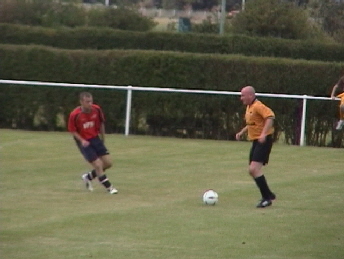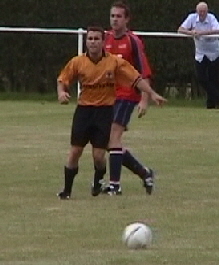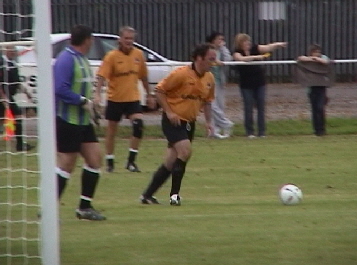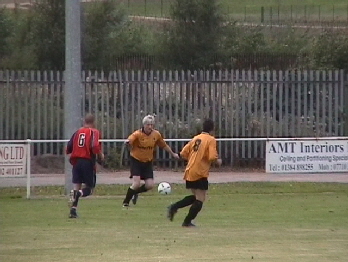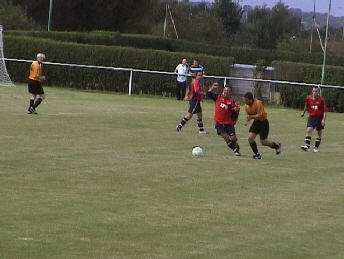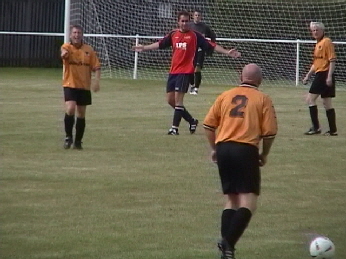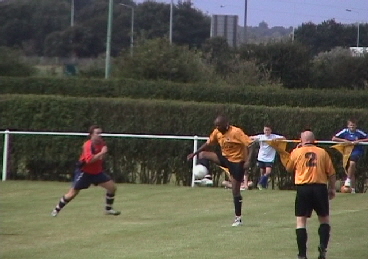 Half Time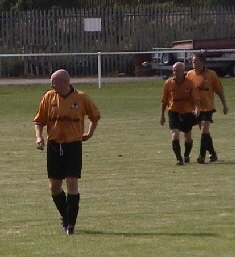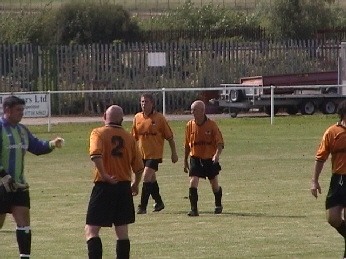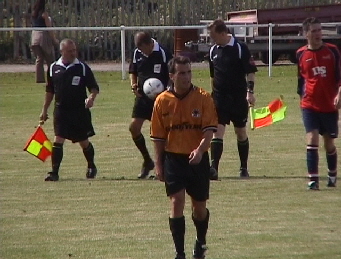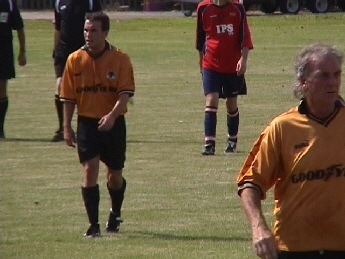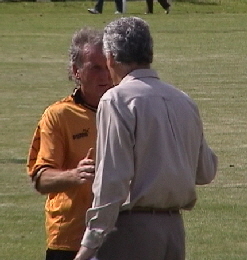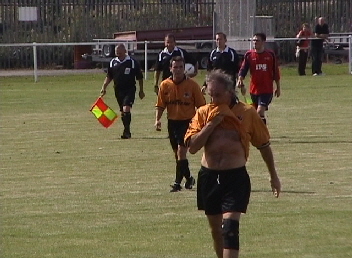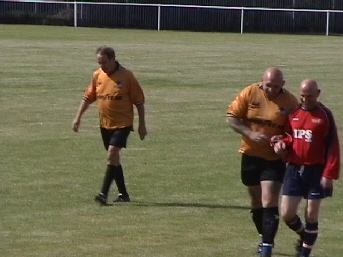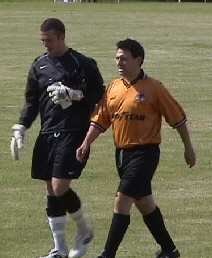 2H